Hassle-free and Healthy Breakfast For Those In A Rush!
BY DANFE |
It's early in the morning and you're rushing to get ready for work. As you pack your bag for the day you reminisce about waking up just minutes before the meeting. No time to cook any of your healthy Indian breakfast recipes?
Worry no more! You don't have to miss out on healthy homemade food just because of your busy schedule! With delicious natural ingredients and easy steps, you can quickly cook breakfast that is super delicious, fulfilling, and nutritious!
Here are two quick Indian recipes that you should try.
Sooji Upma Recipe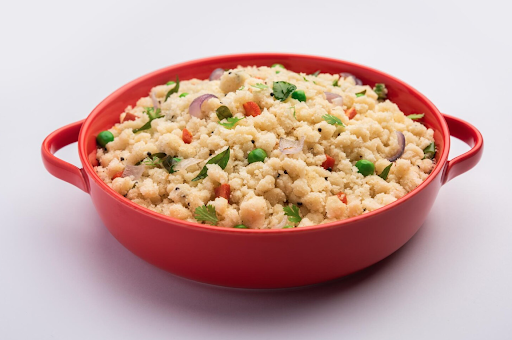 Sooji Upma is a savory breakfast dish from South India prepared with cream of wheat (sooji or Rava). Rava upma is another name for it. This upma dish creates a delicious and flavorful breakfast. Let's begin with this sooji upma recipe!
Ingredients
2 tbsp Ghee (clarified butter) or oil
1 tsp mustard seeds
½ tsp cumin seeds
1 tsp chana dal (split and husked Bengal gram)
1 tsp urad dal (split and husked black gram)
¼ cup cashews
1 cup finely chopped onions
2 tbsp ginger finely chopped
1 tbsp chilly
1 sprig curry leaves
3 cups water
2 tbsp chopped coriander
1 cup Sooji or sooji flour
Instructions
For this sooji upma recipe, start by heating a pan or Kadai.
Toss in some sooji and roast it while stirring constantly.
The Rava or sooji grains should become fragrant and dry, separate, and crisp as they cook. Browning the rava is not recommended
Switch off the flame and then add the roasted rava to a plate and keep aside
Heat ghee in a pan and toss in the mustard seeds
The crackling sound of mustard seeds indicates that they are being fried
Combine the cumin seeds, chana dal, and urad dal in a mixing bowl
Fry until they start to brown or turn a light golden color
Sooji upma recipes are incomplete without adding the cashews and cook a little.
Add the finely chopped onions at this point. Cook the onions until they turn translucent
Then add the green chili, ginger, and curry leaves, chopped. For a few seconds, sauté. At this point, you can also add 1 dried red chili
Then, as needed, add 2.5 cups of water, sugar, and salt. Mix thoroughly and sip the water. It should have a slight saltiness to it, but not too much
When the water comes to a boil add the roasted rava.
Mix and whisk the rava to uniformly blend it with the water.
Ensure that you stir quickly and thoroughly. Upon soaking in water, the rava grains swell, becoming cooked as a result.
Allow the rava upma to steam for 2 to 3 minutes over low heat, covered
Your healthy Indian breakfast recipe of sooji upma id ready to be relished
This healthy breakfast dish can be all vegan by replacing the ghee with oil. This upma is filled with warmth, flavor, and sweetness. So, instead of eating the same old oatmeal, why not try something new? You can't possibly lose!
Rava Idli | Idly Sooji
Rava Idli is a type of idli that can be whipped up easily in no time with idli rava flour. For these Sooji idlis you don't need to ground anything or keep something for fermenting. A healthy breakfast dish that requires minimum attention and time!
Ingredients
14 halved cashews
½ tsp mustard seeds
1 tsp chana dal
½ tsp cumin seeds
10 curry leaves – chopped
1 pinch asafoetida – optional
1 tsp coarsely chopped ginger
1 finely chopped green chili
1 cup Idli Sooji flour
Instructions
To start making sooji idli. In a pan, melt 2 tablespoons of ghee and add cashews that have been halved.
Fry the cashews until golden, stirring frequently. Drain the ghee from the fried cashews
Add mustard seeds to the same pan and allow them to sputter
Add the chana dal when the mustard seeds start to sputter.
Fry chana dal, stirring frequently, till brown and crispy.
Add the cumin seeds and cook for another 4 to 5 seconds.
Add the curry leaves, asafoetida, finely chopped ginger, and green chilies
Add the idli rava flour, curd and water
You'll need a batter with a medium consistency.
Brush the idli pan molds with oil or ghee. In the pot, keep a small trivet stand or a rack. Bring the water to a rolling boil.
Fill the idli molds halfway with batter. Put them in a pot of boiling water.
Steam the sooji idli for 10 to 12 minutes, covered.
Carefully remove the idli plates and set them aside for 3 to 4 minutes. Remove the rava idli using a spoon.
Serve the Rava idli with sambar and your favorite coconut chutney while they're still hot.
We've used a ready-made idli rava flour by Danfe Foods here to make fluffy idlis; contradictory to the traditional method where idli batter is made using the lengthy process of soaking, grinding, and fermenting rice and lentils. We don't need to soak or grind anything because this recipe uses idli sooji flour, making it an instant preparation. So next time you want a quick and easy breakfast or snack remember this tasty and healthy quick recipe!
Also, check out this yummylicious dish of poha on our instagram!
Conclusion
Healthy Breakfast – the most important meal of the day should be savored and enjoyed. In our fast pacing lives, we often forget to keep track of nutritional and healthy ingredients. Sooji is a very healthy and nutritious ingredient that helps us get that extra bit of energy and strength required for the day. Let's make sure we create more yummy and healthy dishes for breakfast that are quick and easy to prepare!