Diwali Dishes & Recipes | How to Cook at Home?
BY DANFE |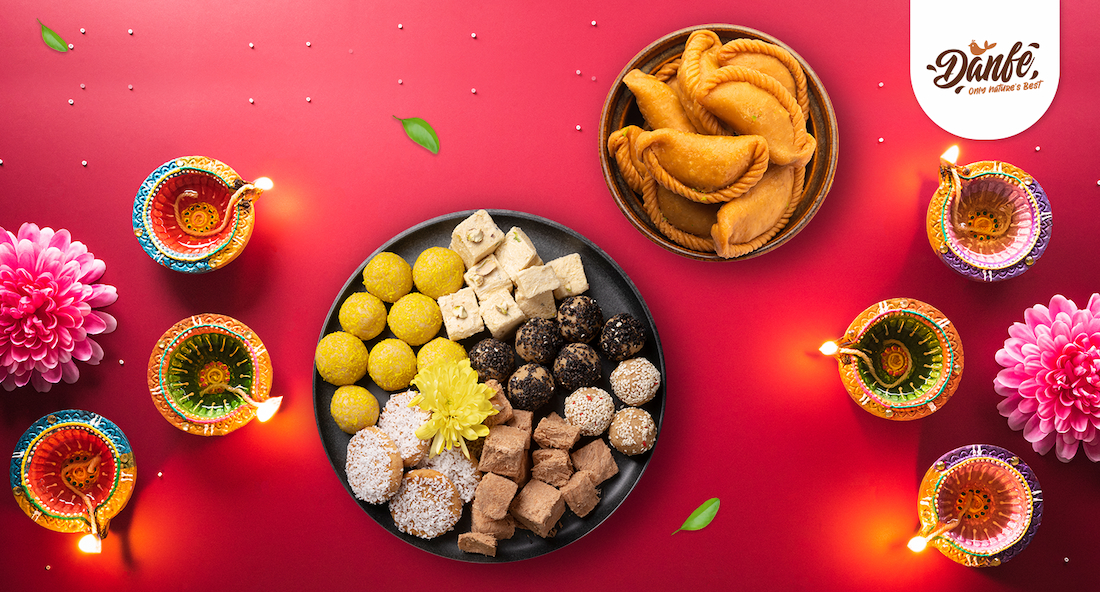 Diwali, the festival of lights, is a time of immense significance in Indian culture. It evokes cherished memories and a sense of joy that transcends generations. It signifies the triumph of light over darkness and good over evil. It's a time of vibrant festivities, dazzling lights, and delectable culinary delights that transport us back to nostalgic moments from childhood.
Diwali is celebrated in every Indian household with great enthusiasm. The colorful rangolis, vibrant decorations, and exchanging of gifts are the highlights of this festival. Not to forget the aromas wafting through the house, the sound of laughter, and the shared joy of cooking Diwali dishes and eating together make Diwali a truly special celebration.
In the spirit of rekindling those nostalgic moments and creating new ones, let's explore traditional Diwali dishes and innovative twists on these classics, perfect for creating at home and sharing with loved ones.
So, without further ado, let's get started and learn to cook some Diwali recipes that you and your family will surely love.
Don't we all agree that nothing beats the taste of Diwali dishes prepared at home?
Shahi Paneer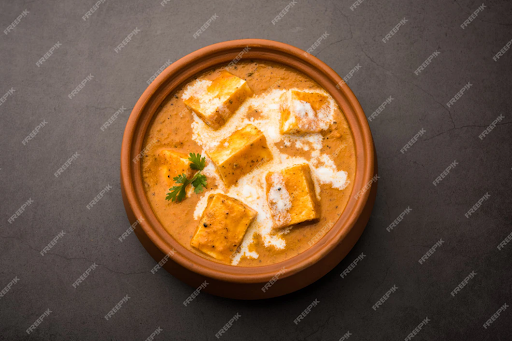 Let's begin with a traditional delight that's both creamy and comforting. It symbolizes richness and warmth, just like the familial bonds cherished during Diwali. To make this Diwali special food you don't need to think twice, it is liked by all.
Ingredients:
250g cubed paneer (cottage cheese), cubed
1 cup finely chopped onions
1 cup pureed tomatoes
1/2 cup cashews
1/4 cup yogurt
1/4 cup cream
2 tbsp ghee
1 tsp ginger-garlic paste
1 tsp cumin seeds
1 tsp garam masala
1 tsp turmeric powder
1 tsp red chili powder
Salt to taste
Chopped coriander for garnish
How to cook:
To prepare the cashew paste, soak cashews in warm water for 15 minutes, then blend into a smooth paste.
Now heat ghee in a pan and add cumin seeds, followed by chopped onions. Sauté until golden brown.
Stir in ginger-garlic paste and cook until the raw aroma disappears.
Add tomato puree and cook until the oil separates from the masala.
Sprinkle turmeric powder, red chili powder, and garam masala. Mix well.
Add the cashew paste, yogurt, and cream. Stir gently, allowing the flavors to meld.
Gently fold in the paneer cubes, ensuring they're coated with the luxurious sauce. Simmer for a few minutes.
Season with salt and garnish with chopped coriander. The aroma is pure magic!
Plate it up and savor the royal indulgence of your homemade Shahi Paneer. Don't forget to share the love.
Besan Ladoo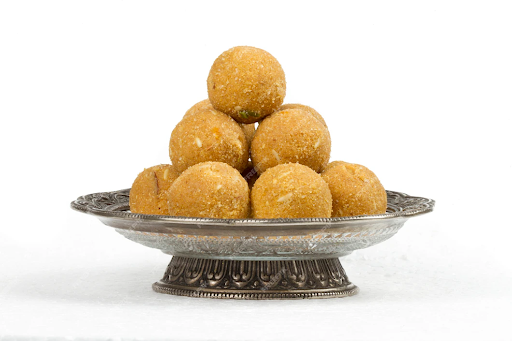 Diwali is only complete with these aromatic, sweet delights. Besan Ladoos are one of the most popular Diwali treats. Besan Ladoos, made from gram flour (besan), ghee, and sugar, evoke memories of childhood treats and the sweetness of festive moments. Here's a step-by-step guide on how to prepare these heavenly spheres of joy.
Ingredients
2 cups gram flour
1 cup ghee
1 cup powdered Indian sugar
1/2 teaspoon cardamom powder
A pinch of saffron strands (optional)
2 tablespoons chopped nuts
Desiccated coconut for garnish (optional)
How to cook
Heat ghee in a heavy-bottomed pan over medium heat.
Add besan and roast it on low-medium flame, stirring continuously to avoid lumps. Roast until the besan turns golden brown and you can smell a nutty aroma.
Allow the roasted besan to cool to room temperature.
Once the besan is cool, add powdered sugar, cardamom powder, saffron strands, and chopped nuts. Mix well.
Now take small portions of the mixture and shape them into round balls with your hands. If the mixture feels too dry, you can add a little more melted ghee.
Optionally, roll the ladoos in desiccated coconut for a lovely texture and added flavor.
Place the besan ladoos on a plate or in a tray and let them set for a couple of hours. They will firm up as they cool.
Your homemade besan ladoos are ready to be savored!
Store them in an airtight container to keep them fresh.
Apart from traditional recipes, Diwali is a great time to enjoy some recipes with a twist.
Chocolate-Ginger Halwa with a Spicy Kick
No festival is complete without the delicious and wholesome Halwa. This Diwali let's add a modern twist to the traditional halwa by adding a spicy kick.
Ingredients
1 cup semolina (sooji)
1/2 cup ghee (clarified butter)
1/2 cup cocoa powder
1 cup grated jaggery (adjust according to sweetness preference)
2 cups water
1/2 cup chopped nuts (almonds, cashews, pistachios)
1 tablespoon grated ginger
1/2 teaspoon cinnamon powder
A pinch of chili powder (adjust to taste)
A pinch of sea salt
Chocolate shavings for garnish
How to cook
Heat ghee in a pan and roast semolina until it turns golden brown and releases a nutty aroma.
Add cocoa powder to the roasted semolina and mix well. Allow it to cook for a couple of minutes.
In a separate pan, dissolve grated jaggery in water to make syrup. Strain to remove impurities.
Gradually pour the jaggery syrup into the semolina-cocoa mixture, stirring continuously to avoid lumps.
Add some grated ginger, cinnamon powder, chili powder, and a pinch of sea salt for a unique blend of flavors. Adjust chili powder according to your spice tolerance.
Toss in the chopped nuts and continue to cook, allowing the halwa to thicken to your desired consistency.
Once the halwa reaches a rich, fudgy texture, remove it from heat and let it rest for a few minutes.
Garnish with chocolate shavings for an extra indulgent touch.
Your Chocolate-Ginger Halwa with a Spicy Kick is ready to be served! Enjoy the unexpected, delightful fusion of chocolate, spice, and warmth.
Baked Gujiya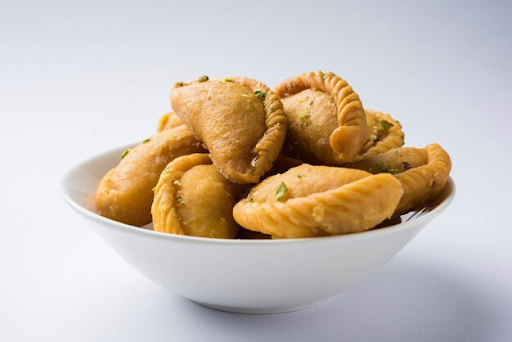 Gujiya, a sweet dumpling, usually deep-fried, gets a healthier makeover with a baked version. Encase a sweet filling of khoya, coconut, and nuts within a baked pastry for healthy eating and guilt-free indulgence.
Ingredients:
For the Dough:
2 cups all-purpose flour
2 tablespoons ghee (clarified butter)
A pinch of salt
Water for kneading
For the Filling:
1 cup khoya (reduced milk)
1/2 cup powdered sugar
1/4 cup chopped nuts (almonds, cashews, pistachios)
1/2 teaspoon cardamom powder
A pinch of saffron strands (optional)
2 tablespoons desiccated coconut
For Brushing:
2 tablespoons melted ghee or milk
Instructions
For the Dough:
In a mixing bowl, combine the all-purpose flour, ghee, and a pinch of salt. Gradually add water and knead into a smooth, firm dough. Cover and let it rest for 30 minutes.
In a pan, sauté the khoya until it turns slightly golden and releases a nutty aroma. Allow it to cool.
In a bowl, mix together the sautéed khoya, powdered sugar, chopped nuts, cardamom powder, saffron strands, and desiccated coconut. This forms a delicious, aromatic filling.
Divide the dough into small portions and roll each portion into a small disc, similar to a puri.
Place a generous amount of the khoya filling in the center of each disc. Be careful not to overfill.
Fold the disc in half, creating a semi-circle. Seal the edges using a fork or your fingers, ensuring the filling is enclosed.
Preheat your oven to 350°F (180°C).
Place the sealed gujiyas on a parchment-lined baking sheet.
Brush the tops of the gujiyas with melted ghee or milk. This adds a golden hue when baked.
Bake in the preheated oven for 20-25 minutes or until the gujiyas turn golden brown.
Allow the baked gujiyas to cool before serving. They can be enjoyed as is or with a sprinkle of powdered sugar.
Feel free to experiment with the filling by adding dry fruits or adjusting the sweetness.
Ensure the gujiyas are sealed properly to prevent the filling from leaking during baking.
As we savor these traditional Diwali dishes and their innovative versions, let's keep the spirit of togetherness and joy alive with natural and healthy foods from Danfe Foods. Whether it's reviving age-old recipes or experimenting with new culinary adventures, the essence of Diwali lies in the joy of sharing these delightful meals with family and friends. Let's celebrate the flavors, the memories, and the love that make Diwali a truly heartwarming festival.
Happy cooking and a joyful Diwali!
For more food recipes you can also read our blog on festive special foods.