What are the different ways to cook soya chunks?
BY DANFE |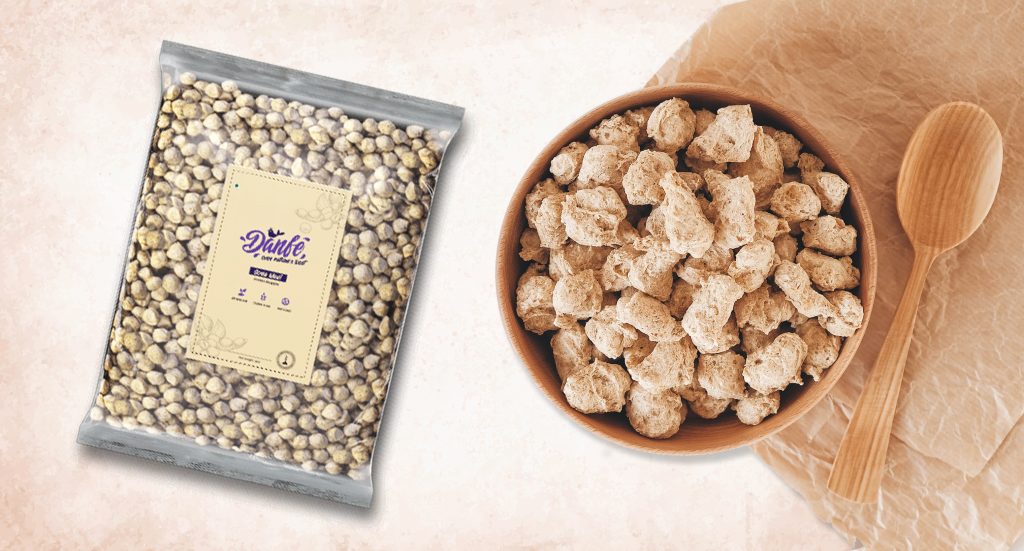 What exactly are Soya chunks?
Because of its meaty flavor and texture, soya chunks, which are manufactured from soybeans, are sometimes referred to as vegetarian meat. Because of its high protein level, it is often used in Indian family kitchens as part of curries and snacks. Soy has a lot of polyunsaturated lipids, proteins, and omega 3 fatty acids. Uncooked soya chunks include 345 calories per 100 grams, 52 grams of protein, 0.5 grams of total fat, 33 grams of carbohydrates, and 13 grams of dietary fiber. Apart from all of these advantages, it's worth noting that they're also high in calcium and iron, and the icing on the cake is that they don't contribute any sugar or salt to the body!
Soya chunks or soybean protein are considered a "complete protein" since they include all of the necessary amino acids for human nutrition. Soya chunk is commonly used as a meat replacement. Surprisingly, soya chunks have the same protein composition as meat and have no fat. Soya chunks are a nutritious snack for both adults and children. Soya chunks are extremely beneficial to persons suffering from diabetes, heart disease, high blood pressure, and other conditions.
Soya pieces readily absorb any flavors you cook with. Soya chunks and nuggets may be used in a variety of dishes, and they are also enjoyable and simple to make.
Now that we've learned the magic of soya chunks, it's obvious that this article will have a few takeaways for you in the sense that, keep reading to find out a few quick recipes that you will cherish forever. To learn more about Soya chunks' benefits, give this article a quick read!
Soya cutlet
Soya chunks cutlet dish is a healthful snack that is flavorful with onion, ginger, and other basic Indian spices. Soya cutlet is light and hearty appetizer that is really tasty in terms of snacking.
Ingredients:
1 cup dry soya chunks (granulated)
2 boiled potatoes
½ inch ginger (finely chopped)
½ onion (finely chopped)
Few coriander leaves (finely chopped)
1 tsp cumin seeds/jeera
1 tsp red chili powder
¼ tsp garam masala powder
½ tsp coriander powder/dhania powder
½ tsp amchur powder / dry mango powder
½ tsp chaat masala
⅓ cup bread crumbs or as required
Salt to taste
Oil for shallow frying
To make the binding paste:
2 tsp maida flour
2 tsp cornflour
¼ cup water
Instructions to cook:
Soak the granulated soya chunks for 30 minutes in boiling water.
Drain the water and thoroughly press excess water from the pieces into a big dish.
Mash the potatoes well with your hands.
Now stir in the onion, ginger, coriander leaves, and green chilies.
Add cumin seeds, red chili powder, garam masala, coriander powder, chaat masala, amchur powder, and salt to taste. cutlet made of soya
Combine everything well- we're aiming to get a non-sticky dough. To make it less sticky, add some bread crumbs.
Make the patties and leave them aside. (You may make whatever form you like, such as a heart or an oval.)
Using the maize flour and maida, form a thick, flowing paste. Besan is a healthier alternative to all-purpose flour. Now, make a thick, flowing paste and coat each patty in the batter. Make sure that both sides are covered.
Further, coat the cutlet with the breadcrumbs.
Heat the oil for shallow frying. In the meantime, dust the extra bread crumbs and carefully lay the cutlet in the oil.
Flip and cook the opposite side when one side is browned.
To remove excess oil, drain the soya cutlets on kitchen paper towels.
Voila! Your Soya cutlets are ready. Serve them hot with green chutney or tomato ketchup, as per preference!
Soya Bhurji
This soya chunk recipe is simply scrambled and spicy soya bean chunks. Soya bhurji, also known as Nutrela Bhurji, is a spicy dry sabzi prepared with soya granules. Serve it as a side dish for supper or brunch, or as a sandwich or paratha filling. It's a tasty, healthful, and high-protein vegan choice.
This is by far the easiest and most straightforward soya recipe.
Soy chunks cook quickly and easily. In most dishes, they may be used in place of meat. Soya bhurji is a high-protein vegetarian alternative.
Ingredients:
Soya chunks– ¾ cup granulated
Veggies- onion, tomatoes, bell peppers, and peas (optional, as per your preference)
Olive oil
Herbs and spices- cumin seeds, salt, red chili powder, turmeric powder, garam masala, ginger, and green chilies
For the garnish- lime juice, coriander/mint leaves
Instructions to cook:
Soak soya granules in boiling water for 10 minutes. While soaking, season it with salt.
After 10 minutes, squeeze off any extra water from the granules. (This aids in better flavor when cooked)
In a microwave-safe bowl, combine the olive oil, cumin seeds, and green chilies.
Put the bowl in the microwave for a span of 5 minutes
Remove this bowl from the microwave when it beeps.
Combine the finely chopped onion, capsicum, tomatoes, turmeric powder, chili powder, garam masala, and salt in a mixing bowl.
Return the bowl to the microwave and finish cooking the vegetable masala.
Remove this bowl from the microwave when it beeps.
Mix in the soaked Soya granules and ¼ cup of water, then quickly return the bowl to the microwave.
Soya Bhurji is ready right after you take it out of the microwave. This can be served for breakfast, lunch, or dinner! This could be your healthy alternative to a quick snack or even a midnight snack.
Soya Pulao
This is a basic and straightforward recipe for a tasty supper. In this soya chunk recipe i.e. the soya bean pulao recipe, healthy soya chunks, and rice are sautéed in ghee with fresh veggies and spices before being prepared like a regular pulao, giving it a well-balanced meal in and of itself.
Ingredients:
½ cup soya chunks
½ cup rice
½ tsp cumin seeds
2 bay leaves
A pinch of cinnamon powder or ½ inch cinnamon stick
2-3 cloves
1 finely chopped medium-sized onion
1 sliced potato
½ cup peas
Instructions to cook:
To prepare soya pulao, soak 1/2 cup of soya chunks in water until spongy, then rinse several times. Soak 1/2 cup of rice in another basin.
Add 1/2 teaspoon cumin seeds, 1-2 bay leaves, 2-3 peppercorns, 1/2 cinnamon stick, and 2-3 cloves to a pressure cooker.
Then, add 1 finely chopped onion and cook until transparent.
Sauté the soya pieces and 1 sliced potato for a few minutes.
Add the soaked rice and sauté it.
Add 1/4 cup of water
Cook on high heat with the lid on.
After the first whistle, reduce the heat to low and cook for another 4-5 whistles before turning off the heat.
After a few minutes, remove the steam and serve the rice.
Soya chunks are a fantastic source of protein for vegetarians, much like chicken breast is for non-vegetarians. However, that is not the only nutrient that soya chunks provide. One advantage is that they are absurdly simple to incorporate into your diet.
Try the dishes listed above; soya chunks have more to offer than simply excellent health. The Soya chunk nutrition is what your body needs, these recipes will fill in all the void!