Turmeric Powder: The Golden Spice
BY DANFE |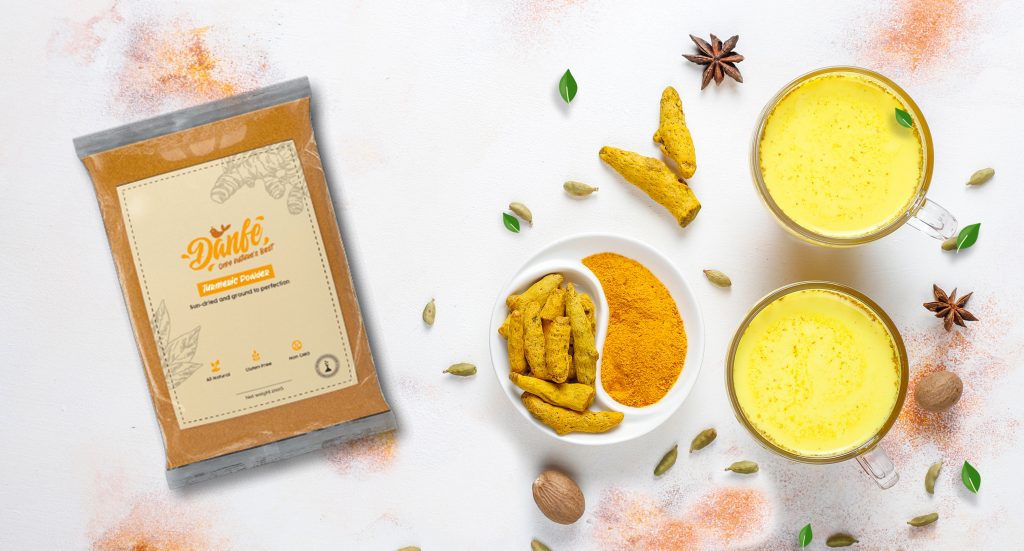 Turmeric is a spice that has been used in many cultures for centuries. It is a yellow-colored root vegetable that has a strong, earthy flavor. Turmeric powder is used to add color and flavor to dishes and is also thought to have medicinal properties. Turmeric and its various health benefits have been valued for centuries in Indian culture and even in ancient scriptures. Turmeric powder even today plays a big role in not just the food industry but also beauty and vanity treatments. Many rely on tumeric not just for it's flavor but also its ability to treat illnesses. Let's look at some of turmeric's benefits!
Turmeric Powder Benefits
Whether it's asian food or western, turmeric can bring about a great change and depth in flavor. The more natural the turmeric powder the better the taste of the dish. It is important that you source the best turmeric powder and ensure it is not adulterated. A trustworthy source for the best turmeric powder is Danfe Foods. Making sure you reap all the benefits of pure and natural turmeric powder. Now let's discuss the various benefits of using this amazing spice in your diet.
Reduces inflammation
Turmeric is a spice that has been used in India for centuries to reduce inflammation. Turmeric powder is frequently used to treat illnesses including pain and inflammation because curcumin and other compounds in turmeric may reduce swelling. Turmeric is a spice that can be applied topically to treat inflamed areas and had with water or milk for better digestion.
Helps heal ailment
Curcumin is a natural antioxidant found in turmeric. Including turmeric powder in your daily diet can help heal any ailments you may be facing. They help protect your body from many developing diseases such as cancer, diabetes, cardiovascular, and more. This is why it's always a good idea to drink a glass of warm turmeric powder milk before bed.
Helps treat cancer
It is often used as a flavor enhancer and to add color to dishes. Recently, there has been more research done on turmeric's potential health benefits. Researchers believe that turmeric could be beneficial in treating cancer cells because it has anti-inflammatory properties.
Turmeric has also been shown to have antioxidant properties. This means that it can help defend the body against damage caused by free radicals. Free radicals are harmful molecules that can cause damage to cells and tissues. Antioxidants are substances that help fight free radicals and protect the body from damage.
Boosts heart health
Turmeric is an incredibly versatile spice that can be used in both savory and sweet dishes. In addition to its culinary uses, it has been shown to be beneficial for your health in various ways. Turmeric is a powerful anti-inflammatory agent and has been shown to reduce the risk of heart disease by reducing inflammation in the body. In a study, it was found that curcumin, one of the active compounds in turmeric, can improve vascular function and reduce the risk of heart disease.
Promotes brain function
Researchers have found that turmeric can help improve brain functioning and protect against cognitive decline. Here are 3 ways that turmeric can help improve your cognitive health:
Protects Against Cognitive Decline: One study found that turmeric can help protect against cognitive decline in elderly adults. Researchers theorize that this is because turmeric is a potent antioxidant and anti-inflammatory agent.
Reduces Brain Inflammation: Another study found that turmeric reduced brain inflammation in mice with Alzheimer's disease-like symptoms. Researchers suggest that this could be due to the antioxidant properties of turmeric, which protect cells from damage.
Supports Brain Functioning: Curcuminoids in turmeric have been shown to support brain functioning in humans and animals. These compounds may promote neuron growth and regeneration, which could help keep your cognitive skills sharp throughout your life.
Boosts healthy skin
The main component of turmeric is curcumin, which has been studied for its anti-inflammatory properties. Turmeric powder has been used in traditional medicine to treat various ailments, including joint pain, skin conditions, and inflammation. Researchers are continuing to study the benefits of turmeric to improve overall health.
Yummy Turmeric Powder Recipes
If you're a newbie to using turmeric powder, don't worry because we've got your back! We've got some easy mouth watering recipes that would help you understand how to use turmeric powder in baby steps. Getting the hang of turmeric powder is as easy as 1,2,3!
Turmeric Banana Smoothie
This golden smoothie is a great way to get your daily dose of turmeric! It's also a great way to get some potassium, magnesium, and fiber all in one go.
Ingredients
1 banana
½ cup almond milk or regular milk
1 tsp of turmeric powder
A pinch of Himalayan salt
Instructions
Start by adding the almond milk and banana to a blender.
Add the turmeric, and salt, and blend until smooth.
Voila! Your golden elixir is ready!
Garlic Tumeric Rice
If you're looking for a flavorful and healthy meal that is both colorful and satisfying, you'll love this turmeric rice recipe! The addition of spices gives the rice a beautiful hue, while the spices give it a delicious flavor.
Ingredients
2 tbsp coconut oil or unsalted butter
1 medium onion, coarsely diced 4 garlic cloves, minced
1 tsp turmeric powder
2 cups rinsed and drained basmati rice or your choice of long-grain rice
3 cups vegetable stock
Salt and pepper to taste
Peas
Instructions
Over medium heat, melt the butter until it is totally melted and bubbling.
Add onion and garlic and sauté for about 2 minutes, or until aromatic.
Stir in the veggies and the turmeric powder.
In a large mixing bowl, combine the rice and stir until it is equally coated.
Stir in the stock, salt, and pepper.
Bring to a boil, cover, and cook for 15 minutes over low heat.
Remove the rice from the pan and put it aside for at least 5 minutes before fluffing with a fork and enjoy!
This dish is perfect for a quick and easy dinner, or as an appetizer or side dish. Give it a try today!
Also read: How Do Danfe Natural Grocery Products Differ From Others?
Conclusion
As you know, turmeric is a spice that can be found in many different Indian dishes. It has been used for centuries as a natural remedy for numerous health conditions, and it is now being studied more closely by scientists because of its potential to treat some forms of cancer. Turmeric, along with its countless health benefits also promotes better skin. Adding turmeric to your daily diet or skin care would greatly improve your health and vanity. We hope you have enjoyed learning about this powerful spice! Don't forget to vote for your favorite snack on our Instagram!