The Ultimate Guide to Kabuli Chana : Nutrition, Calories, and More
BY DANFE |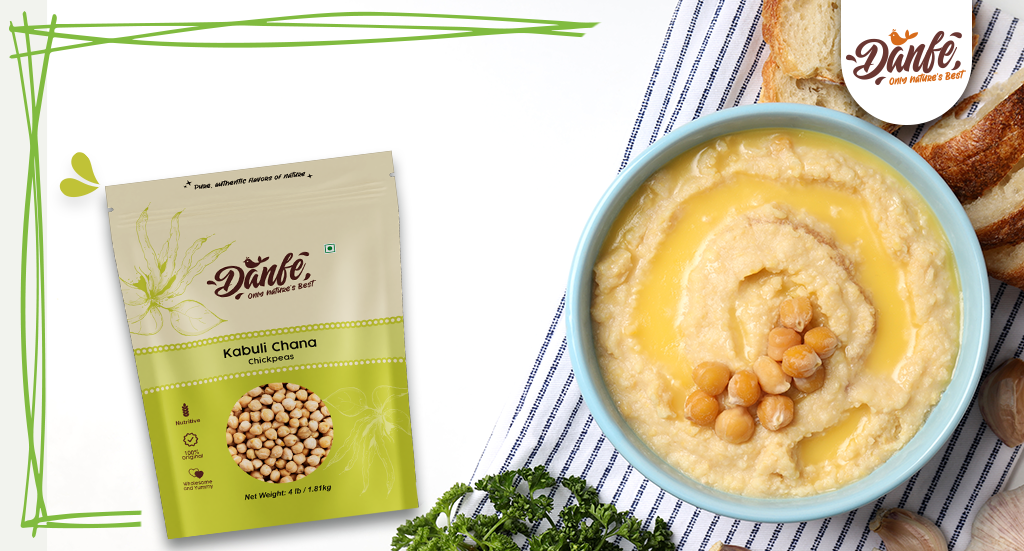 Kabuli chana is white and different from the darker brown desi version of chana. While both have numerous nutritional benefits, we will focus on kabuli chana calories, characteristics and recipes here.
Kabuli chana is also popularly known as chickpeas in english. They are a part of the lentil family and are widely used in traditional south asian and middle eastern foods recipes. Today they play a major role in healthy food recipes. Widely used in salads and as snacks, Kabuli chana plays a vital role in a healthy diet.
Indians use Kabuli chana to create the most yummy and nutritious meals. When cooked right and introduced to delicious and healthy spices you can make the most flavourful dishes ever! Interested in knowing more? Let's get started!
Nutrient-rich
Kabuli chana has an excellent nutritional profile with a moderate calorie count of 269 per cup (164 grams). Carbohydrates account for approximately 67% of these calories, with the remainder coming from protein and fat. kabuli chana also has a good amount of fiber and protein, as well as a variety of vitamins and minerals. Here's a breakdown of a cup (164 g) of cooked kabuli chana's nutritional quantities.
269 calories
14.5 grammes protein
4 grams of fat
Carbohydrates: 45 g
12.5 grammes of fiber
Manganese accounts for 74% of the daily value (DV)
71% of the DV for folate (vitamin B9)
Copper accounts for 64% of the DV.
Iron: 26% of the daily value
Zinc: 23% of the daily value
Phosphorus: 22% of the daily value
Magnesium: 19% of the daily value
Thiamine: 16% of the daily value
Rich source of plant protein
When it comes to nutrition, kabuli chana is a great source of plant-based protein, making them an excellent food for vegetarians and vegans. 1-cup (164-gram) serving contains approximately 14.5 grams of protein, which is comparable to the protein content of foods such as black beans and lentils. Chickpea protein may aid in keeping the stomach full and controlling your appetite. Protein has also been linked to weight loss, bone health, and muscle strength. According to some studies, the protein quality of kabuli chana is superior to that of other types of legumes. This is due to the fact that kabuli chana contains essential amino acids except methionine. This is why kabuli chana makes one of the healthy food options.
Helps prevent iron deficiency
Kabuli chana are an excellent source of iron, with 1 cup providing approximately 26% of the DV (164 grams). Iron aids in the production of red blood cells, as well as physical growth, brain development, muscle metabolism, and other aspects of health. If you don't get enough of this important micronutrient, your body's ability to produce healthy red blood cells may suffer. As a result, iron deficiency, characterized by symptoms such as weakness, fatigue, and shortness of breath, may develop. As a result, kabuli chana is an excellent choice for those who are at high risk of iron deficiency, such as vegans and vegetarians. Kabuli chana also contains vitamin C, which may aid in iron absorption in the body.
Here are a few healthy food recipes you can try with Kabuli chana!
Ragda Curry
Ragda is a curry or gravy made with kabuli chana, spices, and seasonings. It is used to make chaat snacks such as Pani Puri, Ragda Puri, Ragda Patties, Ragda Chaat, and Masala Puri. However, these kabuli chana curry are also delicious with dinner rolls (pav) or bread, or with a topping of crunchy onions, chutneys, chaat masala, lemon juice or yogurt, and sev. Furthermore, when used to make chaat items, this simple kabuli chana curry balances the flavors and works well with the chutneys. It is always preferable to have a lightly seasoned ragda curry rather than going overboard with a lot of ingredients.
Ingredients
14 teaspoons turmeric powder (ground turmeric)
12 teaspoons red chili powder or cayenne pepper
1 tablespoon oil
1 pinch asafoetida (hing)
2 cups water for pressure cooking
1 cup kabuli chana
Instructions
Pick and rinse the dried kabuli chana in water several times, the previous night.
Soak the peas in triple the amount of water overnight or for 8 to 9 hours.
Remove water. Rinse the kabuli chana several times in fresh clean water before draining.
Add the soaked kabuli chana , turmeric powder, red chili powder, asafoetida, oil, and salt in a 3 liter pressure cooker.
Mix in 2.5 cups of water thoroughly. Cook for 15 to 20 minutes on medium pressure. Only open the lid and check to see if the peas are tender and softened when the pressure in the cooker falls on its own.
If they are not completely cooked, pressure cook for another 8 to 10 minutes. Add 1 cup of water, or as needed, and pressure cook for a second time on medium heat.
When the peas are soft and mushy, check the ragda for consistency.
If it's a little watery, cook the ragda in the pressure cooker without the lid to evaporate the water. Stir frequently.
Ragda should be neither too thick nor too thin. The consistency is medium to medium-thick and slightly thick.
Check the seasonings and add more salt or red chili powder as needed.
This ragda can now be used to stuff pani puri or to make chaat snacks like ragda pattice or ragda puri.
Pour the hot ragda into a bowl for a quick snack. Top with finely chopped onions, roasted cumin powder, chaat masala, black salt, or regular salt. Drizzle with lemon or lime juice and top with coriander or mint leaves.
You can also top with some sev (fried gramme flour vermicelli), crushed papdi, or crispy golgappa puri.
Can't find your kabuli chana at the supermarket? Buy kabuli chana here.
Hummus
A mildly seasoned Middle Eastern dip made with kabuli chana and tahini. Typically accompanied by pita bread and pickled vegetables.
Ingredients
2 cups kabuli chana
1 tbsp chopped garlic
1 tbsp coriander
1 teaspoon Tahini (sesame paste)
3 tablespoons lime juice
2 tablespoons olive oil
Seasoning of salt and pepper
As a garnish Olive oil and coriander leaves
Instructions
Soak the kabuli chana overnight, then boil and drain.
Combine all of the ingredients to make a thick paste.
If necessary, blend in some of the drained chickpea water.
Transfer to a serving bowl and garnish with parsley and serve with pita bread.
Kabuli Chana Salad
Don't like much leafy salads? Try a kabuli chana salad or chickpea salad with fresh vegetables like bell peppers, cucumbers, green onions, and feta cheese tossed in an easy homemade lemon-olive oil dressing.
Instructions
3/4th cup Boiled kabuli chana
½ cup sliced Onion
½ cup sliced Green bell pepper
½ cup sliced Red bell pepper
½ cup sliced Cucumbers
½ cup sliced Cilantro leaves
½ cup sliced Scallions
Feta Cheese as desired
1 tsp Cumin seeds
1 tsp Red chili flakes
1\3 cup sliced Dried mint leaves
Instructions
Once done with boiling kabuli chana, save the water after draining. This thick liquid is called Aquafaba.
Place the cooked kabuli chana in a mixing bowl.
Season with salt, paprika and cumin powder.
Add dried mint leaves
Toss the mixture with salad spoons
Spinach Chickpea Salad
This recipe is not just a nutritious meal but also an easy way to have veggies in a yummy manner. Not just you but your kids are definitely gonna love it.
Ingredients
Cooked Kabuli chana
sliced tomatoes
Diced Onions
Diced and pitted cucumber
1 cup spinach leaves
¼ cup yogurt
1 tsp ginger-garlic paste
1 tsp arugula leaves
3 tbsp coconut oil
Salt and pepper to taste
Instructions
In a blender add spinach leaves, ginger-garlic paste, yogurt, and a pinch of salt to make a consistent and dense sauce.
In a salad bowl, add cooked Kabuli chana, cucumber, tomatoes and onions.
To this, drizzle on top some coconut oil and the spinach sauce.
Give this a good mix and sprinkle on some arugula leaves along with salt & pepper.
Found these recipes delicious? Check out this idea for a kabuli chana dish on our instagram.
Conclusion
Danfe's kabuli chana is more than just an essential ingredient in hummus or a tasty addition to chili. They're also extremely nutritious, consisting of vitamins, minerals, fiber, and protein. These traits may aid in weight management, blood sugar regulation, and improved brain health, while lowering your risk of chronic diseases such as heart disease and cancer. To begin, try roasting kabuli chana as a snack or adding them to a salad.
Also read': 5 must try chana recipes