The Best Spices for Digestive Health
BY DANFE |
Do you occasionally experience digestive discomfort? Our bodies need healthy digestion to work properly, but the truth is that almost all of us have been affected at some point by digestion disorders. Going to the doctor every time makes digestion problems time-consuming, expensive, and is only a solution to the problem, not prevention.
There are many things we can do ourselves to maintain and even improve the functioning of our digestive system, and one of the best things is using the power of digestive spices. There are many spices with differing helpful properties, especially when it comes to our digestive system. Easy homemade remedies using spices can often be a simple yet effective way that we maintain our digestive health. Here are some of the best spices good for digestion:
Coriander Seeds
The cooling effects of coriander are probably the most pronounced of all the spices. The seeds are commonly used in herbal remedies for a variety of ailments. The seeds are best known for their digestive properties, which include reducing heat in the body and intestines. This is why they are also known to help improve ailments such as heartburn.
Coriander seeds contain natural carminative properties that reduce or prevent gas in the gastrointestinal tract and help relieve numerous pitta disorders caused by heat. The liver and pancreas are also shown to produce more natural bile and digestive enzymes when consuming these seeds.
Cumin Seeds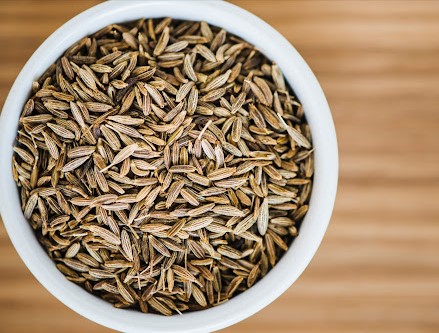 Cumin seeds (jeera) are an essential Indian spice that makes your food taste delicious and are filled with health benefits. Cumin has a spiced, warming taste with a nutty undertone and is one of the most powerful spices that aid digestion. Cumin can help reduce gas and bloating and has an excellent blend of taste and effectiveness owing to its anti-inflammatory properties. In the same way as coriander, it decreases digestion heat while increasing digestion strength.
It promotes healthy digestion, the proliferation of good bacteria, and detoxification of the intestinal tract. It is also known to reduce occasional digestive discomfort, bloating, and gas while supporting healthy levels of mucus production in the gastrointestinal tract.
Turmeric Powder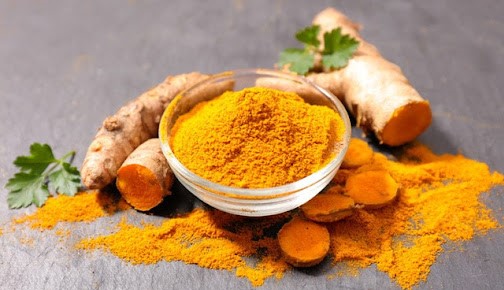 Turmeric is a root with a bright orange color and heady aroma that is complemented by its earthy taste and numbing pepper-like flavor. Turmeric powder is a kitchen staple in any household and is well renowned for its medicinal benefits.
One of the most popularly known uses of turmeric is for its properties as a digestive spice. It has antioxidant and anti-inflammatory properties which help aid digestive processes and reduce heat generation in the body as a result. 
Ajwain Seeds
Ajwain seeds are widely distributed throughout India, where they are used as spices. Though the seeds resemble thyme in appearance, they are much more aromatic, bitter, and pungent. Ajwain is good for providing immediate relief from indigestion and acidity since it contains an active enzyme, thymol, which stimulates the secretion of gastric juices, improving digestion.
These spices are extremely beneficial for health, especially over long-term use, and are some of the best spices that aid digestion. Incorporating them into everyday cooking is one of the easiest ways to reap their benefits. Here are some delicious recipes that utilize these spices.
Punjabi Aloo Gobi
The Punjabi version of this classic meal uses turmeric, chilies, coriander, cumin, and ginger, making it very gut-friendly. These spices not only provide digestive benefits but also depart mouth-watering flavors.
Ingredients:
480g cauliflower cut into small florets
260g potatoes boiled, peeled, and diced
2 tbsp vegetable oil
Pinch of asafoetida
1 tsp cumin seeds
½" ginger blended to a paste
3 green chilies slit lengthwise
1 tsp turmeric powder
1 ½ tbsp coriander seeds, ground
Salt to taste
Handful of coriander for garnish, finely chopped
Juice of half a lemon
1 tbsp dried fenugreek leaves/ kasoori methi (optional)
½ inch ginger for garnish
Instructions:
Heat the oil over a medium flame in a large non-stick heavy bottom saucepan. Add the asafoetida and cumin seeds and sauté for a minute before adding the ginger and green chilies. Then add and cook the turmeric and coriander powder.
Toss in the cauliflower florets with the seasonings. Stir over medium heat for one minute, making sure the florets are well coated. Sprinkle with water and stir again. Place the lid on the pot and cook on a low setting for 15-17 minutes. Keep stirring halfway through cooking.
Mix in the boiled potatoes. Serve with coriander, lemon juice, kasoori methi, and ginger slivers. Turn off the heat and keep warm with a lid on for a few minutes. Stir well. Enjoy with chapatis and raita!
Ajwain Paratha
This Ajwain Paratha recipe raises the nutritional value of the dish by adding ajwain to the dough. Make it for breakfast or snacks and eat it plain, or serve it with a pickle or curry. Ajwain seeds aid digestion and relieves abdominal pain. The seeds of Ajwain, also known as carom, are rich in fiber, minerals, vitamins, and antioxidants.
Ingredients:
2 cups whole wheat flour
2 tsp ghee
2 tsp salt
3 tsp ajwain seeds
Oil for frying
Instructions:
Combine the whole wheat flour, ghee, salt, and ajwain in a bowl. Make a soft dough by kneading it with your fingers, adding water, and letting it rest for 30 minutes.
Make lemon-sized balls from the dough on a griddle. Rub oil on the circle before folding the sides in half to make a semicircular shape. Dust, roll, and then fold the dough to form a triangle.
Dust and roll again to make a 5-inch triangle. Apply oil again and fold to make a triangle. Place the paratha on the hot griddle and cook until brown spots appear on both sides.
Then spread oil over the paratha and cook until nicely browned. Use a ladle to press down the paratha as it cooks. Enjoy!
Spices not only improve the flavors of your cooking, but they also come with a host of health benefits, one of the biggest being improved digestion. Including spices in your everyday cooking is a simple and effective way to reap these benefits, and these recipes are great for just this purpose. Try them out today!