Super-Nutritious Health Benefits of Ajwain Seeds
BY DANFE |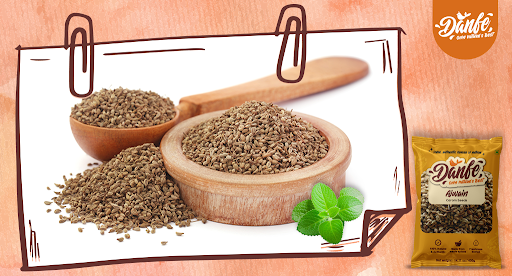 If you are an Indian or a Middle Easterner, then you will be familiar with the aroma and taste of ajwain seeds, popularly known as Carrom seeds or Bishop seeds. Carum Copticum is the Latin name for this spice. The plant is an annual herb in the Apiaceae family, and both the leaves and the seed-like fruit (commonly referred to as seeds) are edible.
Ajwain seed is a super spice that has a very strong taste and smell that is similar to thyme. They are used for a variety of purposes in Indian cooking and are often added to rice dishes, such as biryani and pulao, for the flavor it provides. It is used in curries, soups, and dal to add flavor. They can also be consumed as tea or mixed with water to create an elixir.
The most common use of ajwain seed is in the preparation of chaat masala, an ingredient that has been described as "the soul of Indian street food". They have an earthy taste which is why they are often paired with other spices like cumin or coriander.
There are innumerable health benefits of Ajwain seeds which make them a great spice to add to your food. Let's read in detail about the goodness of this magical seed and why you should indulge in using this healthy superfood in your daily cooking.
What are the benefits of Ajwain seeds?
Helps boost metabolism
Carom seeds, also known as ajwain, aid in nutrient absorption and metabolism. It leads to decreased fat storage and quicker weight loss.
An animal study discovered that ajwain spice increases your body's metabolism, causing food to pass more quickly through your stomach. It has not, however, been tested on humans. However, based on observation and experience, ajwain is a miracle spice for boosting metabolism and resulting in rapid weight loss.
Acts as an antioxidant and anti-inflammatory agent
These healthy seeds have anti-inflammatory properties that help reduce inflammation in the stomach which otherwise can lead to a number of diseases. Ajwain seeds also have antioxidant properties which help in protecting cells from free radicals that can cause oxidative damage in the body.
Consists of antifungal and antibacterial properties
Ajwain contains thymol and carvacrol, which inhibit the growth of bacteria and fungi. As a result, ajwain water or ajwain tea aids in the natural treatment of bacteria caused by food poisoning.
Thymol has anti-inflammatory, antioxidant, anti-microbial, and immunological properties. Adding thymol to the diet also helps prevent high-fat diet-induced obesity and improves insulin sensitivity, according to research.
Good for peptic ulcers and indigestion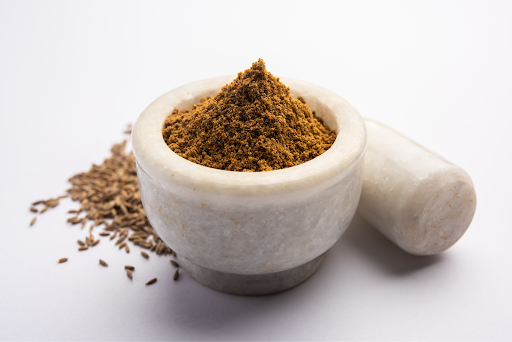 Ajwain is commonly used in Indian cuisines as a naturopathic digestive health remedy. Toxins and waste accumulate when food is not properly digested. It reduces the rate of metabolism, making it more difficult to burn calories.
Several studies have shown that ajwain extract can help with peptic ulcers, which are ulcers in the stomach, esophagus, or small intestine. A 2-week rat study found that ajwain extract could cure stomach ulcers caused by ibuprofen. The study also found that ajwain extract was as effective as a standard peptic ulcer treatment.
Ajwain is widely known for its natural remedy for gas, acidity, and recurring indigestion. It naturally treats delayed stomach emptying and upper stomach discomfort.
Helps control blood pressure
High blood pressure is a common ailment that is known to increase your risk of cardiovascular diseases and stroke.
Therapeutic treatments involve the use of medications like calcium-channel blockers. These blockers prevent calcium from entering the cells of your heart and relax and expand blood vessels, resulting in lower blood pressure levels. Thymol, a major component of carom seeds, may have calcium-channel-blocking effects and may help lower blood pressure levels.
Benefits of Ajwain for females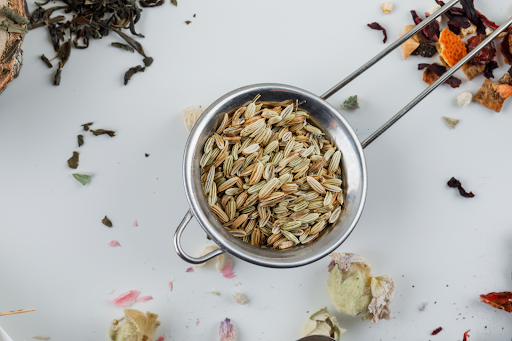 Helps prevent acne and pimples
Since ajwain seeds consist of various antioxidants and anti-inflammatory components, these bioactive extracts of ajwain are also beneficial in reducing skin irritation issues such as acne and pimples. Ajwain seeds contain thymol and carvacrol, which inhibit the growth of bacteria and fungi. Acne scars can be lightened with ajwain powder supplements.
Good for Pregnant Women
Drinking Ajwain water during pregnancy is another safe way to reap the benefits of Ajwain. Ajwain water is convenient to consume at the same time as it is beneficial in raw or powdered form. It can assist with:
Enhanced digestion
Improved metabolism
Combat bloating
Aids in soothing menstrual cramps
Chewing a handful of carom seeds is an effective natural pain reliever. To relieve menstrual cramps, chew one tablespoon of carom seeds (Ajwain) and drink a cup of warm water with it. Another way to consume carom seeds is to soak a handful in a glass of water overnight and then drink it first thing in the morning. It not only relieves pain but also regulates excessive bleeding and cures irregular periods.
Ajwain benefits for male
Aids in increased sperm count
Ajwain contains thymol, which helps to increase sperm count, increasing one's chances of conception and fatherhood.
Helps combat erectile dysfunction
Ajwain seeds are for centuries and have been known to help with erectile dysfunction and higher libido levels. Ajwain's numerous therapeutic and medicinal properties aid in the prevention of premature ejaculation.
Carbs: 43 g
Protein – 16 g
Fat – 25 g
Fiber – 39.2
Sodium – 10 mg
Iron – 4 mg
Vitamin C – 4 mg
Calories – 305 KCal
Frequently asked Questions
Q. Is it good to have Ajwain everyday?
A. Yes, Ajwain is safe when consumed moderately on a daily basis. It will aid in digestion and will keep infections at bay.
Q. What is the best time to eat Ajwain?
A. The best time to eat Ajwain is early morning, about half an hour before your breakfast.
Q. Is Ajwain good for colds and coughs?
A. Yes. According to studies, ajwain has antitussive or cold-suppressing characteristics. Their impacts are greater than those of codeine, which is commonly prescribed to treat common colds and coughs.
Q. Can I drink Ajwain water daily?
A. Yes, Ajwain water should be consumed daily as it aids in better digestion, reduces stomach bloating, and optimizes blood pressure.
Ajwain seeds are a natural herbal supplement that has many health benefits. Buy these natural Ajwain Seeds in the best online health food store and say yes to healthier living.
Explore Danfe's Natural Spices like Ajwain,, Methi Seeds, Turmeric, and Jeera which are known to aid in improving our overall health and contributing to our wellness with a range of benefits.
At Danfe, our spices are sourced from the choicest farms and are hygienically packed to ensure that freshness and nutrients are preserved well. Our natural and unadulterated products are sealed with the promise of nature's goodness and are ethically sourced for better environmental sustainability.
Visit our Products Page and try our range of Natural Spices, Lentils, and Flour today.