Sooji Flour: Introduction, Uses, Benefits & Recipes
BY DANFE |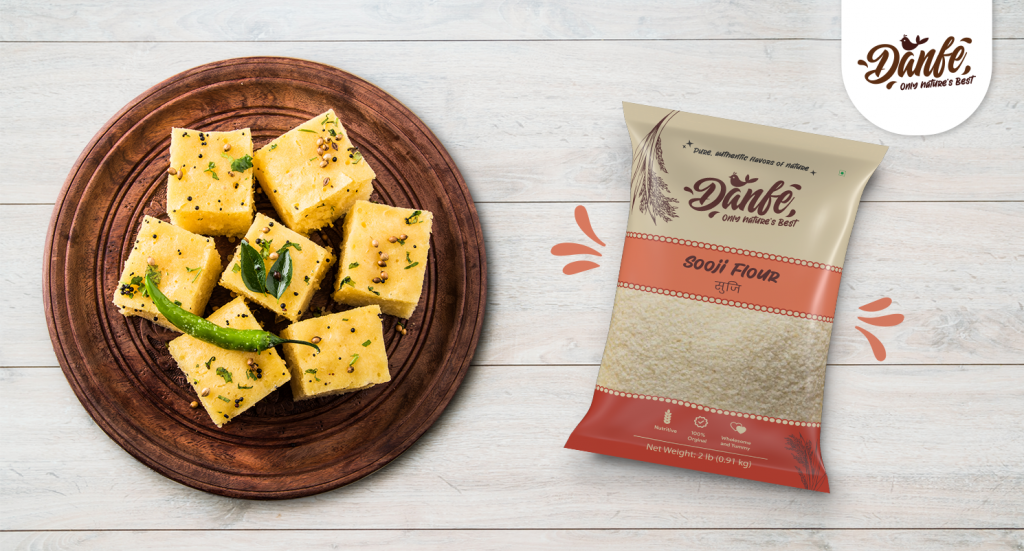 Introduction
Semolina, also referred to as Rava or Sooji flour, is a coarse flour made from Durum wheat that can range in color from yellow to white depending on the wheat's quality.
Although semolina, sooji, or rava are frequently thought of as being interchangeable in India, there are a few minor differences depending on the granule size and texture. While sooji is made by finely milling durum wheat and may contain traces of all-purpose flour or maida, semolina, which has a pale yellow color and is made from wheat, is used as a base for other products like couscous and is an alternative to cornmeal. On the other hand, rava is a universal ingredient that can be used in any dish because it is neither coarse nor fine.
It doesn't matter what you call it—semolina, sooji, or rava—it holds a prominent place in Indian cuisine and is listed alongside rice and dal on the monthly grocery list. These adaptable granules can be quickly cooked into a variety of dishes, saving you time on a busy day.
With all the bells and whistles let's also see the best place to buy healthy natural food products.
Benefits
Sooji flour is a rich source of vitamins and minerals, as well as other vital nutrients that will enhance your overall health. When you consume 60 gms of raw semolina flour, which has 198 calories, you will experience the following nutritional breakdown and advantages:
41% of the daily thiamine recommendations (Vitamin B)
36% of the daily folate recommendations
29% of the daily riboflavin recommendations
13% of the daily recommended iron intake
8% of the daily recommended magnesium intake
7% of the daily recommended fiber intake
Carbohydrates in 40 grams
Protein in 7 grammes
1 gram or less of fat
Advantages are:
Sooji might have immune-regulatory qualities (balancing immune cell functions) that could aid in immunity development. Sooji's arabinoxylans, a constituent, may aid in boosting the immune system's capacity to combat disease. To fully understand sooji's impact on the human immune system, more research is necessary.
Aids in controlling diabetes
Due to the presence of the plant component arabinoxylans, sooji may have anti-diabetic properties. Sooji consumption may lessen the spike in blood sugar that follows that meal. Instead of self-medicating, you should regularly check your blood sugar level and speak with your doctor if it is high.
Sooji can be used to treat cardiovascular conditions and strengthen the heart. The plant components tocopherol and phenols found in sooji may lower the risk of heart diseases. However, more research is needed to determine how sooji affects the human heart. If you experience any heart disease symptoms, you need to get medical help right away.
Sooji is a significant contributor to digestive health because it is a good source of dietary fiber (function related to the stomach and intestine). Sooji may speed up digestion and increase the volume of the feces. To determine how sooji affects human digestive health, more research is needed. However, if you experience stomach discomfort, you should see a doctor.
Helps lower bad cholesterol
Sooji can be used to regulate the body's cholesterol levels. Its constituent arabinoxylans, which have antioxidant properties, may be in charge of regulating cholesterol levels. However, more research is needed to determine whether sooji is effective at lowering cholesterol. However, you should routinely check your cholesterol levels and speak with your doctor if they are high.
Sooji Recipes
Sooji Dhokla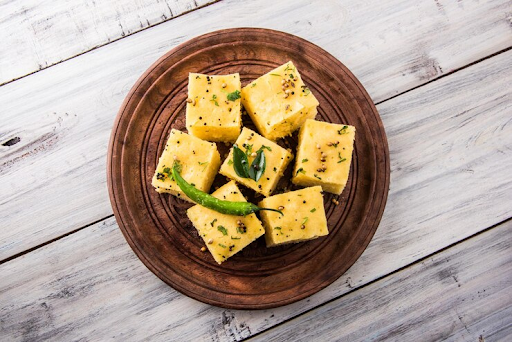 Ingredients:
1 Sooji cup
1 tsp salt
1 tsp oil
1/2 tsp sugar
1/2 tsp ginger paste
1/2 tsp green chili paste
1/2 cup of sour curd
1 tsp of fruit
1/2 cup of water
The Tadka:
1/2 tsp Rai
4 to 5 curry leaves
2 to 3 green peppers (slit)
1 tbsp oil
Coriander
Coconut
Steps:
Combine the sooji with the oil, salt, sugar, ginger, and chili pastes.
Smoothen by beating. Remix thoroughly after adding the water.
Pour the mixture immediately into the greased tin and place it in the steamer. Gently stir in the fruit salt.
For 20 minutes, steam. The tin should be taken out of the steamer and set aside.
Add the rai, curry leaves, and green chilies to the hot oil for the tadka.
Add 1/4 cup water after a slight saute.
Cut the dhokla into the appropriate sized pieces, then top with the tadka.
Garnish with coconut and coriander before serving.
Sooji Cheela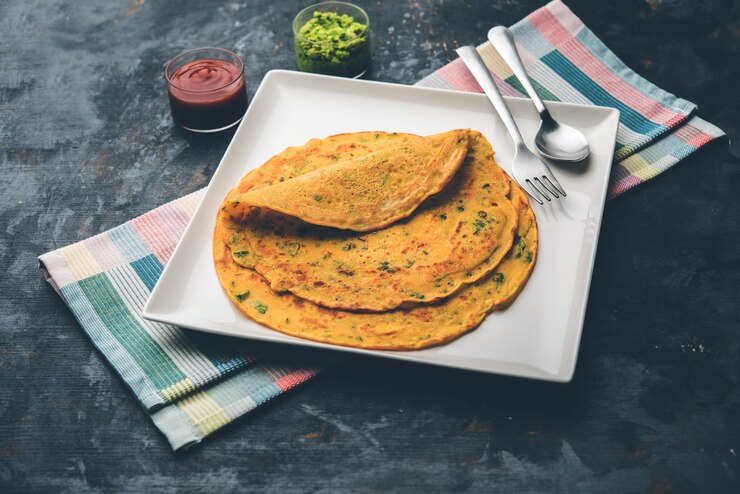 Ingredients:
1/2 cup sooji
1/2 cup besan
50 ml of curd
1 chopped onion
1 chopped tomato
1 – 2 green peppers
1 tsp crushed garlic, as desired
Powdered red chillies
Coriander leaves
Steps:
To make a smooth batter, pour some water into a bowl with the curd. Add some salt, besan, and sooji. Give it a 20–15 minute break.
Combine the onion, tomatoes, green chilies, garlic, and red chili powder in the same bowl. If more salt is required, add it.
Heat some oil in a flat pan. A ladleful of the batter should be poured in the center and swirled to form a thin pancake.
Cook until light brown on both sides. Serve warm.
Sooji Pakoras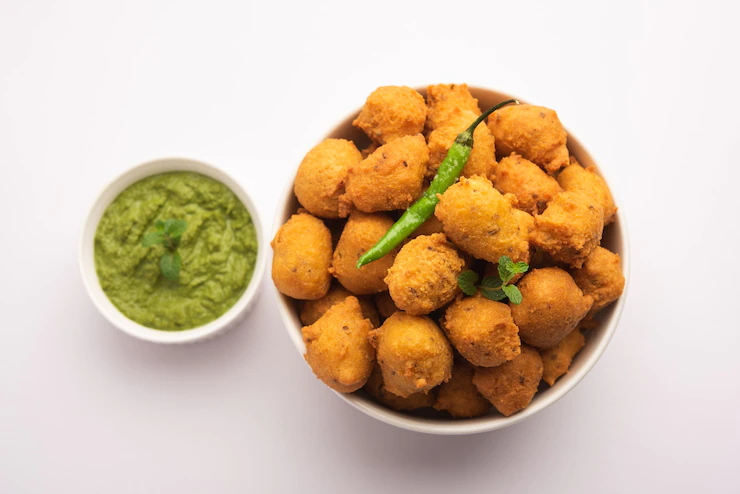 Ingredients:
1 cup of sooji
1/4 cup besan
2 chopped medium-sized onions
1 inch of grated ginger
2 potatoes
Finely chopped
5–6 minced garlic cloves
3 finely chopped green chilies
½ tsp red chili powder
1 tsp chaat masala
2-3 tbsp of chopped coriander leaves
Salt as per taste and frying oil
Steps:
In a pan, dry roast the sooji until it turns golden.
Next, remove from the flame and soak for an hour in one cup of water.
Heat the oil in a deep skillet until it is hot.
Add the soaked sooji after combining the besan and other ingredients.
Combine thoroughly, then add water to create pakora batter.
Slowly pour the batter into the hot oil (one could also use a spoon to put the batter).
Fry until crisp and golden. Serve hot with your choice of chutney or green chutney.
Why purchase Danfe Sooji?
In today's day and age when a lot of people are aware about the importance of natural foods, Danfe has come up with all natural and healthy food products that are named with natural ingredients that provide all that essential nutrients required for the overall growth and development.
We have a deep love for all things natural and delicious food, which is how Danfe was created. We think that everyone should have access to high-quality, delicious, natural, and pure ingredients.
And with this unwavering passion, we started out on our journey to help families enjoy the benefits of nature. Because that's what you deserve, we ethically source the highest-quality grains and spices from the most prestigious farms and hygienically package them to preserve their freshness and nutritional value.
Therefore, Danfe provides you with the best quality Sooji flour for making some delicious, healthy recipes.
Conclusion
Sooji flour is a very unique product that is filled with healthy nutrients and minerals therefore it proves to be a great food ingredient and a great source of nutrition. So don't forget to check it out and give yourself an exciting and tasteful experience.
Be sure to visit our other recipe blogs if you're looking for more enticing & healthy meal ideas. And if you're feeling adventurous, try experimenting with your own variations on these traditional dishes. After all, cooking is all about that! Try them out, then tell your loved ones about the best ones!