Rice Idli vs Rava Idli- Which one is better?
BY DANFE |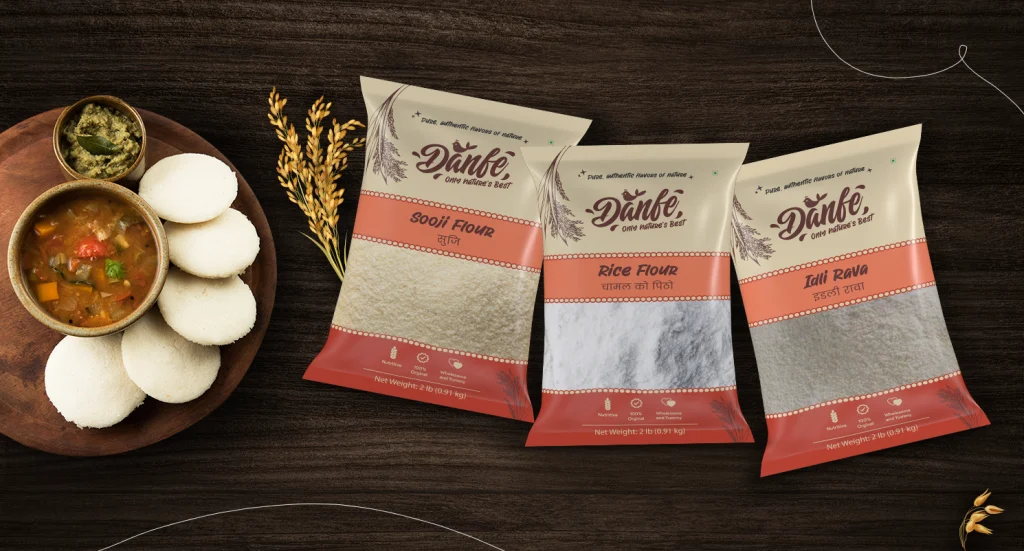 A plate of soft and fluffy idlis served with a combination of chutneys, and piping hot sambar is everyone's all-time favorite food.
IDLI – a simple Indian snack is said to be the healthiest meal. An authentic South Indian Idli is made by mixing urad dal and rice grains. But today, we can see another variation of Idli, which is Rava Idli, being cooked in Indian households. What's better? Let's figure it out while knowing how to make Idli.
Know the Ingredients
Before beginning any recipe, the first step is to learn about the ingredients. We all know that Rice or Rava is the main ingredient in idli, so let's look at how this ingredient makes the idli so healthy!
Rawa – Rawa is the Hindi word for semolina, also known as granulated wheat. Semolina is high in protein and fiber, which slows digestion and makes you feel fuller between meals. It's also high in B vitamins like thiamine and folate, which play essential roles in your body, such as assisting in converting food into energy.
Semolina is also high in iron and magnesium – these minerals aid in producing red blood cells, cardiovascular health, and blood sugar control.
Rice – A seed of a grass species, rice is one of the world's most important dietary carbohydrates, feeding more than half of its population.
Rice is high in protein, vitamins, iron, and antioxidants. As a result, rice is highly nourishing to the human body. It improves digestion and energy capacity while also naturally regulating body temperature. It contains vitamins A, C, and K, as well as minerals and antibiotics, all of which help to make the skin glow.
Traditional Idli Recipe
The traditional idli recipe is slightly time-consuming, but the results are delicious. If you like traditional idlis, this is the recipe for you.
Ingredients:
1 cup urad dal
3 cups rice flour
¼ cup cooked rice
1 tbsp methi seeds
Salt to taste
1 ¼ cup chilled water for grinding
Instructions:
In a bowl, soak the urad dal and the methi seeds in water for 6 hours.
Drain the water after 6 hours. Do not use fresh water to rinse.
Grind the urad daal, methi seeds, and cooked rice in a food processor, adding chilled water as needed.
Pour the batter into a large mixing bowl and stir in the rice flour. Mix in the water until the desired consistency is reached.
Place it in a warm place with a lid and leave it to ferment for about 10 hours.
After that, add salt to the batter and mix thoroughly.
Pour the batter into greased idli molds and steam for 15 minutes.
Delicious idlis are ready to be relished!
Delicious Instant Rava Idli Recipe
This Idli recipe is for those who want to make instant idlis or are short on time. These are equally delicious, but idli rava or suji flour is used instead of rice and urad. Let's get started!
Ingredients:
1 cup idli rava or suji flour
¼ cup curd
Salt to taste
¾ tsp fruit salt
⅔ to ¾ cup water to make a thick flowing batter
Instructions:
To make the idli batter, combine the Idli Rava flour, water, and sour curd in a large mixing bowl.
Make a smooth, lump-free batter using a wire whisk.
Stir in 1/2 teaspoon fruit salt (you can also use eno powder or baking soda) and thoroughly combine.
Pour it into a greased idli pan, and steam for 10 to 12 minutes.
Serve the steaming idlis with your favorite chutney and sambar.
Left with some batter? We have some amazing recipes lined up.
Recipes with Idli batter
These recipes are especially for those who always end up with extra idli batter. However, these dishes will be so delicious that you will end up making the batter just for them.
Vegetable Uttapam
One of the most loved breakfast dishes, Uttapams, are South Indian pancakes topped with vegetables. To make it, you can go the traditional way and experiment with your favorite toppings.
Ingredients:
1 cup leftover idli batter
1/4 cup onion, finely chopped
1/4 cup green bell pepper, finely chopped
1/4 cup carrot, finely chopped
1 tomato, finely chopped
2 green chillies, finely chopped
2 tablespoons coriander leaves, finely chopped
Oil for greasing
Instructions:
Combine the idli batter in a mixing bowl. Add water to achieve the desired consistency.
Heat a nonstick pan and grease it with olive oil.
Place the batter in a circular motion onto the hot pan. Make it as thin as you can.
On the surface, small holes will appear; add the chopped vegetables.
Drizzle some oil around the dish's edges and in the center.
Turn down the heat. Cook, covered, for a few seconds on medium heat.
By this point, the vegetables would have been cooked. Gently press it with the back of a spatula.
Cook the uttapam on the other side for 2 – 3 minutes over medium heat.
Place the uttapam on a plate to serve.
Enjoy it with sambar and chutney!
Punugulu
A delicacy like no other, Punugulu is a crispy deep-fried popular teatime snack made with urad dal and rice. You can enjoy it with a hot cup of tea.
Ingredients:
2 cups leftover idli batter
1 tbsp onion, finely chopped
1-inch ginger, finely chopped
1 tsp jeera
1 tomato, finely chopped
1 green chili, finely chopped
2 tablespoons coriander Leaves, finely chopped
Oil for deep frying
½ tsp salt
Instructions:
To begin, put leftover idli batter in a large mixing bowl.
Add onion, ginger, green chili, coriander, cumin seeds, and salt to the bowl.
Mix thoroughly to ensure that everything is well combined.
If a thick batter is desired, add more rice or rava flour.
Now, wet your hand and begin making lemon-sized balls.
Drop them into the hot oil one at a time.
Maintain a low to medium flame and stir occasionally.
Also, fry the punugulu until golden brown.
Drain the punugulu onto a kitchen towel to absorb any excess oil.
Finally, drizzle punugulu with coconut chutney or tomato sauce and serve.
Rava Idli or Rice Idli?
It would be unfair to pick one as the best. While rava idli is simpler to make and better for people with diabetes, rice idli is much easier to digest. However, you can choose one fairly based on your taste and health preferences. Whether made from rava or rice, our love for idli is never-ending.