Quick & Tasty Summer Refreshing Drinks
BY DANFE |
Summer is a time to enjoy the sunshine, warm weather, and fun outdoor activities.
Whether you're spending time at the beach, having a picnic in the park, or just lounging in your backyard, one thing is for sure – you need a hydrating drink to quench your thirst.
Fortunately, there are many quick and easy summer drink recipes that are non-alcoholic, so you can enjoy them any time of day.
In this article, we'll take a look at some of the best summer drinks you can make at home.
Watermelon Lemonade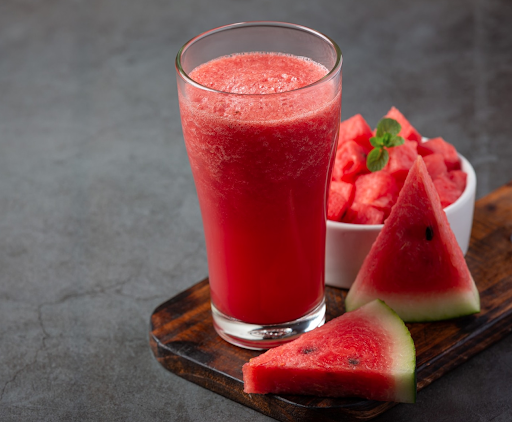 Watermelon is a classic summer fruit, and it's perfect for making a refreshing drink. To make watermelon lemonade follow the following this refreshing drink recipe:
Ingredients:
4 cups of watermelon cubes
1 cup of lemon juice
Pinch of Turmeric powder
Pink salt to taste
½ tsp Chaat masala
½ cup of sugar
4 cups of water
Instructions: 
Cut up your watermelon into cubes and deseed it.
Blend the watermelon cubes in a blender until smooth.
Strain the juice to remove any seeds or pulp.
In a large pitcher, mix the watermelon juice, lemon juice, turmeric powder, salt, chaat masala, sugar, and water.
Stir until the sugar is completely dissolved. Serve the lemonade over ice, garnished with a slice of watermelon or lemon.
This watermelon lemonade makes for one of the best fresh drinks for summer! Watermelon is not only tasty, but it is also high in nutrients. It contains vitamins A and C, as well as antioxidants, which can help protect your body from free radical damage.
Peach Iced Tea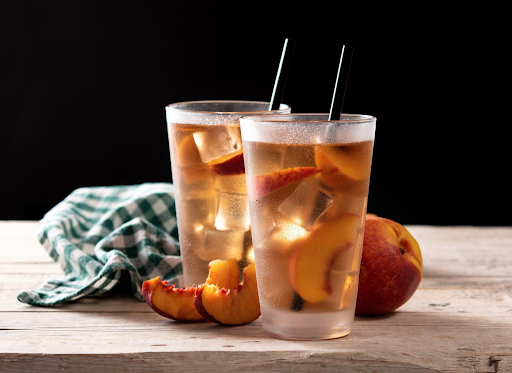 Iced tea is a classic summer drink, but adding fresh peaches can take it to the next level. To make this easy homemade summer drink you'll need:
Ingredients:  
4 cups of water
4 black tea bags
½ cup of sugar
2 ripe peaches, peeled and sliced
¼ tsp Coriander powder
1 tbsp Kalonji seeds
Ice cubes
Instructions:
Bring the water to a boil in a medium-sized pot.
Remove from heat and add the tea bags.
Let the tea steep for 5 minutes, then remove the tea bags.
Stir in the sugar and coriander powder until it's completely dissolved and add the kalonji seeds
Add the sliced peaches and let the mixture cool to room temperature.
Once it's cooled, strain the tea into a pitcher and refrigerate until chilled.
Serve over ice, garnished with a slice of peach.
Peaches are high in vitamin C and potassium, as well as being sweet. They can aid digestion and strengthen your immune system. That's why this peach iced tea serves as a healthy drink option to beat the summer heat!
Mango Lassi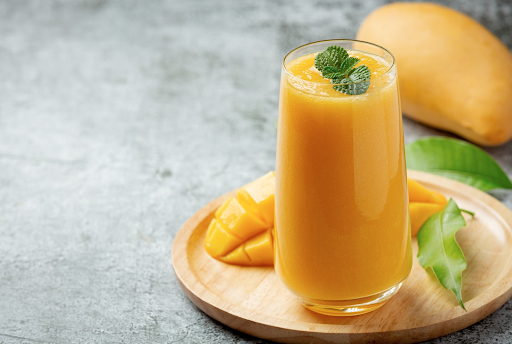 If you're looking for a drink that's both refreshing and filling, here's a major tip to make summer drinks– Summer fruits! Mango lassi is not just decadent but also super easy to make. To make mango lassi, you'll need:
Ingredients
1 ripe mango, peeled and cubed
1 cup of plain yogurt
½ cup of milk
2 tablespoons of honey
A pinch of cardamom (optional)
A pinch of turmeric powder
1 tbsp Kalonji seeds
Ice cubes
Instructions
Blend the mango cubes, yogurt, milk, honey, cardamom, and turmeric powder in a blender until smooth.
Add ice cubes and blend again until the mixture is thick and creamy.
Add in your kalonji seeds and mix well.
Pour the lassi into a glass and garnish with a sprig of mint and your summer drink is ready!
Mangoes are rich in vitamins A and C, and they're also a good source of fiber. Yogurt is a probiotic food that can help improve digestion and boost your immune system.
The best part about this recipe is that all-natural foods required for summer drinks are available throughout summer!
Pineapple Mint Cooler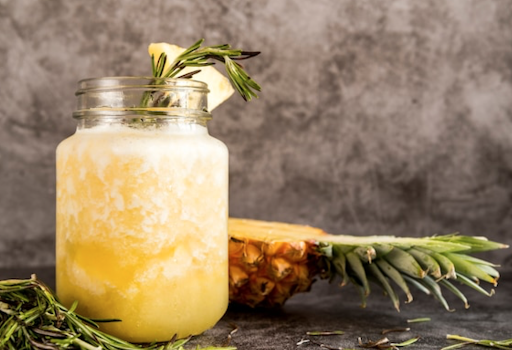 Pineapple is another tropical fruit that's a famous ingredient for the best summer coolers. To make this summer refreshment, you'll need:
Ingredients 
1 cup of fresh pineapple chunks
½ cup of fresh mint leaves
1 tablespoon of honey
1 lime, juiced
¼ tsp turmeric powder
½ tsp jeera
2 cups of sparkling water
Ice cubes
Instructions 
In a blender, puree the pineapple, mint leaves, honey, jeera, turmeric powder, and lime
Serve cool in a summer mocktail glass with a garnish of a tiny umbrella and enjoy!
In addition to high levels of vitamin C and manganese, pineapples include copper, thiamin, folate, potassium, magnesium, niacin, riboflavin, and iron. So, will you be adding pineapple to more of your summer refreshments?
Cucumber cooler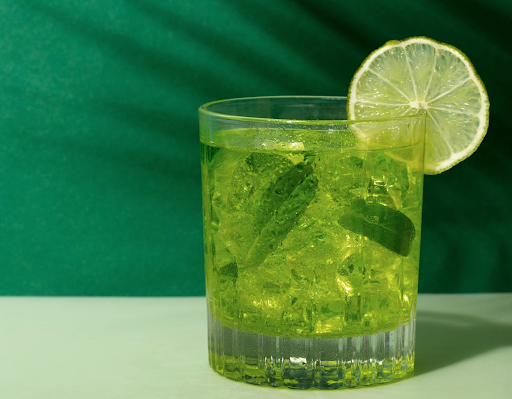 Cucumber Cooler is a refreshing non-alcoholic drink that definitely will help cool down during the summers. Here's a simple recipe to make Cucumber Cooler:
Ingredients
2 medium cucumbers, peeled and sliced
4 cups of water
2-3 tablespoons of freshly squeezed lemon juice
1-2 tablespoons of honey or agave nectar
¼ tsp Ajwain seeds (crushed)
¼ tsp Jeera seeds (crushed)
Ice cubes
Fresh mint leaves (optional)
Instructions:
Blend the sliced cucumbers, ajwain seeds, jeera, and water in a blender until smooth.
Strain the mixture through a fine mesh sieve or cheesecloth to remove any solids.
Add the lemon juice and sweetener to the cucumber juice and stir well until dissolved.
Serve over ice and garnish with fresh mint leaves, if desired.
You can also adjust the sweetness and tartness to your liking by adding more or less honey and lemon juice.
This alcohol-free summer drink is perfect for hot summer days or as a healthy alternative to sugary drinks.
Also read: Cooking Tips for a Healthier Week With Natural Food Products!
Into the sunset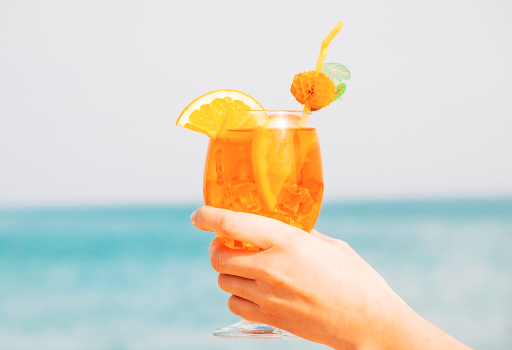 There's no need to stick to the same old drinks this summer. The world is your oyster when it comes to refreshing drink ideas.
You can get natural additions to your drink from the Danfe Foods store! You can make any boring drink flavourful by introducing danfe's food products like some spices and herbs.
Check out this healthy drink on our Instagram!
These quick and tasty non-alcoholic drinks are perfect for refreshing and hydrating you on hot summer days.
Try them out and let us know which one is your favorite!
Meta Description: Is the summer heat making you feel parched? Here are some Quick & Tasty hydrating summer drinks that'll help you beat the heat and stay healthy!
Social blurb: Is the summer heat making you thirsty? Here are some refreshing summer drinks that will help you combat the heat and stay healthy!