Powerful Health Benefits of Spices
BY DANFE |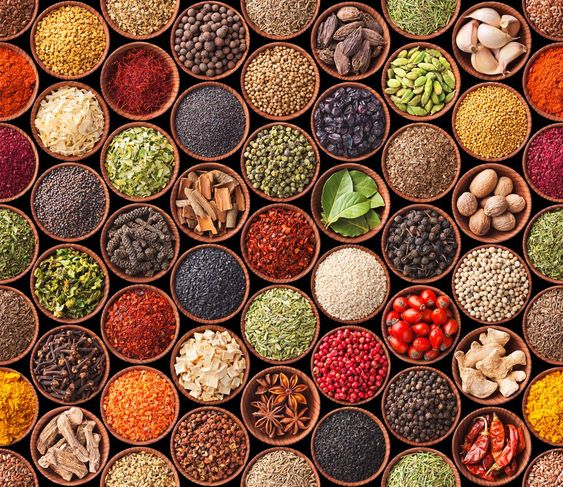 Spices, also known as masalas, have been an integral part of world history. Ancient civilizations found a direct route, popularly known as the Silk Road that linked the East and the West – just so they can get their hands on healthy, flavorful spices that were native to a particular region. These versatile spices were used for cooking, traditional medicine, and religious ceremonies.
Since the Spice Trade, the consumption and use of healthy spices, have been adopted across multiple cultures given the tremendous benefits they provide to one's health. Now, let's take a deep-dive into each of the healthy spices and their health benefits – so keep reading to learn more about these internationally loved spices!
Table of Contents:
Cumin Seeds
Mustard Seeds
White Sesame Seeds
Black Sesame Seeds
Ajwain Seeds
Dill Seeds
Turmeric Powder
Coriander Seeds
Methi Seeds
Kalonji Seeds
Bara Masala
Cumin Seeds
A staple spice in many cultures, Cumin Seeds are an integral part of cooking, not just for their taste but also for their numerous health benefits. These dark brown seeds contain antioxidants, iron, dietary fiber, carbohydrates, minerals, and vitamins that are known to fight bacteria and parasites, aid digestion, control blood sugar levels, and improve memory.
Thanks to their warm, earthy flavor and nutritional benefits, cumin seeds are the second most popular spice in the world! In Indian Cuisine, these seeds are used for tempering while the powdered form is used to spice up curries, soups, and beverages. In French and Dutch cuisine, these seeds are added to cheese to make them even more aromatic.
Ajwain Seeds
Also known as Carom Seeds, Ajwain Seeds have been used in Indian cooking and for medicinal purposes since ancient times. These tiny seeds are packed with flavor and multiple health benefits! They contain vitamins, minerals, antioxidants, and fiber as well as have antibacterial, anti-inflammatory, antibiotic, and anesthetic properties. Owing to their valuable nutrients, Ajwain seeds are known to help relieve abdominal pain & discomfort, fight pain & inflammation, boost respiratory health, and aid weight loss.
A little goes a long way with these powerful, pungent super seeds. In Indian cuisine, ajwain seeds are often used in small quantities for tempering and added as a final touch to curries or dals. It's also incorporated when baking bread or biscuits and sprinkled over the top in the end.
Mustard Seeds
Mustard Seeds are one of the most traded spices in the world and have been used since 5000 years ago for cooking purposes and traditional medicine. But these aren't just ordinary seeds; they are nutrient-dense seeds that have antibacterial, anti-inflammatory, and antiseptic properties. Additionally, they are naturally packed with minerals, calcium, phosphorus, magnesium, potassium, dietary fiber, and iron that are known to help improve digestion, lowering blood pressure, relieve aches and pains, and reducing migraines.
This versatile ingredient is easy to incorporate into your everyday diet. In Indian cuisine, they are added to dishes to make them more aromatic. Normally, they are sauteed in oil until they splutter, after which other ingredients are added. Mustard seeds are also cold-pressed to make Kachi Ghani Mustard Oil. In world cuisines, they are also used to make Dijon Mustard and other condiments.
White Sesame Seeds
White Sesame Seeds are tiny, oil-rich seeds that have been used in cooking for thousands of years and contain powerful health benefits. These seeds are rich in antioxidants, amino acids, fiber, calcium, omega-3 fatty acids, folic acid, and vitamins that help boost immunity, control blood pressure, stimulate hair growth, and regulate cell function. Also, they contain two substances, sesamin, and sesamolin that help lower cholesterol and protect the liver from oxidative damage.
Not only are these seeds highly nutritious, but they are also extremely aromatic, and exude delicate, nutty flavor to both sweet and savory dishes. They're the main ingredients in popular Middle Eastern and Indian dishes like tahini, halvah, and ladoo.
Black Sesame Seeds
Black Sesame Seeds are one of the healthiest superfoods to provide balanced nutrition. These seeds are rich in protein, zinc, magnesium, manganese, iron, fatty acids, and antioxidants that help kickstart cellular repair, improve blood pressure, aid digestion, lower cholesterol, and strengthen bones.
Their numerous health benefits have helped them earn a special place in many cultures. In South Indian households, they're used to make traditional snacks such as murukku, seedai, and ladoo. In western cultures, they're sprinkled on top of bagels to give it a delicious crunch, blended into smoothies, and even enjoyed with plain yogurt.
Dill Seeds
Dill seeds are one of the spices that have been treasured for their health benefits since ancient times. These seeds are rich in essential vitamins, antioxidants, calcium, riboflavin, minerals, manganese, iron, and folate that support healthy vision, aid metabolism, boost immunity, protect cells against damage, improve digestion, and lower blood sugar.
A popular herb and spice, dill seeds are commonly used to enhance the flavor of dishes. In western cuisines, they're often used when cooking trout, salmon, potatoes, or when making yogurt-based sauces/marinades. They're also used to garnish sandwiches and salads. Since the seeds have a stronger flavor than the weeds, they're also used in Asian cuisines to season stews, curries, vegetable dishes, and to make pickles.
Turmeric Powder
Also known as Haldi, Turmeric powder is an integral part of Indian culture – it's used in traditional medicine, religious ceremonies, and for cooking. There are hardly any dishes in Indian cuisine that don't use turmeric powder. It's used in every vegetarian and non-vegetarian recipe to enhance the flavor and color of dishes like curries, soups, gravies, and salads.
This incredibly sacred masala is packed with a strong antioxidant, curcumin, that has anti-inflammation and anti-ulcer properties. Turmeric powder also contains vitamins, minerals, and plant sterols that help boost immunity, alleviate pain & inflammation, support digestive health, and improve brain health. Turmeric powder is also used in skincare for its beauty benefits as the curcumin helps brighten skin, fade acne scars, treat wounds, and prevent active breakouts.
Coriander Seeds
Perhaps one of the oldest spices that have been used in world cuisines for centuries, coriander seeds are a powerhouse of vitamin A, K & C, antioxidants, linoleic acid, potassium, magnesium, iron, calcium, folic acid, and dietary fibers. Owing to these powerful nutrients, coriander seeds are known to improve digestion, aid weight loss, prevent anemia, regulate diabetes, maintain glucose levels, lower cholesterol, and prevent menstrual irregularities.
These powerful seeds have a nutty and slightly citrus flavor that is both subtle and aromatic. No Indian dish is complete without coriander seeds. They're sauteed in oil with garlic, ginger, mustard seeds, and cumin seeds in the beginning before other ingredients are added. Crushed in powder form, it is used to season sweet and savory dishes. In international cuisines, they're added to baked goods, potatoes, soups, cheese, and even chutneys. It's truly a must-have ingredient for all spice lovers.
Methi Seeds
Also known as Fenugreek, Methi Seeds are an aromatic herb with an incredible nutritional profile! These seeds are packed with fiber, iron, magnesium, manganese, and protein that are known to provide pain relief, regulate diabetes, control blood sugar levels, lower cholesterol levels, reduce aluminum toxicity, and aid weight loss.
Because of their nutrient content, Methi Seeds are widely used in South American & Asian cultures. It's one of the key spices used to make South Indian Sambar masala. They're used in tempering dals, curries, and even pickles. Methi Seeds can even be used as a garnish for soups, salads, stir-fries, and sandwiches. If you're looking for a healthier substitute for maple syrup or vanilla, Methi Seeds come in handy here as well. All in all, these versatile seeds are a must-have addition to your pantry.
Kalonji Seeds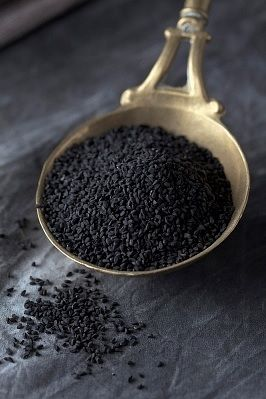 Also known as black cumin, Kalonji Seeds are a flavorful spice with impressive health benefits. These seeds are packed with active compounds called phytochemicals and phytosterols that aid weight loss. Interestingly, Kalonji Seeds grew in popularity because of its ability to boost weight loss when combined with a low-calorie diet. These seeds also contain antioxidants, vitamins, fiber, protein, iron, potassium, alkaloids, calcium, and fatty acids that are known to increase memory, provide pain relief, control blood pressure, protect kidneys, boost immunity and improve dental health.
Due to their numerous health benefits, this aromatic spice is used to flavor curries, dals, vegetable dishes, and even savory recipes such as samosas, papdi, and kachoris. These tiny black seeds can also be blended into smoothies and used to make salad dressings. Also, these seeds can be pressed to make black cumin oil that can be massaged into the skin to improve skin conditions and promote healthy-looking skin!
Bara Masala
Bara Masala is an aromatic blend of spices that is used to season dishes and enhance their flavor. This spicy, tangy, and flavorful spice blend has ayurvedic properties and anti-inflammatory properties; and contains essential vitamins, minerals, and antioxidants. Because of its rich nutrient profile, Bara Masala helps improve digestion, aid weight loss, boost immunity, support heart health, regular diabetes, and lower cholesterol.
Additionally, this flavorful spice blend can be used to marinate meat and vegetables before roasting or cooking. It can also be used as a substitute for chaat masala and can be sprinkled on top of chaat dishes such as Dahi Bhalla, Dahi Vada, and even on top of roasted potatoes. If you're someone who loves spicy food or wants your homemade meals to get that restaurant taste, you need to have bara masala in your pantry!
Danfe's offers 100% pure and natural spices that are free of GMOs, pesticides, preservatives, and chemicals. Our spices are ethically sourced and handcrafted from the choicest farms to make your everyday recipes authentic and pure every time. Now that you know a little bit more about spices, their health benefits, and uses, it's time to try them out for yourself and make your dishes even more flavorful!