Navratri Special: Mouth-Watering Buckwheat Recipes You Can't Miss
BY DANFE |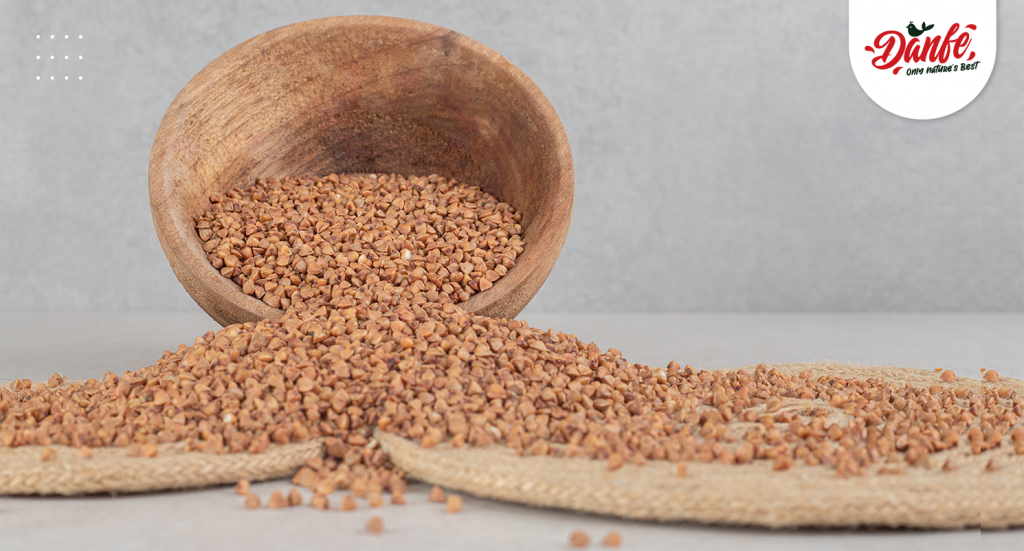 Buckwheat is among one of the most fiber rich foods. It is a member of the food category known as pseudocereals. Pseudocereals are seeds that grow on grasses yet are used as cereal grains. The pseudocereals quinoa and amaranth are also popular. Buckwheat is gluten-free because, in spite of its name, it is not linked to wheat. Because it has a significant amount of minerals and antioxidants, it has gained popularity as a healthy diet. One of its advantages is that it helps in improved blood sugar management.
Its primary nutrient is carbohydrates. It also consists of protein, a variety of minerals, and antioxidants.
Why is Buckwheat good for health?
Buckwheat is excellent for your health since it contains several essential nutrients that it addresses most of your needs for both nutrition and wellness. Fiber, riboflavin, niacin, magnesium, phosphorus, copper, and manganese are all found in abundance in it. By keeping you from becoming constipated and lowering your cholesterol, fiber aids in digestion. You feel fuller more quickly as a result, which may aid with weight management. The production of red blood cells and growth depend on riboflavin.
Buckwheat Flour is one of the best ways to consume buckwheat because it increases its adaptability and flexibility when used to prepare various foods and recipes.
How to use Buckwheat
Buckwheat can be used as a substitute for rice or barley. You can enjoy utilizing buckwheat to make a variety of gluten-free flours and even dishes. The white buckwheat works well as a blend in gluten-free maida substitute and can be used to make gluten-free atta for rotis. You can purchase the grain and prepare your own buckwheat flour by grinding it.
Navratri Recipes Using Buckwheat Flour
People choose alternative and "saatvik" ingredients during Navratri, such as rajgira, barnyard millet, raw banana flour, and kuttu ka atta, to name a few. During this time, people abstain from non-vegetarian food and staple grains. Sabudana or sago khichdi, potato kheer, kuttu kadhi, and other foods are consumed during the nine days of festivities.
Hence here is a recipe that you can use during this Navratri and can even be considered as navratri special food.
1. Buckwheat Dosa
Ingredients for the Dosa Batter:
1 cup Buckwheat flour (Kuttu ka Atta)
Use any regular rice flour or couscous flour to make 1/2 cup of sama ka chawal.
1/4 cup fresh or frozen spinach
1/2 cup plain yogurt, or just plain water if you're vegan.
1/4 cup water rock salt (Sendha Namak) or any salt of your choice.
4 tablespoons of oil.
Ingredients for the Filling:
2 boiled potatoes, peeled, and diced into bite-sized pieces (Optional)
Chopped 1/2 cup cilantro (Optional)
Garlic, green, chopped
Turmeric, 1/4 tsp.
Mustard seeds, 1/4 tsp.
Optional: 2 tablespoons coconut flakes
Olive oil, 2 tablespoons, for cooking
How to make the Crepes:
Combine Buckwheat flour, Sama ka chawal, and spinach in a food processor or hand blender.
To create a smooth batter, pulse in the yogurt, water, and salt (Batter should be slightly thick and not runny). Let it rest.
For about a minute, heat a tablespoon of oil in a large nonstick skillet.
To create the shape of a crepe, pour about two ladles of batter and swirl.
On low heat, cook for about 2 minutes.
The crepe should be lightly flipped over and cooked for an additional 2 minutes, or to your taste. You can cook for an additional minute to get crispy brown.
Continue until all of the crepes or dosas are made.
How to make the filling:
Heat 2 tablespoons of oil for one minute.
Once the oil is hot, add mustard seed and eventually when they start to crack, add turmeric, salt and potatoes.
Combine oil, mustard seeds, and potatoes by stirring.
Cook potatoes until they are well-done and browned over medium heat.
Add the chopped cilantro, chili, and coconut flakes after turning off the heat.
After tossing them lightly, serve them separately or stuffed into each crepe.
2. Buckwheat Khichdi
Ingredients:
1 cup Buckwheat (kuttu)
50 ml of curd (dahi)
1 tablespoon of oil
1 teaspoon cumin seeds (jeera)
A half-cup of raw potato cubes
1 tablespoon of ginger-chili paste
Table salt or rock salt, to taste (sendha namak).
2 tablespoons of roasted, finely powdered peanuts
1/8 teaspoon lemon juice
Garnish:
1 tablespoon of chopped coriander, fine (dhania) optional
1 tablespoon toasted sesame seeds (til)
Instructions:
Clean, wash, and soak the buckwheat for two hours in enough water to create buckwheat khichdi. Drain, then set it aside.
In a large bowl, thoroughly whisk the curds. Set apart.
In a deep non-stick pan, heat the oil, then add the cumin seeds.
When the seeds begin to pop, add the potatoes, stir well, cover the pan, and cook over a medium temperature for 2 to 3 minutes, or until the potatoes are halfway cooked, tossing occasionally.
Reduce the heat, toss in the rock salt, buckwheat, curds-water mixture, and ginger-green chili paste, and then cover the pan to cook on a low heat for 5 to 6 minutes.
Mix thoroughly after adding the peanuts and lemon juice, then fry on medium heat for one minute.
Buckwheat khichdi should be garnished with coriander and sesame seeds before being served with peanut kadhi.
3. Buckwheat Cheela
Ingredients:
Flour – To make this crepe, or cheela, buckwheat flour is to be used.
Vegetables- pumpkin and carrot are to be used.
Spices: rock salt (sendha namak), powdered cumin seeds, and chopped green chilies.
A few coriander leaves, water to make the batter, and cooking oil.
Instructions:
Clean, wash, and grate the pumpkin and carrot.
Take all the ingredients and blend them with water in a mixing dish. To suit your tastes, adjust the salt. The consistency ought to resemble regular dosa batter. So, adjust the amount of water as necessary.
Grease a griddle with some oil or ghee and heat on a medium temperature.
Spread the batter with two spoonfuls on the tava. Do as much as you can quickly; this won't spread like a regular dosa. Comparatively it will be thicker.
Oil the sides and top of the cheela equally. Cook it for 30 to 40 seconds.
Cook it on the other side by flipping it. After being cooked, it should be golden brown.The buckwheat crepe or cheela is prepared and ready to be served with curd or raita.
4. Buckwheat Dhokla
Ingredients:
1/4 tsp of ginger paste
1 teaspoon of green chili paste
1 ¼ cups of Buckwheat, (kuttu or kutti no daro)
Sour curd, 1/2 cup (khatta dahi)
Salt as required
Instructions:
Wash and dry the buckwheat thoroughly for the starch to drain.
Using a strainer, drain any extra water.
In a large dish, thoroughly combine the buckwheat, curds, and 1/2 cup of water. Put a lid on the container and set it away for at least 4 to 5 hours to soak.
Mix thoroughly before adding the salt, ginger paste, and green chili paste.
Half of the batter should be poured into a 175 mm (7″) diameter greased thali, which you should then turn clockwise to distribute evenly.
The dhoklas should be cooked for around 10 to 12 minutes in a steamer.
Make a second thali by repeating steps 5 and 6.
Cool just a little, then slice and serve right away.
Conclusion
For the upcoming Navratri season, we hope you will find this buckwheat recipe useful and even be motivated to buy flours online. Be sure to visit our other recipe blogs if you're looking for more enticing & healthy meal ideas. And if you're feeling adventurous, try experimenting with your own variations on these traditional dishes. After all, cooking is all about that! Try them out, then tell your loved ones about the best ones!
Hope you enjoyed reading this blog. Now, you can check our website: Danfe Foods to explore other healthy food products online!