Mouth-Watering Vegetarian Indian Breakfast Recipe
BY DANFE |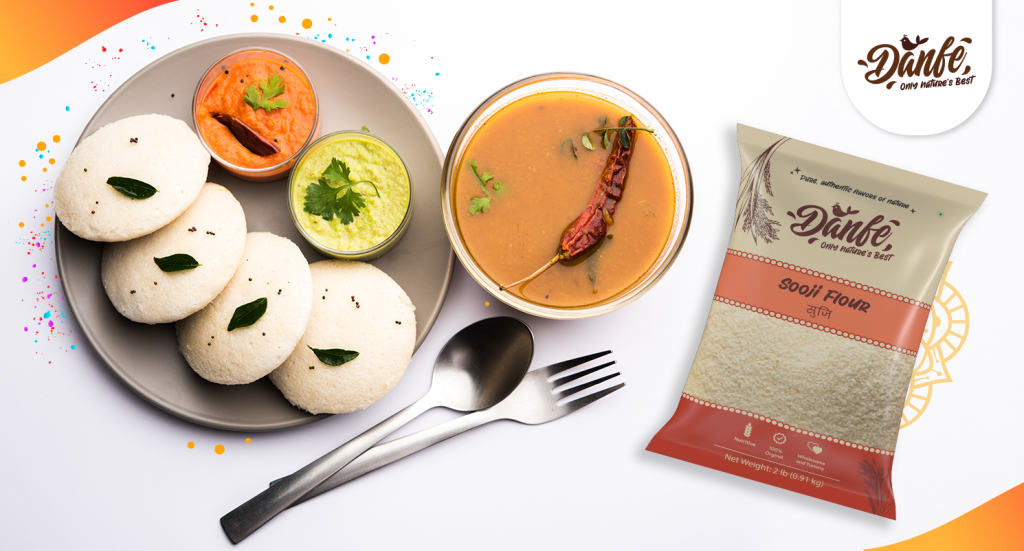 The smell of a new batch of freshly cooked sambar in the morning or puffy steamy idlis can make anyone's day a lot better. As kids, we always get told at school to have a healthy breakfast at the beginning of the day.
Be it college or starting a new family away from home, we tend to look out for foods that are not just comforting but also healthy breakfast recipes.
Easy breakfast ideas help save time in our busy lives but also give us the best nutrition and energy we require to start our day.
Indian cuisine is known for its bold flavors, spices, and delicious vegetarian options. Here are some mouth-watering vegetarian Indian breakfast meals to try out:
Poha- Poha is a flattened rice dish that is popular in Maharashtra and other parts of India. It is cooked with onions, green chilies, and peanuts and is served with a sprinkle of lemon juice and fresh coriander. It is one of the most appreciated healthy breakfast recipes among Indians.
Chana Masala- Chana Masala is a spicy and tangy chickpea curry that is a popular breakfast option in North India. The chickpeas are cooked in a tomato-based gravy with onions, ginger, garlic, and a blend of spices. It is served with hot fluffy puris or bhaturas.
Uttapam- Uttapam is a thick pancake made with a fermented batter of rice and urad dal. It is topped with finely chopped onions, tomatoes, and green chilies. It is a popular breakfast dish in South India and is served with coconut chutney and sambar. If you're looking for a portion of low-calorie food, Uttapam is perfect for you!
Aloo Paratha- Aloo Paratha is a hearty breakfast dish made with whole wheat flour and a spiced mashed potato filling. It is cooked on a tawa with ghee or oil and is served with yogurt, pickle, or chutney.
Dhokla- Dhokla is a steamed snack that is made with gram flour, also known as besan. It is seasoned with mustard seeds, curry leaves, and green chilies. It is served with mint and coriander chutney.
Vegetable Sandwich- Another good meal for breakfast is the classic vegetable sandwich – a simple breakfast dish that is made with fresh vegetables such as cucumber, tomato, onion, and capsicum. It is layered with cheese and served with ketchup or mint chutney.
Looking for easier recipes to add to your breakfast menu? Here are some amazing dishes and the step-by-step guide to making them:

Rava Idli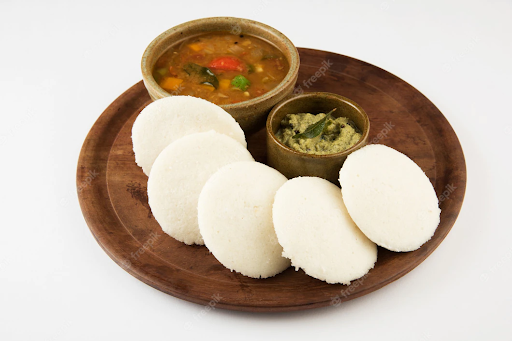 Rava Idli is a popular South Indian breakfast dish made from rava or semolina. Here's a simple recipe for rava idli that you can make at home with natural food products:
Ingredients:
1 cup Greek yogurt (curd)
1 tablespoon mustard seeds
A half teaspoon cumin seeds
1 teaspoon oil
a half teaspoon baking soda
Salt and pepper to taste Water as needed
garnished with chopped coriander leaves
Instructions:
Dry roast the Danfe flour in a pan over medium heat for 3-4 minutes, or until it turns light golden brown. To avoid burning, keep stirring continuously. Remove from the heat and set aside to cool.
In a mixing bowl, whisk together the yogurt and the roasted flour. Mix thoroughly and set aside for 10 minutes.
In a small saucepan, heat the oil and toast the mustard and cumin seeds.
Mix the tempering into the semolina mixture thoroughly.
As needed, add salt and water to make a thick batter. Make sure there are no lumps in the mixture.
Allow the batter to rest for 10 minutes, covered. As the semolina absorbs the water, the batter will thicken slightly.
Mix baking soda into the batter just before steaming the idlis.
Cooking spray or oil should be used to grease the idli plates. Fill the idli plates halfway with batter and steam for 10-12 minutes, or until a toothpick inserted comes out clean.
Allow the idlis to cool for a few minutes before removing them from the plates.
Serve this low-calorie food hot with coconut chutney and/or sambar and garnished with chopped coriander leaves.
Rava Upma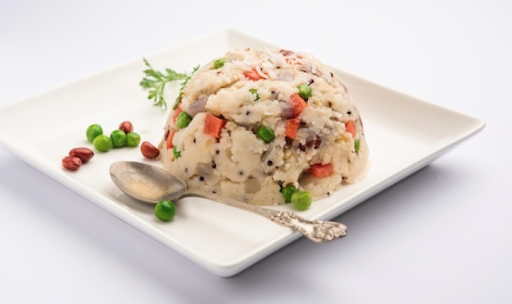 Rava Upma is a popular sweet snack in South India, particularly in Kerala. Semolina (rava/sooji), coconut, sugar, and ghee are used to make it. Here's how you can make this simple breakfast idea:
Ingredients:
1 cup rava/sooji semolina
1 cup shredded coconut
1 cup of sugar
1 pound ghee
14 teaspoon cardamom powder
a pinch of salt and water as needed
Instructions:
In a heavy-bottomed pan or kadai, melt the ghee.
Add the semolina to the pan and roast on medium heat, stirring constantly, until golden brown and fragrant.
To the roasted semolina, combine grated coconut, sugar, cardamom powder, and a pinch of salt. Combine thoroughly.
Add water to the mixture in small amounts, stirring constantly to prevent lumps from forming. Continue to add water until the mixture thickens and begins to leave the sides of the pan.
Turn off the heat and set aside to cool.
Grease your palms with ghee and roll the cooled mixture into small balls.
Allow the Rava Umma to rest for a few minutes until it firms up.
Your simple breakfast idea is complete. Serve and have fun!
Dalia Porridge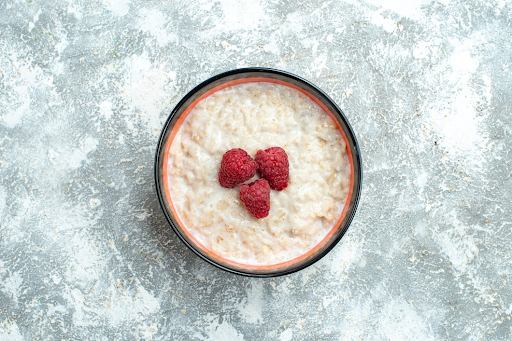 Cracked wheat is a healthy whole grain that is commonly used in Indian cooking, including breakfast. "Dalia," a creamy porridge-like dish made with cracked wheat, is a popular breakfast dish. It's also a great dish for those looking for healthy breakfast ideas for work. Here's how to make Dalia:
Ingredients:
1 cup of whole wheat (dalia)
3 cups of water
1 tablespoon oil
1 tablespoon cumin seeds
1 finely chopped onion
1 finely chopped tomato
1 finely chopped green chili
1 teaspoon ginger paste
1 tsp turmeric powder
1 tablespoon garam masala powder
Salt to taste
Fresh coriander leaves for garnish
Instructions:
Soak the cracked wheat in water for 20-30 minutes after thoroughly rinsing it.
In a pressure cooker or heavy-bottomed pot, heat oil.
Allow cumin seeds to sputter.
Sauté the finely chopped onion until it turns translucent.
Toss in the tomato, green chili, and ginger paste. Cook the tomatoes until they are soft.
Combine the salt, turmeric powder, and garam masala powder in a mixing bowl. Combine thoroughly.
Drain and add the soaked cracked wheat to the mixture. Stir thoroughly.
Mix in the water thoroughly.
Cook for 3-4 whistles on medium heat in a pressure cooker or pot with a lid. If you're using a pot, let it simmer for 20-25 minutes, or until the cracked wheat is tender.
Open the lid and give the Dahlia a good stir once the pressure has been released. If it's too thick, add some more water and cook for a few minutes longer.
Serve hot this breakfast meal, garnished with fresh coriander leaves.
Is Breakfast Really that Important?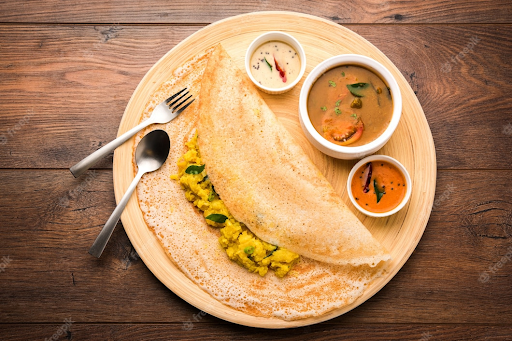 Breakfast is regarded as the most important meal of the day because it provides the body with the nutrients and energy needed to begin the day. Here are some of the reasons why a healthy easy breakfast is essential:
Energy source: The body requires energy to begin the day after a long night of sleep. Breakfast provides the fuel needed to kick-start the metabolism and provide energy for the day ahead.
Brain function: Breakfast is important for brain function because it contains glucose, which is the brain's primary source of energy. A healthy breakfast can help with concentration, memory, and overall cognitive function.
Metabolism: Breakfast can aid in the regulation of metabolism, which is the process by which the body converts food into energy. Skipping breakfast can result in a slower metabolism, which can have an impact on weight management.
Nutrient Intake: Breakfast is an excellent time to provide the body with essential nutrients such as fiber, vitamins, and minerals. A well-balanced breakfast that includes a variety of whole foods can provide the nutrients required for good health.
Also, check out more delicious breakfast ideas on our Instagram reel!
Conclusion
Spices, which can add flavor and depth to breakfast dishes, are well-known in Indian cuisine. That is what makes Indian breakfast options not just healthy but also delicious.
Some spices, such as turmeric and cumin, have anti-inflammatory properties and may be beneficial to one's health. It's important that you can only reap the best benefits from your diet if you include natural foods.
Breakfast dishes made from scratch include idli, dosa, upma, poha, and paratha, among others.
Many Indian breakfast meals are high in protein and fiber, which can keep you full and satisfied all morning. So if you're looking to maintain a healthy diet try out our easy breakfast recipes. Looking for more ideas check out our blog on Durum Semolina vs Regular Flour: Which is the best overall?