Mixed Vegetables With Kalonji Seeds- An Easy And Delicious Recipe
BY DANFE |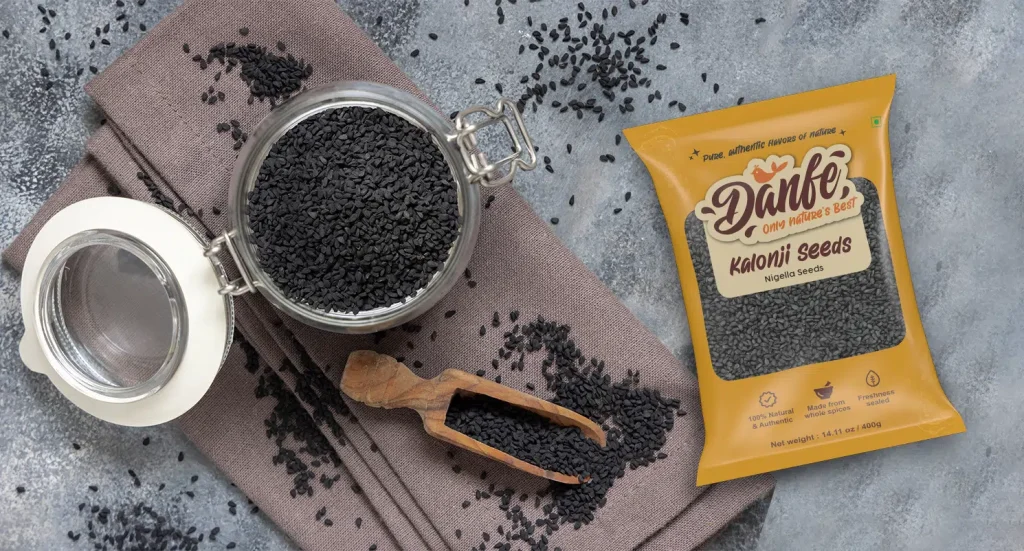 Do you like to eat vegetables? We can't ignore the benefits of vegetables, whether we like them or not. It provides our bodies with all the nutrients necessary for health and maintenance, such as vitamins A and C, fiber, potassium, and so on. As a result, we do not have the option of not eating vegetables and still staying healthy. But we can make it taste better and enjoy the flavor.
One such recipe that is a family favorite in India is Mixed Vegetables. It's super simple to make and can be made with whatever you have in the kitchen.
What if we add some nostalgia to the traditional mixed vegetable recipe? Kalonji seeds, also known as Nigella seeds, are an Indian pickle spice. It's full of flavor and benefits, and it takes you back to the days when Nani-Dadi ka achaar made any meal perfect.
What are Kalonji seeds?
Kalonji is the black seed of the Nigella Sativa plant, and it is also known as black cumin. Botanically, it is an evergreen plant in the Ranunculaceae family. As a spice, Kalonji plays an essential role in your kitchen. Most popular Indian dishes like kadhi, samosa, dal, papdi, and kachori have Kalonji as an ingredient giving these dishes a distinct taste.
It is used in various ways, including roasted and raw seeds and kalonji oil. Although they have a bitter flavor when eaten raw, they definitely enhance the flavors of other dishes.
Benefits of Kalonji seeds
In an ever-growing health-conscious world, people look for health benefits in every ingredient they put in their recipe. Kalonji seeds are commonly used in Indian dishes and are also known as "seeds of blessing'. These are widely used in medicine and various cuisines for their medicinal benefits and distinct flavor. Let's have a look at some benefits of these seeds.
Helps prevents diabetes
Kalonji is highly beneficial in controlling blood sugar levels in type 2 diabetes. Type 2 diabetes is a long-term disease that affects how your body uses and regulates blood sugar. People with diabetes can benefit from consuming Kalonji oil with black tea on an empty stomach.
Helps reduces headache
As a component of Ayurvedic medicine, Kalonji can aid in treating one of today's most common ailments, headaches. To relieve headaches, rub Kalonji oil on your forehead instead of taking antibiotics or pills. It is one of the best home remedies for headaches.
Improves oral health
Swollen and bleeding gums are common dental problems in adults and children. If you're looking for a natural solution to these health issues, kalonji seeds can greatly help.
Helps boosts skin and hair health
There are many herbal-based shampoos on the market, with black seeds as one of their main ingredients. These black seeds are high in anti-inflammatory and medicinal compounds. They promote hair growth and volume while also reducing hair fall. The oil extracted from the seeds fights pigmentation and treats various skin conditions such as eczema and acne. Kalonji is an essential ingredient in your daily skin and hair care regimen.
Hop on our Instagram post to know the benefits of another Indian spice, cumin seeds, aka jeera.
Here is the best-mixed vegetable recipe with the flavor of Kalonji seeds.
Kalonji Spiced Mixed Vegetables
A perfect mix of your favorite vegetables and flavourful spices, the mixed vegetable is a semi-gravy/dry recipe. It is an ideal north Indian recipe that can be enjoyed at any time of the day.
To make it your favorite or experiment a little, you can use any choice of vegetables and flavors from all the veggies to make it super delicious every time. Let's get started
Preparation Time: 10 Minutes
Cooking Time: 40 Minutes
Serves: 4 to 5 people
Ingredients
For roasting vegetables
Oil – 2-3 tablespoons
Chopped cauliflower – 1 bowl
Chopped french beans
Chopped capsicum
Green peas
For Masala
Oil
Kalonji (Nigella or black caraway seeds) – 1 teaspoon
One onion chopped
Ginger garlic paste – 1 teaspoon
2 Green chilies split vertically
One tomato chopped
Cashew nuts
For gravy
Red chili powder – 1-2 teaspoon
Turmeric powder – 1 teaspoon
Garam masala – 1/4 teaspoon
Salt to taste
Instructions
For cooking the vegetables, heat 2-3 tablespoons of oil in a pan.
Add the chopped potatoes and carrots. Cook until brown.
Add the cauliflower, french beans, capsicum, and green peas. (You can also add any other vegetables of your choice. Do not overcook the vegetables.)
For making the masala, heat the oil in a saucepan.
Add the black caraway seeds/ Kalonji (crush the Kalonji slightly with your palms as you place them in the oil to help release their aroma) and chopped onions once they crackle. Cook them until golden brown. (Buy 100% Pure Kalonji Seeds without pesticides for a perfect healthy recipe.)
After a few minutes, add the ginger paste and green chilies, followed by the chopped tomatoes.
Cook for 5-6 minutes, until soft, then let the mixture cool down. After cooling, transfer it to a grinder, add roasted cashew nuts for that rich texture and grind it to make a smooth paste.
Add the prepared paste to the same pan used to make masala.
Add all the spices (turmeric powder, red chili powder, salt)
After the spices have infused their aroma, finally sprinkle the garam masala powder and garnish with coriander. Serve hot.
A sure thing for the next get-together at home -this dish is delicious and can be served with chapati, naan, or bread. Remember not to overcook the dish to preserve its nutrients and colors. Hope you liked our healthy recipe, which is high in flavor!
Also, check out our Green Moong Dal Recipes With a Twist blog for more interesting and healthy recipes.