How To Use Rice Flour | Some Delicious Rice Flour Recipes
BY DANFE |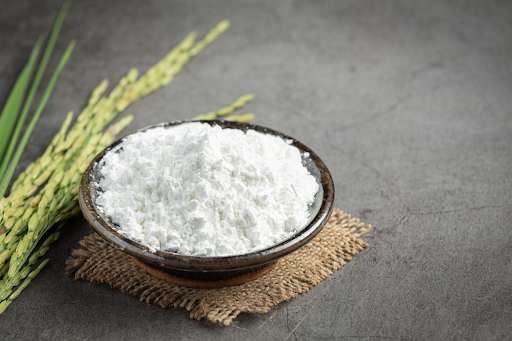 Rice flour is a staple ingredient in many cultures, used for both sweet and savory dishes. It is a fine, powdery flour made using white rice. In Asian cuisine, it is often used to make delicious snacks and steamed dishes, especially during the festive season. It is also used to make noodles, dumplings, and other East Asian dishes. Rice flour is a good alternative to gluten-rich wheat flour, especially for those with celiac disease or gluten intolerance.
.
Rice flour, apart from being gluten-free, is also rich in many nutrients. It is a good source of complex carbohydrates, which are an essential energy source for the body. Rice flour is also low in fat and contains a range of vitamins and minerals, including thiamin, niacin, and vitamin B6.
Now that we understand the benefits of rice flour, let's look at five mouth-watering rice flour recipes that you can easily dish out on any occasion.
These Rice Flour Recipes Are A Must Try
Nachos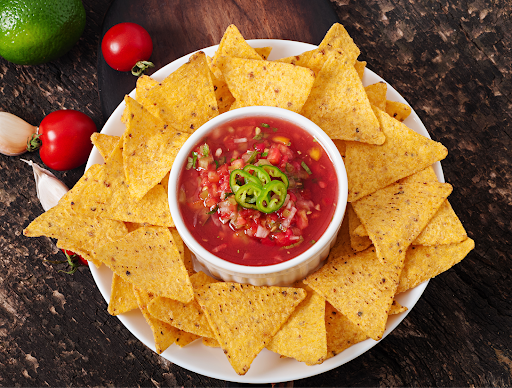 When it comes to Mexican food, there's nothing as satisfying as a big plate of nachos. And while traditional nachos are made with tortilla chips (corn chips), this recipe uses rice flour for a gluten-free option that's just as delicious.
To make the nachos, you will need:
How to make Nachos
Take a thick-bottomed pan and add 1 cup of water and ½ tsp salt.
Once the water starts to boil, add 1.5 cups of rice flour and slowly mix the flour in the water. Cover the lid and cook for 1 min on low flame.
Transfer the mixture to a bowl. Knead the damp rice flour mixture into a soft dough ball while it's still warm. Rest it for a couple of minutes.
Take a portion of the dough, use a rolling pin to flatten the dough. Cut the flattened dough into long strips, and further cut them into triangular-shaped pieces.
Take a fork and prick the pieces lightly to prevent them from puffing up while frying.
Deep fry the triangular pieces until they turn golden and crisp. (Or you can bake the pieces in a preheated oven for about 10 minutes until it's golden brown)
Take another bowl, add your favorite seasoning powders, toss the rice chips inside the bowl and give the bowl a nice shake to coat the nachos with the flavors.
Voila! Your gluten-free and crispy rice flour chips are ready!
Now, it's time to plate the nachos!
Put the chips into a serving bowl/plate and add your favorite toppings like shredded cheese, diced tomatoes, sliced jalapeños, refried beans, etc.
Serve immediately and enjoy!
Steamed Dumplings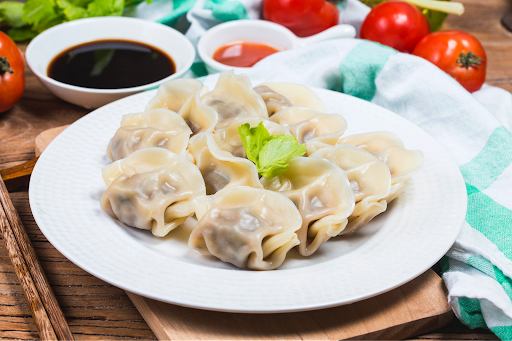 One of the most popular ways to use rice flour is to make steamed dumplings. Steamed dumplings are a traditional Chinese dish that can be made with either savory or sweet fillings.
To make steamed dumplings, you will need:
1 cup of rice flour
1/2 cup of water
1 tablespoon of oil
1/4 teaspoon of salt
How to make Steamed Dumplings
In a large bowl, combine the rice flour, hot water, oil, and salt.
Stir until the mixture is combined and forms a dough. Add the dough or water as needed until it reaches the right consistency.
Once the dough is ready, divide it into 12 equal pieces.
On a lightly floured surface, roll each piece of dough into a circle.
Then, using your thumb, press each circle at the center to form a small indentation.
Fill each indentation with your desired filling (savory or sweet), being careful not to overfill them. Then, pinch the edges of the dough together to seal in the filling.
Place the dumplings on a steamer basket or rack and steam for 10-12 minutes, or until they are cooked through.
Serve warm!
Crispy Rice Rings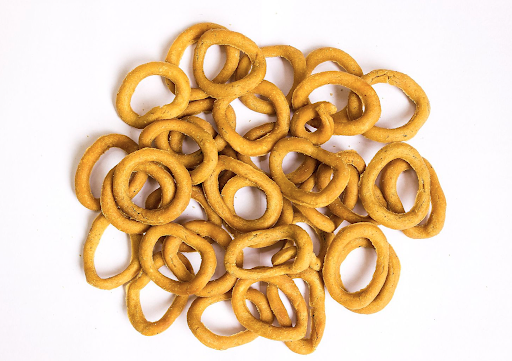 Kodubale, also known as crispy rice rings, is a type of fried snack that originates from Karnataka, India. It is mildly spicy and a great snack to munch on!
To make Kodubale, you will need:
1 cup rice flour
1/4 rava
½ tsp carom seeds
Salt to taste
4 tbsp hot oil
Oil as needed
To make the masala paste:
8 dried Kashmiri red chilies
1/2 tsp carom seeds
2 tbsp shredded coconut
A pinch of hing (asafoetida)
How to make Kodubale:
Add a little water and blend all the ingredients for the masala paste.
Now, in a mixing bowl, add the rice flour, rava, carom seeds, and salt.
Add 4 tbsp hot oil to the mixture and mix well.
Now add the masala paste to the bowl and mix all the ingredients together to form a dough.
Take small portions, roll them into medium-long cylindrical strips, join the ends to make circular pieces, and finally deep fry them until golden brown.
If you're looking for a new recipe to try out, why not give Kodubale a try? You won't be disappointed!
Savory Rice Flour Pancakes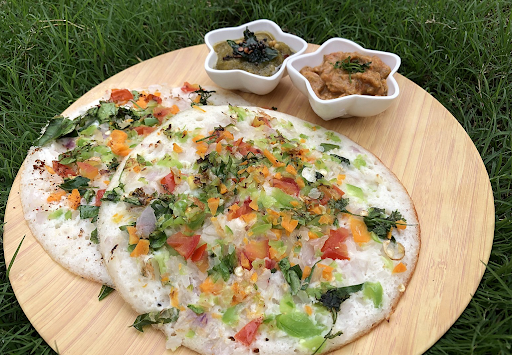 If you're looking for a delicious and easy-to-make savory pancake/dosa recipe that's gluten-free, look no further than this rice flour pancake recipe. It's quick, easy, and delicious.
To make rice pancakes, you will need:
1 cup rice flour
1 small potato – boiled and lightly mashed
½ tsp chili flakes
1 small onion finely chopped
1/2 a capsicum finely chopped
2 tbsp coriander leaves finely chopped
¼ Eno fruit salt.
How to make Rice Flour Pancakes / Dosa:
In a mixer jar, add 1 potato and ½ cup water and grind to a smooth paste.
Take a large bowl and add the aloo paste into it.
Then add the 1 cup rice flour, salt to taste, 1/2 tsp chili flakes, chopped onion, capsicum, coriander, and Eno fruit salt.
Mix the ingredients well with a little water to make a thick batter. Cover and rest the batter for half an hour.
Once the batter has rested and turns frothy, pour in a circular motion over the hot pan and flatten it evenly.
Pour a tsp of oil around the batter and cook until the bottom of the pancake has evenly turned golden brown.
Add toppings of your choice and serve hot with a chutney of your choice.
Rice Flour Crispy Chips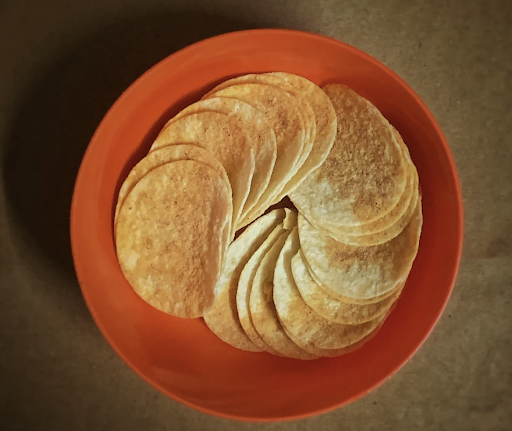 Someone coming home and you're bored of the regular potato chips? Make some rice flour chips at home and offer these crispy chips with your favorite dip. Your guests will surely be impressed.
To make rice crispy chips, you will need
1 cup water
½ teaspoon salt
1 tsp chili flakes
1 cup rice flour
How to make the rice crispy chips:
Take a thick bottomed pan, add one cup of water and begin to boil.
Add salt and chili flakes, and boil some more.
Then add the rice flour and mix slowly to make a soft dough. Rest the dough for 10 minutes.
Knead the dough well.
Take a portion of the dough and roll it flat.
Cut the dough into round-shaped thin slices and prick it lightly with a fork, deep fry in oil until golden brown.
To season the chips, add chili powder, salt, pepper, or any other favorite seasoning powder and mix them well in a box.
Add the chips and give the box a good shake to coat the chips with the seasoning powder.
Serve it as a snack with some dip and enjoy!
Hope you liked our compilation of these five tasty and easy rice flour recipes that can be made at the convenience of your home.
Apart from these recipes, rice flour is also very useful for thickening soups or sauces instead of using wheat flour or cornstarch, making your meals healthier, tastier, and also gluten-free.
If you are looking to buy rice flour, try Danfe's 100 % pure rice flour to dish out the best quality, delicious recipes!