Holi Special: 8 Delicious Dishes Ideas to Celebrate this Festival
BY DANFE |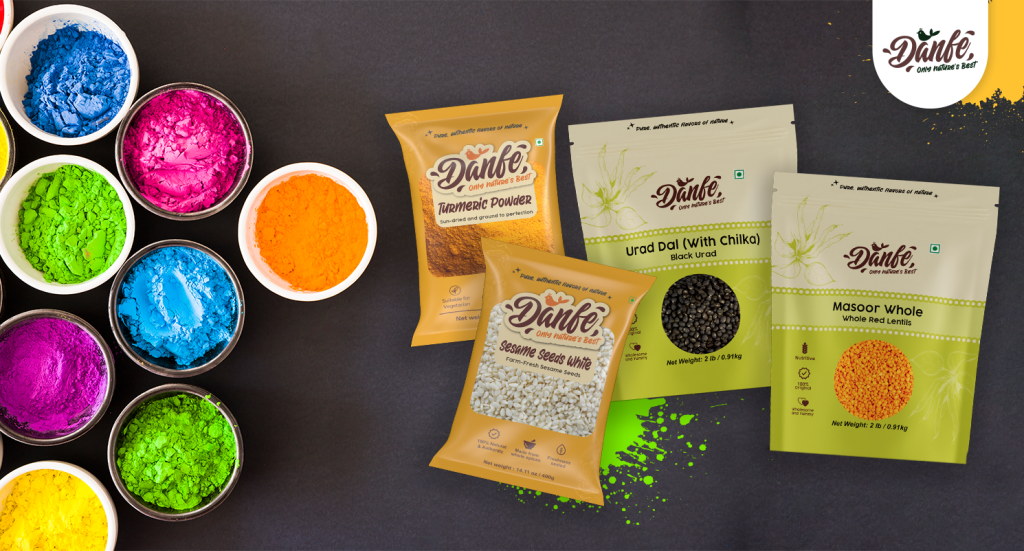 The festival of colors is finally here!
Holi traditionally marks the end of the cold weather and the beginning of spring. It also serves as a reminder of how, as a community, we have begun to shift towards a more health-conscious way of life, incorporating more organic, natural foods into our daily diets. This has also influenced how we celebrate our festivals.
Holi is an old, traditional festival in India, and as a result, many delicious Holi dishes and flavorful drink recipes are prepared and consumed exclusively on this day.
However, because of all the calories and fat that go into making them, they are usually considered guilty pleasures. So, this Holi, enjoy the festivities while staying healthy with these tried-and-true recipes. The first step is to purchase your Holi foods from a natural foods store.
Delicious Holi Dishes
Here are a few Holi dishes you can consider while preparing for your Holi feast!
Veg Biryani: Biryani is a popular Indian and Pakistani dish that is served on special occasions and festivals. It is a flavorful rice dish that is cooked with spices, meat, and vegetables. The key to making delicious biryani is to use premium-quality ingredients and ample time to cook it properly. Biryani can be served with raita, a yogurt-based side dish that helps balance out the heat of the spices. Veg biryani is an excellent Holi dish to make!
Samosa: Samosas are a popular Indian snack that is often served at festivals and celebrations. They are made by filling a triangular pastry shell with spiced vegetables or meat and then deep-frying them. Samosas can be served with chutney or ketchup, and they are a great way to add a little bit of spice to your festival dishes.
Falafel: Falafel is a popular Middle Eastern dish that is perfect for a festive occasion. It is made by combining chickpeas, herbs, and spices and then frying them into small balls. Falafel can be served with pita bread, hummus, and tzatziki sauce, and it is a delicious and healthy way to celebrate a festival.
Our favorite and most recommended healthy dish on the Holi dishes list is the juicy and flavorful Dahi Bhalla. Want to know how to make this chatpata, a street food favorite sweet and savory dish at home? Let's dive right into it!
Dahi Bhalla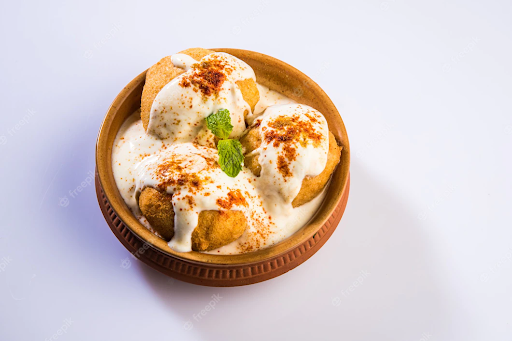 Dahi Bhalla is a popular chaat in India, particularly in the northern states. While it can be enjoyed all year, here's a special Holi recipe. Traditionally, Bhalla is made with a lentil and flour mixture. If you want natural urad dal and moong dal make sure you use Danfe products:
Ingredients
12 cups urad dal
12 tsp cumin seeds 4 tbsp moong dal
1 pinch hing (asafoetida) 12 teaspoon salt
2 quarts curd
1 pomegranate seed (13 cups)
1 pound mint chutney
12 cup chana dal, cooked
1 peeled, chopped, and boiled potato
12 tsp cumin powder
13 tsp red chili powder
13 tsp pink salt
Instructions
To make this traditional Holi dish you need to take 2 cups curd, beaten until smooth, in a mixing bowl. Gently place the vadas in the bowl. If desired, chill in the refrigerator.
Place 2 pieces of vada and curd in each bowl, then top with all of the toppings: potatoes, cumin powder, chili powder, pink salt, and chana dal. Serve immediately!
Holi Special Haldi Doodh Ice-pops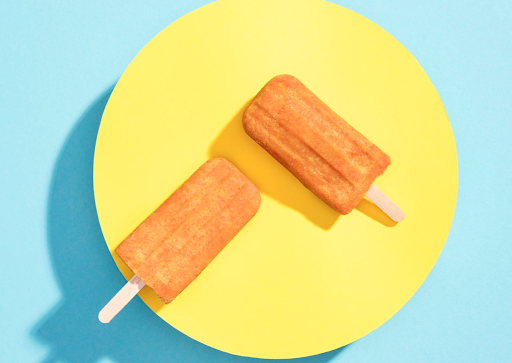 Here's a cool Holi food that the entire family will enjoy during Holi festivities! Haldi or turmeric is one of the most healthy spices. As Indians, we use it in almost all our dishes whether savory or sweet. Here's showing you below, how you can prepare this sweet and chilled treat with ease!
Ingredients
1 cup Evaporated milk
1 tsp Vanilla essence
3 tbsp Honey or any sweetener of your choice
1 tsp Turmeric powder
1 tsp Dried rose petals (optional)
Instructions
In a bowl mix together evaporated milk, vanilla essence, honey, turmeric powder and give it a good mix till all ingredients are well combined!
In your popsicle tray, add in a few dried rose petals
Now pour your mixture into the popsicle molds and let it freezes for 6-8 hours
Once frozen, these delicious and healthy Holi ice pops are ready to be enjoyed!
Sesame Covered Almond Bites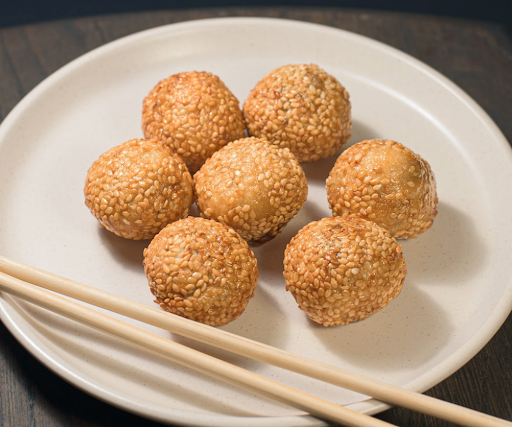 Here's a healthy snack that will get your untimely munchies out of the way, appetite in check, and calories on the low.
Here's how to make this delicious Holi dish of sesame-covered almonds:
Ingredients
1 cup almonds, whole
1 tbsp extra virgin olive oil
1 tsp honey
1 tbsp toasted sesame seeds
A quarter tsp of salt
Instructions
Preheat the oven to 350 degrees Fahrenheit (180 degrees Celsius).
Combine the olive oil and honey in a small bowl.
Toss the almonds in the bowl with the honey mixture until well coated.
Mix in the sesame seeds and salt until the almonds are evenly coated.
Spread the almonds out on a baking sheet lined with parchment paper, in a single layer.
Bake the almonds for 10-12 minutes, or until golden brown and fragrant.
Remove the baking sheet from the oven and allow the almonds to cool completely on it.
Once the almonds have cooled, store them in an airtight container at room temperature for up to a week.
Now you can enjoy your delicious Holi food!
Check out this yummy crunchy snack on our Instagram!
My mind-blowing masoor dal Tofu will take your breath away! It's soy-free, high in protein, quick, versatile, and only has one ingredient (plus water, and optional salt). The texture can be silken, firm, or extra-firm. Make sure you opt for the most natural option from a natural food store, like Danfe!
Ingredients
3 cups boiling water
1 cup split red lentils
12 tsp of salt (optional)
Bara masala
Instructions
In a bowl, combine the boiling water, lentils, and salt and allow the masoor dal to soften.
After the lentils have softened, cover the blender and blend the mixture until completely smooth.
Pour the lentil mixture into a medium saucepan once it has been blended. Place over medium-high heat and whisk constantly while cooking until the lentil mixture thickens about 5 minutes.
Pour it quickly into a heat-safe container and spread it evenly.
Allow the lentil tofu to set and chill in the refrigerator.
Once set, the tofu can be cut. This can be used to create different recipes using lentil tofu
Pour the lentil mixture into a medium saucepan once it has been blended. Place over medium-high heat and whisk constantly while cooking until the lentil mixture thickens about 5 minutes.
Pour it quickly into a heat-safe container and spread it evenly.
Allow the lentil tofu to set and chill in the refrigerator.
Once set, cut the tofu into small bite-sized pieces, coat with your favorite spice mix- Danfe bara masala, and fry for 5 minutes on each side.
When the tofu bites turn golden brown, they are ready to eat!
Bura Na Mano Holi Hai!
Now, remember while enjoying all these delicious festive foods calories shouldn't stand in the way of enjoying the festival of colors! For more recipe ideas check out this blog about healthy dishes you can prepare with Danfe's Spices: A Complete List of High-Quality Spices Around You!