Healthy Recipes using Masoor dal
BY DANFE |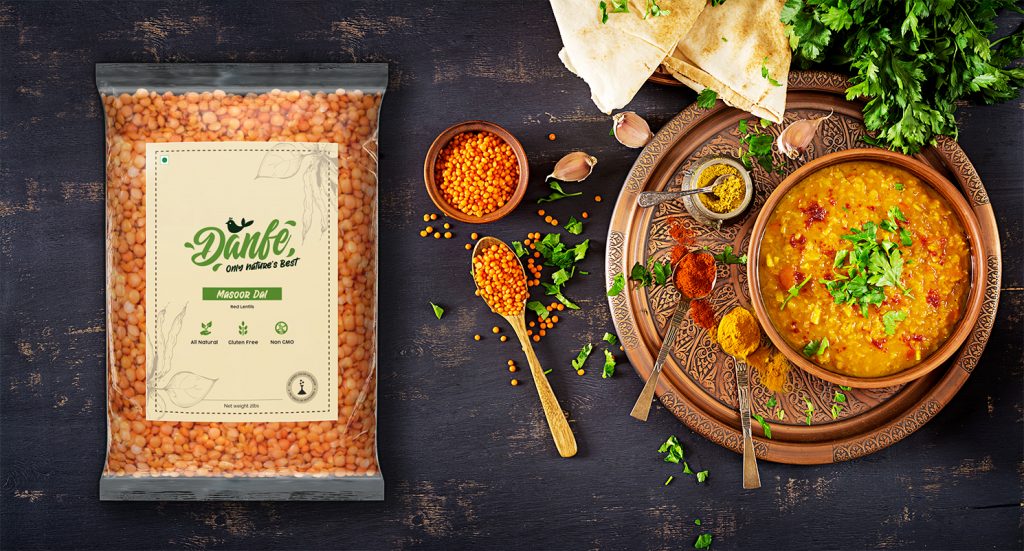 Masoor dal, also known as red lentil is widely used in Indian cuisine due to its essential nutritional profile and therapeutic benefits. For a long time, masoor dal has been cultivated extensively in the Indian sub-continent and is valued for its nutritional benefits and culinary purposes. A bowl of masoor dal helps meet your daily requirement of essential nutrients.
Masoor dal has a mildly sweet and earthy flavor and blends well with all types of spices and can be cooked into various delicacies. Let us take a look at some of the delicious masoor dal recipes:
Carrot Lentil Soup
Ingredients:
140g split red lentils
2 tsp cumin seeds
A pinch of chili flakes
2 tbsp olive oil
600g carrots (washed and coarsely grated)
1litre hot vegetable stock
125ml milk
Plain yogurt
Naan bread (to serve)
Procedure:
Take a large saucepan and heat it. Fry cumin seeds and chili flakes for some time.
Take out about half with a spoon and set aside. Add olive oil, carrots, red lentils, vegetable stock, and milk to the pan and bring to a boil.
Simmer for 15 mins until the lentils have swollen and softened.
Stir the soup with a stick blender or in a food processor until smooth.
Season to taste.
Add a dollop of plain yogurt and sprinkle with the remaining toasted spices.
Serve with warm naan bread.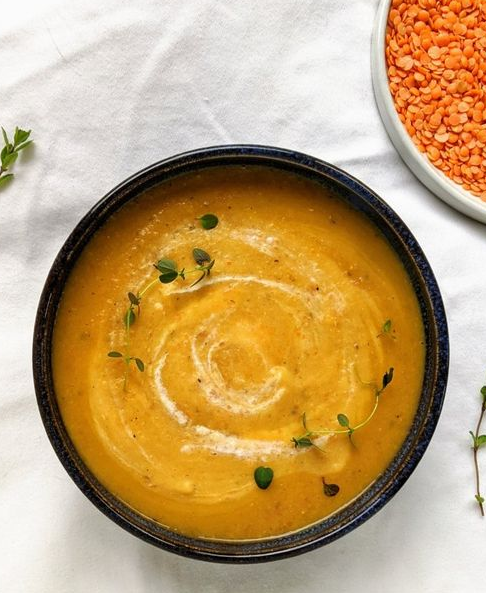 Image source: Pinterest
Rice and lentils with Cauliflower
Ingredients:
2 tbsp sunflower oil
1 onion (chopped)
2 carrots (chopped)
200g basmati rice
50g red lentil
3 tbsp korma paste
1 head cauliflower (cut into florets)
100g frozen pea
Few toasted cashew nuts (to serve)
Yogurt (to serve)
Mango chutney (to serve)
Procedure:
In a pan, heat oil. Add onion and carrots. Fry for 5 mins until lightly colored. Add the rice and lentils. Stir slowly. Cook for 1 more min, add the curry paste and water, bring to a boil. Cover and simmer for 10 mins.
Add cauliflower and stir. Cook for few more minutes until the rice and lentils are tender. Add the peas while stirring thoroughly.
Garnish with nuts and serve with yogurt and mango chutney.
Image source: Pinterest
Baked Potatoes with Lentils
Ingredients:
2 baked potatoes 
1 tbsp sunflower oil
½ tsp cumin seeds
½ tsp black mustard seeds
½ tsp turmeric
1 onion (thinly sliced)
3 garlic cloves (sliced)
1 red chili (deseeded and sliced)
85g red lentils
1 tomato (chopped)
400ml vegetable stock
210g can chickpeas
Coriander (chopped)
Chutney or lime pickle (to serve)
Procedure:
Heat oven to 200 degrees Celsius. Put the potatoes in the oven and bake for 1 hr until the potatoes turn tender and the skin becomes crispy.
In a pan, heat oil and fry the spices. Once they start to crackle, add the onion, garlic, and chili, with a dash of water. Cook for 5 mins until the onion softens.
Add the lentils, tomato, and stock. Cover and cook for 10 mins. Add the chickpeas, cover, and cook for 10 mins until the lentils are tender.
Season to taste. Add the coriander, and spoon onto the jacket potatoes.
Serve with chutney or pickle.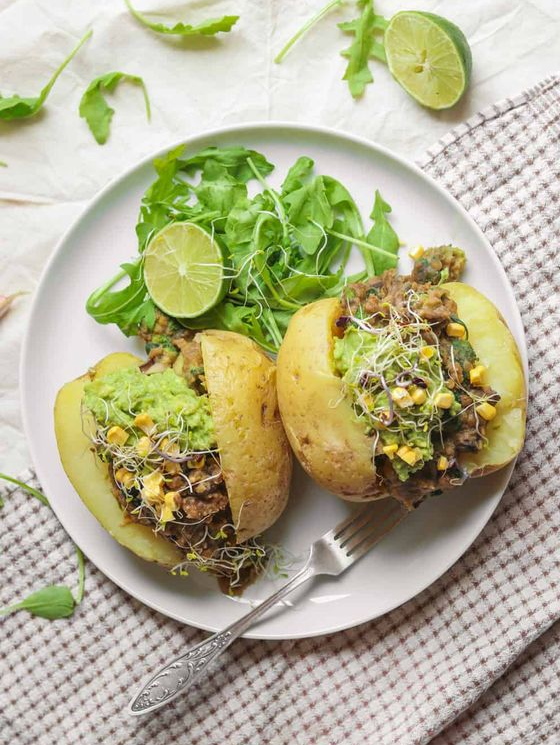 Image source: Pinterest
Spiced Pepper Pilafs
Ingredients:
1 tbsp vegetable oil
1 onion (finely chopped)
2 garlic cloves (crushed)
1cm piece ginger (finely chopped)
1 tsp tomato purée
1 tsp ground cumin
1 tsp garam masala
200g basmati rice
850ml vegetable stock
140g red lentils (washed and drained)
200g bag spinach leaves (chopped)
handful mint leaves (chopped)
A few peppers
Procedure:
In a large saucepan, heat the oil. Add onion, garlic, and ginger. Cook for 5 mins until softened.
Add tomato purée and spices. Cook for 1 minute. Add rice, stir for some time, and pour in the stock. Bring to a boil, add the lentils and cover with the lid. Let it cook over low heat for 15 mins. Stir through the spinach and mint.
Slice the top of each pepper. Cut out the middle stalk and scoop out the seeds. Fill each pepper with the rice mix and place the lid on top. Bake or wrap tightly in cling film or freezer bags and freeze.
To cook, defrost peppers completely if frozen. Heat oven to 200 degrees Celcius. Place the peppers on a lightly greased baking tray and cook for 25-30 mins or until the peppers have softened.
Serve with any green salad tossed with cucumber, herbs, and a dollop of yogurt.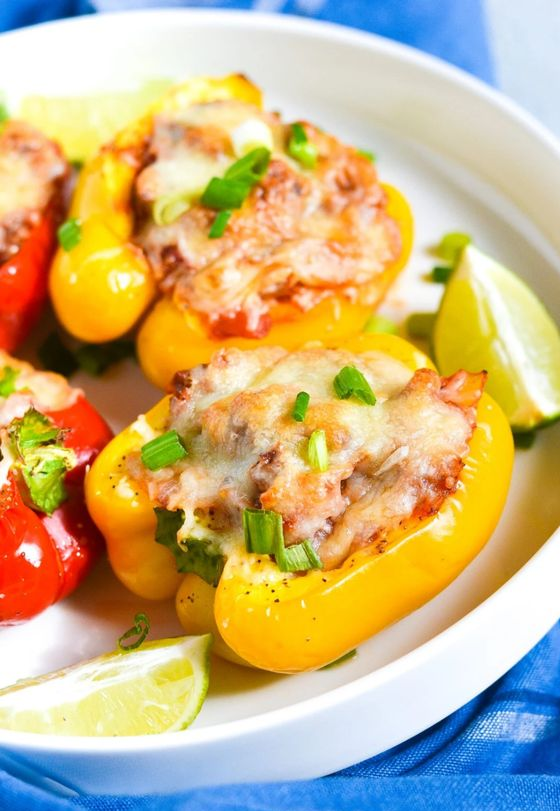 Image source: Pinterest
Masoor dal is loaded with protein and iron which makes it a perfect addition to any meal plan. Try the above masoor dal recipes and delight your taste buds with their flavors!