Healthy Comfort Food Recipes Made from Whole Wheat Flour
BY DANFE |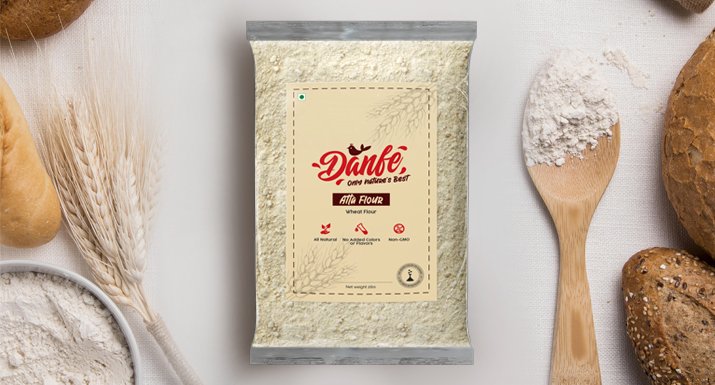 Ever wish that you could make some classic favorites healthier? Guess what, now you can! We're giving a healthy twist to the classics to help you enjoy them, regardless of your diet and fitness goals for the year.
Our secret healthy ingredient is whole wheat flour. Yes, you heard that right. Whole Wheat Flour is a simple ingredient that's packed with vitamins, minerals, niacin, and zinc that help improve brain function, strengthen bones, provide energy, and improve vision.
So just substitute whole wheat flour for all-purpose flour, and voila! you've got yourself delicious and nutritious recipes that are kid-friendly, diet-friendly, and fitness-friendly!
Whole Wheat Pancakes
Pancakes for breakfast, brunch, and dinner? Yes, please! We're going to give you the best recipe for utterly delicious and fluffy pancakes that are incredibly healthy as well. So, you'll never have to miss out on a sweet breakfast again!
Ingredients:
1 cup Danfe's Whole Wheat Flour
2 tbsp Unsalted Butter, Melted
½ tsp Baking Powder
¼ tsp Baking Soda
2 tsp Sugar or Honey
1 cup Milk or Buttermilk (You can use any milk of your preference)
1 Egg
¼ tsp Salt
1 tsp Cinnamon or Vanilla Extract (Optional)
Chopped Walnuts, Fruits, or Maple Syrup for Topping
Instructions:
In a large bowl, whisk together flour, baking powder, baking soda, sugar, and salt.
In a separate bowl, whisk together the wet ingredients: buttermilk, egg, and butter.
Now, combine both wet and dry ingredients together until there is no loose flour. You want the batter to be a little lumpy so that the pancakes don't turn out hard.
Turn the stove on medium-low heat. Take a non-stick grill pan, and grease the surface with some melted butter.
Once the grill is hot, take a small scoop of pancake batter and gently smooth it into a flat circle.
Cook for a few minutes until you see bubbles forming. Then flip it over to the other side and cook it for a few minutes. The bottoms should be golden brown.
Repeat the same steps until the batter is done. Serve it warm with maple syrup, butter, fresh fruits, nuts, or any toppings of your choice, and enjoy!
Whatever diet you're following, this recipe can be customized to your preference. The whole wheat flour makes it healthy so that you can enjoy pancakes whenever you want. Even if you're working on your fitness, you can enjoy this classic breakfast dish and still be on track for your goals!
Whole Wheat Pizza
Pizza is one of those comfort foods that most people have a love/hate relationship with. Since the crust is normally made with refined flour, pizza ends up on most people's "junk food" list. Well, you can toss out that list now because we're bringing you a recipe that can be enjoyed guilt-free. With this whole-wheat pizza dough, you can feel good about your weekly pizza night tradition.
Ingredients:
2 ¾ cups Danfe's Whole Wheat Flour, Spoon and Leveled
1 tbsp Olive Oil
1 tsp Granulated Sugar
1 tbsp Active Dry or Instant Yeast
1 tbsp Honey
1 ¼ cups Warm Water
1 tsp Salt
Olive Oil for Brushing
Italian Seasoning or Oregano (Optional)
Instructions:
In a large bowl, add sugar, honey, yeast, and warm water and mix well. If you are using active dry yeast, then set it aside for 5 minutes to let it proof. If you're using instant yeast, you can move on to the next step immediately.
Next, add olive oil, salt, and whole wheat flour. Mix well until everything is combined evenly. You can either use a wooden spoon or if you have a stand mixer, you can mix with the dough hook attachment.
Knead the dough for 5 minutes either by hand or with the dough hook attachment on medium-low speed. The dough should feel smooth and elastic. If you feel the dough is too sticky, then feel free to add ¼ cups of whole wheat flour.
To a large, clean bowl, add some olive oil. Then transfer the dough to the bowl, turning constantly to coat all sides with oil.
Cover the bowl with a plastic wrap and set aside for 60-90 minutes to let the dough rise. In the end, your dough should be doubled in size.
Take your pizza pan or pizza stone and place it at the bottom rack. Then turn on the oven and let it preheat to 500°F.
When the dough has risen, divide it into two evenly-sized balls.
Take one ball, and sprinkle a little whole wheat flour. Then use a rolling pin to flatten it out and stretch the dough to a large, thin circle. Think of it as making a roti, only larger. You can do this directly on your countertop, or on parchment paper.
If you want to make another pizza, then repeat the same steps for the other ball.
If you're going to add a lot of toppings, then pop the plain base in the oven first for 5 minutes so the middle can cook through. Then take it out, add your sauces, toppings, and cheese, and pop it back in for another 10-15 minutes until the crust is brown around the edges.
If you are only adding a few toppings, or just a plain cheese pizza, you can just add it immediately and pop it in the oven for 10-15 minutes altogether. No need to bake the plain base first.
If you like a little extra flavor, take some Italian seasoning and oregano and sprinkle it along the edges of the crust.
This is a great example of how you can take "junk food" like pizza and make it more nutritious so, you don't miss out on some of the great things life has to offer!
Whole Wheat Banana Bread
Banana bread is what holiday magic is all about. Seriously, who doesn't love banana bread? This classic southern staple with moist, fluffy, and rich flavor is a great way to sneak in some high fiber into your family's diet. But we're taking it one step further by using whole wheat flour to make it even more wholesome so they can be enjoyed by both kids and adults alike.
Ingredients:
2 cups Danfe's Whole Wheat Flour
4-5 (3 ½ cups) Medium-Ripe Bananas, Mashed
8 tbsp Butter, Room Temperature
½ cup Brown Sugar, Packed
¼ cup Honey
1 tsp Vanilla Extract
¾ tsp Baking Soda
¾ tsp Salt
2 eggs, Large
⅔ cups Walnuts and Pecans, Roughly Chopped (Optional)
Instructions:
Preheat your oven to 350°F. Then spray the bottom of your 9×5 inch loaf pan with non-stick cooking spray.
In a large bowl, beat the eggs, honey, butter, and brown sugar until they're smooth. Then whisk in the mashed bananas.
Now, add in the vanilla extract, baking soda, and salt. Beat on medium speed (or whisk if you prefer) until evenly combined. Set it aside.
Now, slowly add the flour to the wet mixture until smooth. Then fold in the walnuts, pecans, and any other toppings you have on hand.
Pour the batter into your loaf pan, smooth out the top, and pop it in the oven for 60-65 minutes. Halfway through, loosely cover the pan with aluminum foil to make sure the top doesn't get too brown.
Lastly, do the toothpick check. When you insert and take out the toothpick in the center, it should come out clean with a few moist crumbs.
And you're done! Let it cool and enjoy!
The great thing about banana bread is that you can set it out for 2 days, and it'll taste just as good as fresh out the oven! You can also store it in the refrigerator for up to a week so you can indulge in a healthy dessert during the week.
Whole Wheat Blueberry Muffins
These are the kind of muffins that help you get right out of bed in the mornings. They are not like your usual muffins made from all-purpose flour and loads of sugar that makes you feel guilty afterward. These are healthy muffins made from whole wheat flour and a lot less sugar.
Ingredients:
2 cups Danfe's Whole Wheat Flour
¾ cup Brown Sugar, Packed
1 tsp Baking Powder
½ tsp Cinnamon
1 cup Blueberries, Fresh or Frozen
1 tsp Vanilla Extract
⅓ cup Vegetable Oil
1 ½ cup Milk (You can also use Buttermilk)
1 Egg
¾ tsp Salt
¼ cup Sparkling Sugar for Topping (Optional)
Instructions:
Preheat your oven to 400°F, and lightly grease your muffin pan (12-compartment pan). Or if you're using liners, you can just lightly grease the liners.
In a large bowl, whisk together vanilla extract, oil, egg, and milk.
In a separate bowl, whisk together the dry ingredients: flour, brown sugar, baking powder, cinnamon, and salt.
Now combine the dry and wet ingredients until they're combined evenly. Lastly, fold in the blueberries.
Now, scoop the batter and drop them into the muffin pan until they're ¾ of the way full. Sprinkle the top with coarse sparkling sugar or cinnamon sugar.
Bake them in the preheated oven for 18-20 minutes. Once the time is up, take a toothpick and insert it into the muffin. When you pull it out, it should come out clean.
When they're done, transfer them to a rack to cool. Serve warm and enjoy!
*If you have leftovers or you're making them ahead for your weekday breakfast, just freeze them and take them out an hour or two before you want to consume to let them thaw. Then warm them up in a toaster oven and enjoy!
Whole Wheat Chocolate Chip Cookies
There's nothing more comforting and delightful than freshly baked chocolate chip cookies with melted chocolate chips oozing out as you break them in half. They're delicious, perfectly sweet, chewy, and crunchy, bringing a smile to your face as the oven goes off. We're going to share the most wonderful chocolate chip recipe there is. No, but seriously! Because this one isn't just delicious but it's also nutritious too, so you can indulge without feeling guilty!
Ingredients:
2 cups Danfe's Whole Wheat Flour
2 cups (12 oz.) Semi-Sweet Chocolate Chips
1 cup (2 sticks) Unsalted Butter or Margarine, Softened
¾ cup Granulated Sugar
¾ cup Brown Sugar
½ tsp Salt
1 tsp Baking Soda
1 ½ tsp Vanilla Extract
1 Egg
Instructions:
First, preheat your oven to 375°F. Then line your cookie sheet with parchment paper.
In a large bowl, sift whole wheat flour, salt, and baking soda altogether. Set aside.
Take out a mixing bowl, and pour the melted butter. Add both sugars and beat at medium speed with an electric mixer.
Next, add the egg, vanilla extract, and mix well until it's all combined evenly.
Now, slowly add in your flour until it's combined evenly into a smooth mixture. Add in the chocolate chips and fold them in.
Take an ice cream scooper, and scoop the dough onto the baking sheet. Make sure each scoop is separated by 2 inches. Bake for 8-10 minutes, or until it's golden brown (the centers will be soft).
Remove them from the oven and let them cool completely. Then enjoy!
Well, there you have it! Now you no longer have to compromise on taste for health. All of these recipes are made with Danfe's Whole Wheat Flour. Danfe offers 100% pure and natural ingredients that are sourced from the finest quality grains and processed using the highest quality standards. So with these lip-smacking, healthy recipes made from all-natural ingredients, you can finally enjoy classic comfort foods that are high on flavor and nutrition.