100% Healthy Christmas Recipes | List of Natural Food Items for Christmas
BY DANFE |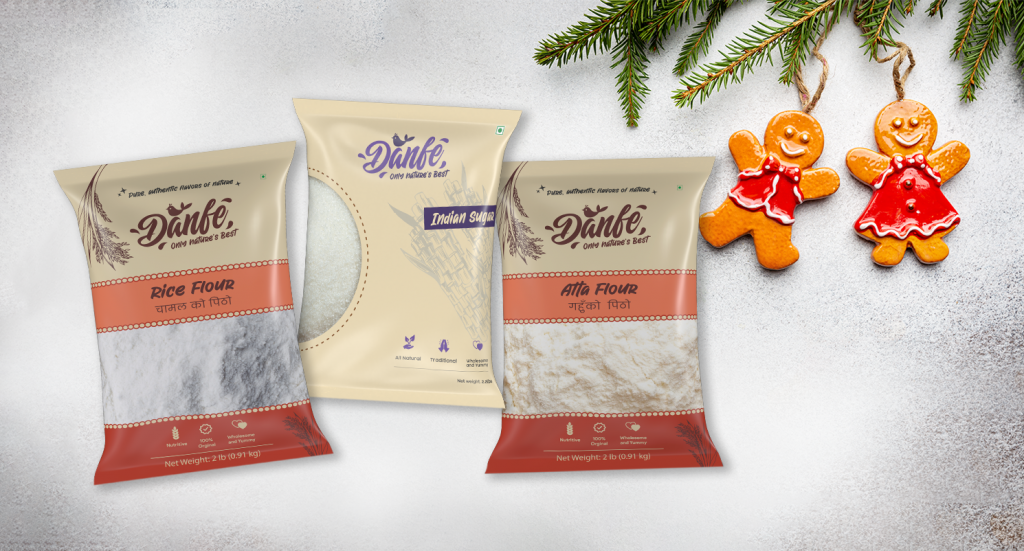 It's the most wonderful time of the year!🎄🧑‍🎄 It's a Very Merry Christmas!
So, what does your ideal Christmas dinner look like? Deeply fried unhealthy food? High-calorie foods with all the trimmings?
This Christmas, why not ditch unhealthy foods and opt for natural, healthy alternatives? There are plenty of delicious recipes that use natural food products, and they can be just as festive and tasty as the unhealthy versions! So if you're looking forward to making your Christmas dinner a little healthier this year, check out some of these fun recipes!
Low-Fat Christmas Recipes
Christmas is a time for feasting and indulging, and the recipes listed below use natural food products as key ingredients, making them perfect for those who wish to inculcate a healthy Christmas menu.
The below recipes use products that are quality ingredients and are delicious, natural, as well as unadulterated. The finest quality grains and spices from the choicest of farms are used in these recipes. These products are hygienically packed to keep their freshness and nutrients intact, making them perfect for those who want to enjoy dishes prepared from natural food products, this Christmas.
Eggless Gluten Free Vanilla Tea Cake with 100% Natural Rice Flour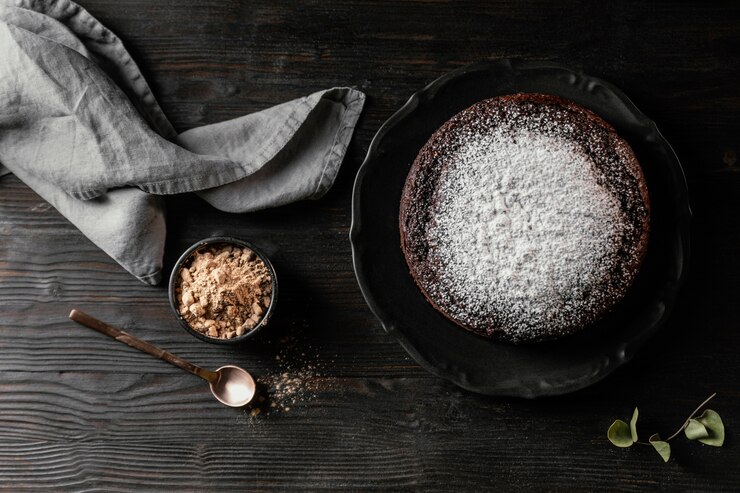 Looking for a gluten-free option for your Christmas cake? Look no further, use rice flour! This versatile rice flour can be used to make all sorts of cakes, from rich chocolate cakes to delicate sponge cakes. Since Danfe's rice flour is less processed than other flours, it's quite healthy too.
Ingredients:
Milk: 3/4th cup of
Vinegar: 1 tsp
Sugar / Brown Sugar: 3/4th cup
Oil: 1/4th cup
Rice Flour: 1 ⅓ cup
Preparation Method:
In a bowl, whisk oil and sugar well until it is light.
Add milk and vinegar. Mix well.
To the milk and vinegar mixture, add 1 tsp vanilla essence, 1 ⅓ cups of rice flour, 1 tsp baking powder, and 1/2 tsp baking soda, and mix well.
Add the rest of the milk, fold and mix the batter to a smooth consistency.
Add your favorite choco chips or tutti frutti to garnish your cake mixture.
Bake at 180 celsius for 30 mins.
Your yummy, gluten-free vanilla Christmas tea cake is ready!
Rice Flour Pancakes With Almond Milk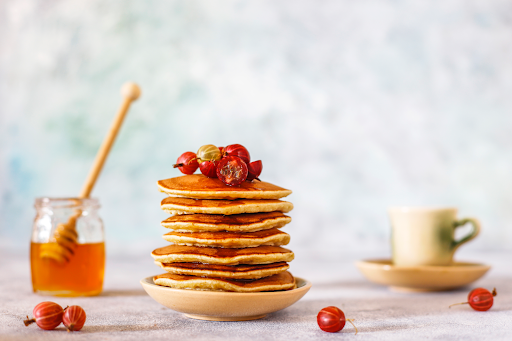 Pancakes are always a popular choice for breakfast or brunch, and these rice-flour pancakes are no exception. They're light, fluffy, and super versatile. They're easy to make, and you can customize them with your favorite toppings. Serve them with some fresh fruit or yogurt on the sides for a delicious Christmas breakfast.
Ingredients:
Rice Flour: 1 cup
Almond Milk: 1 cup
Egg: 1
Baking Powder: 2 tsp
Honey: 1 tbsp
Vanilla Essence: 1 tsp
Salt: ¼ tsp
Cinnamon Powder: ¼ tsp
Oil: 1 tbsp
Preparation Method:
Start by mixing together the rice flour, baking powder, salt, and cinnamon powder in a bowl.
In another bowl, whisk the egg, honey, vanilla essence, oil, and milk.
Mix together the wet ingredients and dry ingredients. Stir until everything is combined.
Heat a frying pan over medium heat. Grease it with oil or butter.
Scoop 1/4 cup of batter onto the griddle for each pancake. Cook for 2-3 minutes per side, or until golden brown.
Serve the pancakes with maple syrup, fresh fruit toppings, or whatever else you like! Enjoy!
Veg Quiche with Atta Flour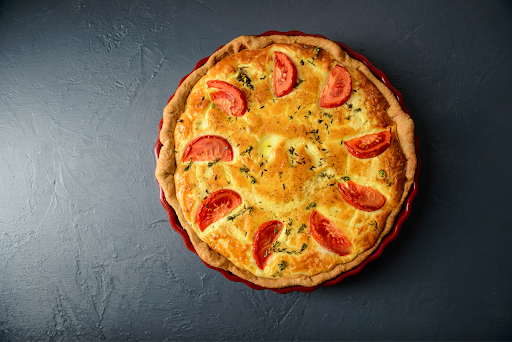 This healthy veg quiche recipe is made with 100% natural atta flour and uses a variety of healthy vegetables, so you can indulge guilt-free in a holiday treat. Best of all, it's easy to make and can be tailored to your liking. So give it a try this Christmas!
Ingredients:
Eggs: 4
Butter: 1/3rd cup
Whole Wheat Flour/Atta Flour: ½ cup
All-Purpose Flour: ½ cup
Salt: ½ tsp
Milk: 2 tbsp
Seasoning: Pepper powder, Oregano, and Chilli Flakes
Preparation Method:
Add butter, whole wheat flour, all-purpose flour, and salt in a bowl. Mix well. Slowly add little cold water to turn it into a flaky dough. Keep it aside for 15 mins.
To make the quiche filling, simply sauté some chopped veggies like mushrooms, onions, capsicums, broccoli, and spinach in a bit of olive oil.
Whisk the eggs, milk, salt to taste, and seasonings together.
Roll the dough and place it in a baking tray to cover the sides and the base.
Fill the crust with the veggie filling, pour the egg/milk mixture over the veggies and top it with cheese, and bake. pour into the crust, and bake until set.
This quiche is perfect for breakfast, brunch, or even dinner served alongside a salad. So go ahead and try it, give a treat to your taste buds! Also, using atta flour adds an extra boost of nutrition to this dish.
Whole Wheat Christmas Cookies with your favorite Jam toppings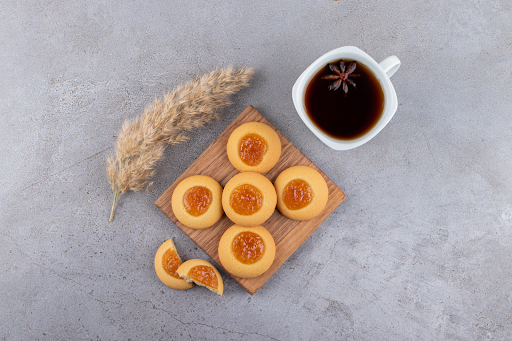 Try this whole-wheat Christmas cookie recipe! Made with whole wheat flour and your favorite jam toppings, these cookies are a delicious and healthy alternative to traditional holiday cookies.
Whole wheat flour is a great source of fiber and nutrients, and using it in place of white flour will up the nutritional value of your cookies. Plus, the added fiber will help keep you feeling full longer. And what could be more festive than topping your cookies with bright, colorful jam?
Your friends and family will love these tasty treats – and they may not even realize they're eating something healthy!
Ingredients:
Whole Wheat / Atta flour: 1 ½ cups
Baking Powder: 3/4 tsp
Salt: ¼ tsp
Butter: 1/2 cup (cold)
Sugar (granulated): 3/4 cup 1 egg
Vanilla extract: 1 tsp
Egg: 1
Preparation Method:
Preheat the oven to 400 degrees F
1) In a medium mixing bowl, combine the flour, baking powder, and salt.
2) In a large mixing bowl, whisk together the butter and sugar for several minutes. While the mixer is running, combine the egg and vanilla extract until well blended.
3) With the mixer on low speed, gradually add the flour mixture until well combined.
4) Turn off the mixer and use your hands to form a ball out of the dough.
5) Roll the dough out onto a floured surface with a rolling pin until it's about 1/8 inch thick.
6) Cut desired shapes with cookie cutters, press them slightly in the middle, and place them on an ungreased baking sheet.
7) Add your favorite jam topping in the middle of the cookie dough.
8) Bake for 5 – 7 minutes or until they turn golden brown, at 350 degrees F. Transfer immediately to a cooling rack to cool.
Shakkar Para (Diamond shaped crispies)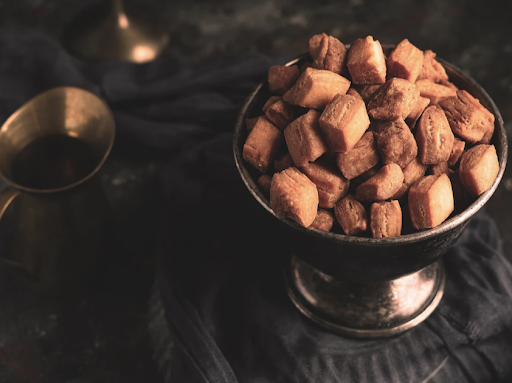 Shakkar para is a traditional recipe made with whole wheat flour. This dish is usually served as a snack or appetizer and can be enjoyed with a cup of tea or coffee. The ingredients for shakkar para are simple and few – whole wheat flour, ghee, sugar, and salt – but the end result is a delicious and crispy treat.
Ingredients:
Whole wheat Flour: 1 cup
Semolina Flour: 1 tbsp
Ghee: 4 tbsp
Sugar (Granulated): 1/4 cup
Salt: ¼ tsp
Cardamom Powder: ½ tsp
Oil for frying.
Preparation Method:
To make shakkar para, begin by mixing the whole wheat flour, semolina flour, sugar, cardamom powder, and salt together in a bowl.
Heat ghee and add it to the dry ingredients. Mix them well.
Then, add enough water to form a dough. Once the dough is ready, roll it out into thin sheets and cut it into small diamond shapes.
Deep-fry the shakkar para in hot oil until they are golden brown and crispy.
Serve hot with tea or coffee. Enjoy!
Hope you enjoyed reading these healthy Christmas recipes for this holiday season.
Danfe's products are sourced from the choicest farms, they are free from any kind of GMO, pesticides, preservatives, or additives.
If you're looking for the freshest, most healthful ingredients, Danfe is the place to shop. We only work with farms that adhere to the highest standards of sustainability and food safety, so you can be confident that you're getting the purest, most natural food possible.
Use our natural food products to create healthy holiday recipes for your friends and family this Christmas!