Health Benefits Of Horse Gram: A Super Food In Its Own Way
BY DANFE |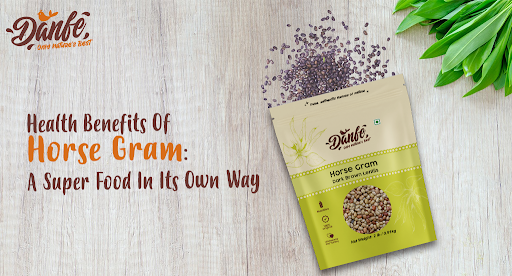 Introduction
Horse gram is one of the most nutritious lentils. It is abundant in proteins and other nutrients that are vital for the healthy functioning of the body. It is also known as kulthi dal and is sometimes called hurali or Madras gram. Since it was a staple diet for horses and cattle it was known by a number of regional names. It is the most protein-dense lentil on earth and because of that, it is usually fed to horses before competitions. This significant tropical crop maintains a relatively low profile and is largely farmed in arid agricultural terrain.
What does Horse Gram contain?
These tiny seeds are full of micronutrients and other elements that are good for our health in various ways. When we look at the nutrition value of 100 grams of horse gram we can clearly see how nutrient dense this lentil is.
22 gm of protein
57 gm of carbohydrates.
3 gm of minerals
287 mg of calcium
311 mg of phosphorus
7 mg of iron
5 gm of fiber
Besides these, they also contain many antioxidants. They also have astringent and diuretic qualities. These qualities assist in keeping the body warm during the winter apart from taking care of various health problems.
Benefits of Horse Gram
Let's look at the benefits of Horse Gram in detail.
Horse gram powder can help treat Asthma, bronchitis, urinary difficulties, jaundice, peptic ulcers, hemorrhoids, and even menstrual disorders. In addition, it can help with phlegm extraction and fever management.
The astringent qualities of horse gram are useful in the treatment of the skin condition called leucoderma. In order to clean the skin and prevent skin issues, horse gram powder can be applied as a facial pack.
Researchers from the Indian Institute of Chemical Technology have shown that consuming raw horse gram seeds after a meal may help lower the glycemic index by reducing insulin resistance. It also reduces the rate at which carbohydrates are metabolized.
Horse gram seeds have organic properties and dietary supplements that function as fat burners. It has the ability to lower LDL cholesterol while raising HDL cholesterol. Horse gram seeds can effectively assault the body's accumulated fatty tissues, according to studies. It helps to reduce body fat and gives the body a good form.
The horse gram's calcium, phosphorus, iron, and amino acids may help increase sperm count. The amino acids boost enzyme activity, ensuring optimal sperm production, while these minerals have a beneficial effect on the male reproductive system by improving blood flow to those organs.
Raw horse gram seeds are a rich source of flavonoids and polyphenols, two extremely strong plant compounds. These substances give the liver and gallbladder hepatoprotective characteristics, preserving their vital functions in filtering and cleaning the blood and detoxifying toxins in the body.
Aids in Preventing Kidney Stones
The body's calcium phosphate salts crystallize to form kidney stones. Horse gram seeds, which contain potent antioxidants, are crucial in preventing the hardening of salt. As a result, it is particularly effective in preventing damaging free radicals from harming healthy kidney cells. Horse gram, therefore, proves to be an effective treatment option for kidney problems.
Helps Treat Menstrual Disorders
Iron is abundant in horse gram, which helps to treat irregular menstrual cycles. It also lessens the possibility of leucorrhoea, a thick, yellowish vaginal discharge from the body, by raising hemoglobin levels as a result of its high iron concentration.
Horse gram has considerable anti-ulcer action since it contains phytosterol esters. It is a rich source of these naturally occurring substances that are present in plant cell membranes. They are particularly effective in repairing the mouth as well as peptic ulcers.
Keeps Bone Diseases at Bay
Horse gram has the highest calcium level amongst all pulses, in addition to having a high iron and protein content. Additionally, it has considerable quantities of phosphorus and other amino acids, making it a perfect legume for preventing problems with the bones.
Horse Gram Recipes
Now that we understand the health benefits of Horse Gram, let us learn a few recipes that will help us introduce these power lentils into our diet and receive all its benefits.
Horse Gram Dal
Ingredients:
1/2 cup overnight soaked Danfe's Horse Gram
3 glasses of water
1 tbsp of turmeric powder
½ tablespoon red chili powder
Salt, as needed
1 tbsp ghee
1/8 tsp mustard seeds
1/2 tsp of cumin seeds
¼ tsp asafoetida
Ginger-garlic paste 1tbp
1 chopped onion
1 chopped tomato
1 teaspoon of red pepper powder
1 teaspoon coriander powder
Freshly chopped coriander leaves for garnishing
Instructions:
Pressure cook the soaked horse gram for 6-7 whistles in 3 cups of water with some turmeric and salt.
Now heat ghee in a heavy-bottomed pan and add cumin and mustard seeds along with asafoetida.
As they begin to crackle add the ginger-garlic paste and cook for a minute or two.
Add the chopped onion and add the tomatoes, red chili, salt, turmeric, and coriander powder and cook for 2-3 minutes.
Add the mashed horse gram to the pan and cook for 5 minutes.
Pour the dal into a serving bowl and garnish with finely chopped fresh coriander leaves.
Serve this Horse Gram Dal with roti, rice, pickle, and curd.
Enjoy it!
Horse Gram Khichdi
Ingredients:
1 cup of horse gram
1 cup basmati rice
L1 tsp sliced ginger
1 tsp red chili powder
3 tbsp ghee
1 finely chopped onion
2 cloves of garlic finely chopped
1 cup chopped vegetables of your choice
Freshly chopped coriander leaves for garnish
Salt and water as needed
Instructions:
Soak the horse gram in water overnight.
Basmati rice can be soaked in water the next day for 2 hours.
Transfer the soaked horse gram to a pressure cooker with around 3 cups of water, salt, turmeric powder, and sliced ginger. Let it cook for 30 minutes on low flame
In a pan heat some ghee and add the onions and garlic, followed by chopped vegetables. Fry for 3-4 minutes
Add this to the pressure cooker that contains the horse gram along with the soaked rice.
Add some more ghee and salt if needed and let it cook for 5-6 whistles.
Plate it and sprinkle some freshly chopped coriander leaves.
Serve hot with some curd and pickle.
Conclusion
It is a good practice to eat healthy food items that are high in nutrients and meet all our nutritional needs. And lentils like horse gram turn out to be a great option when a high amount of protein and energy is required from small quantities of food. One may not need any dietary supplements for protein if horse gram is consumed regularly. We hope these benefits of horse gram would have helped you understand how healthy this lentil is and how easily it can be cooked and consumed in day-to-day life. Be sure to visit our other recipe blogs if you're looking for more enticing & healthy meal ideas. And if you're feeling adventurous, try experimenting with your own variations on these traditional dishes. After all, cooking is all about that! Try them out, then tell your loved ones about the best ones!
We hope you enjoyed reading this blog. For other natural food products, please visit: Danfe Foods.