Green Moong Dal Recipes With a Twist
BY DANFE |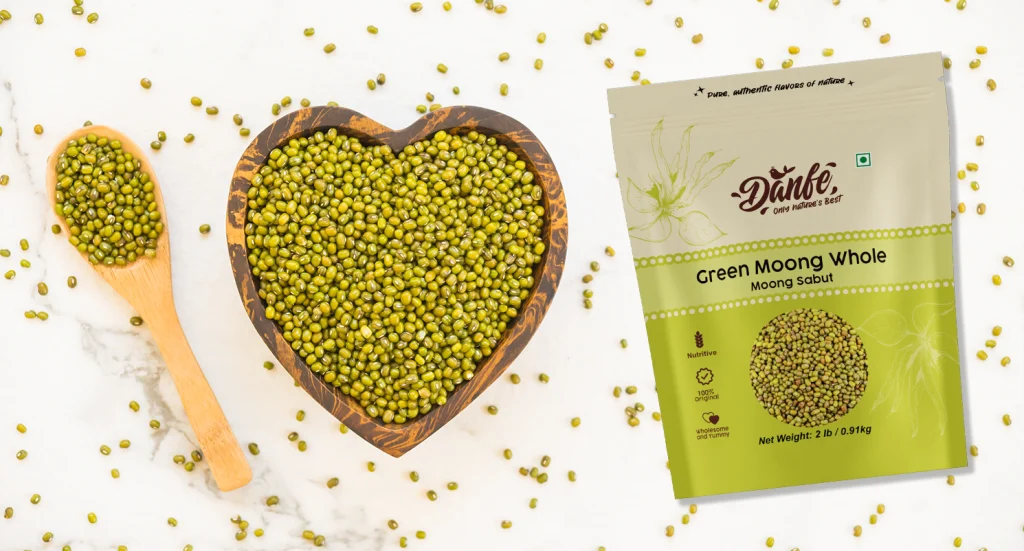 Introduction
Green Moong dal is a type of mung bean popular in Indian cuisine. It has a nutty flavor and is relatively simple to prepare. In this article, we'll look at some green moong dal recipes with a unique twist. But before we start with the recipes let's look at why we should eat this lentil.
Why is Moong dal good for health?
Green moong dal is categorized under healthy foods since it contains many healthy vitamins and minerals. It is a good source of protein, fiber, and vitamins. It is also low in calories and fat. This makes it an ideal food for people trying to lose weight or maintain a healthy weight. Green moong dal is also rich in antioxidants, which can help to protect your cells from damage. Antioxidants are believed to play a role in preventing some chronic diseases, such as heart disease and cancer. With all these benefits to offer moong dal should deserve a place in your meal calendar. It however sounds pretty boring to eat the same style of moong dal every now and then so why not try some green moong dal recipes with a twist? You might be surprised at how delicious they can be!
Green Moong Dal Recipes
Green moong dal is versatile in nature. It can be cooked in different ways for various recipes. One popular way to cook green moong dal is to make a curry with it. This type of dish is usually made with other vegetables and spices, and it can be served with rice or bread.
Green moong dal can also be boiled or sprouted and used in salads, sandwiches, and wraps. If you are looking for something new to try, consider making one of these green moong dal recipes. They are all delicious and easy to make.
Traditional Green Moong Dal With A Twist
Green Moong Dal is a staple in many Indian households. It is made with split mung beans and is usually served as a side dish or as part of the main meal. It is simple to make however, sometimes we all need a little change from the mundane. Here are three ways that will add a twist to your traditional green moong dal dish. Get ready to go on a flavorful journey.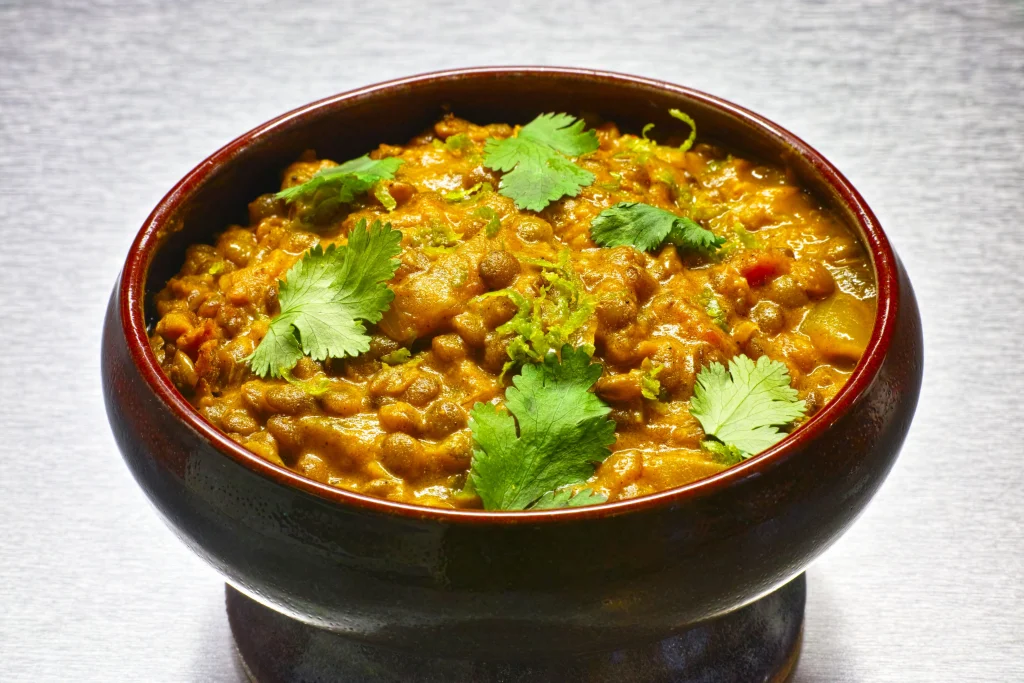 1. Green Moong Dal with Spiced Butter: Add a dollop of spiced butter/ghee to the dal. This gives it a rich and creamy flavor that would leave you wanting for more.
2. Green Moong Dal with Coconut Milk: You can use coconut milk instead of water to cook the dal. This gives the regular green moong dal a hint of sweetness and creaminess that is simply divine.
3. Green Moong Dal with Fried Onions: This is a very basic addition to your regular dal but it will completely change how your dal tastes. Just garnish your dal with crispy fried onions. It not only adds a crunchy texture to the dal but also gives it a distinct flavor.
These green moong dal recipes are sure to become a new family favorite. Give them a try today!
Apart from the regular dal recipes, green moong dal can also be used in various other dishes. Its versatility and health quotient make it quite popular amongst health enthusiasts. Here are two green moong dal recipes that are super delicious and healthy and
will add an extra zing to your meal!
Green Moong Dal Soup
Green moong dal soup is a healthy and hearty option, especially for a winter meal. It is made with green moong dal, vegetables, and spices that make it a protein-rich wholesome meal.
Ingredients
1/2 cup soaked green moong dal (soak for 8 hours)
1 teaspoon oil/ghee
1/2 teaspoon cumin seeds (jeera)
1/4 tsp asafoetida (hing)
1 teaspoon finely chopped green chilies
4–5 curry leaves (kadi patta)
Salt to taste
2 teaspoon lemon juice
a coriander sprig for garnish (dhania)
Instructions
In a pressure cooker, combine the moong with 3 cups of water and pressure cook for 3 whistles. Before opening the lid, allow the steam to escape. Do not remove the water.
Using a hand blender, blend the green moong dal until smooth. Set aside.
Heat the oil/ghee in a large nonstick skillet over medium heat and add the cumin seeds.
When the seeds start to crackle, add the asafoetida, green chilies, and curry leaves and sauté for a few seconds on medium heat.
Stir in the blended moong mixture, salt, and 1 cup of water, and cook for 4 to 5 minutes on medium heat stirring occasionally.
Stir in the lemon juice thoroughly.
Serve hot moong soup, topped with chopped coriander leaves.
Green Moong Dal Salad
This salad is a refreshing and light option for a summer meal. It is tasty, healthy, and very easy to prepare even on those busy days, all you need is sprouted/boiled green moong dal.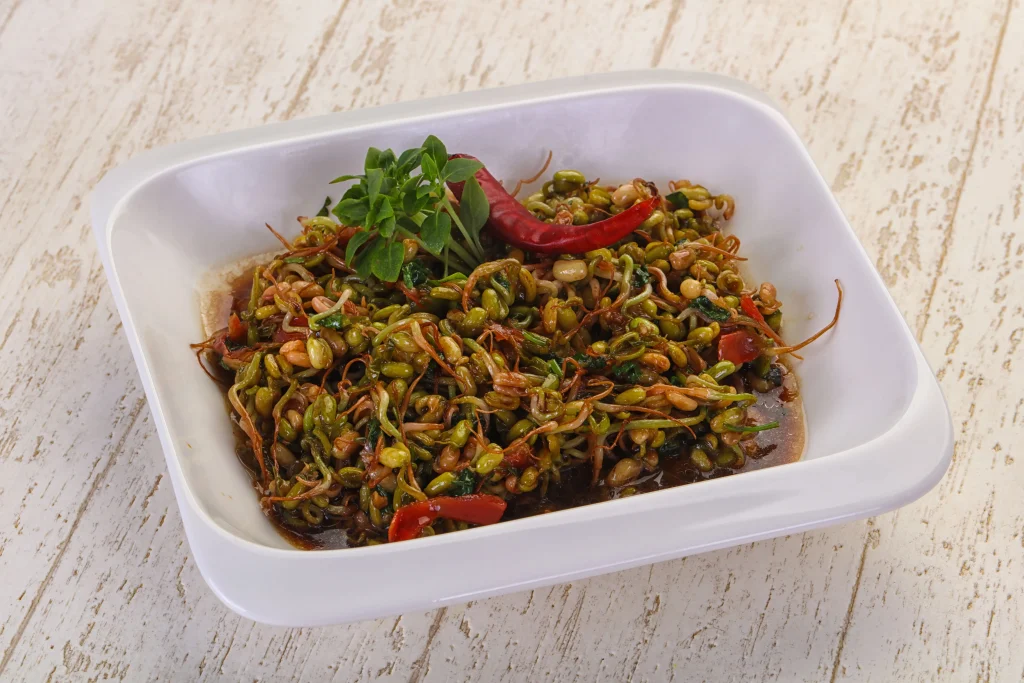 Ingredients
1 1/2 cups sprouted green moong dal or boiled green moong dal
A third of a cup of finely chopped cabbage
1/2 cup tomatoes, finely chopped
1/2 cup carrot, grated
1 tablespoon coriander, finely chopped (dhania)
1 tablespoon finely chopped onions
2 teaspoon lemon juice
1 teaspoon finely chopped green chilies
1/2 teaspoon black salt
Salt to taste
Instructions
To make the moong salad, toss all of the ingredients together in a bowl.
You can alternatively saute the veggies in olive oil and add the sprouted moong.
You can serve the green moong dal salad immediately or it can also be chilled for 1 hour before serving.
Conclusion
We hope you enjoyed our collection of green moong dal recipes with a twist. If you're looking for more delicious & healthy recipes, be sure to check out our other recipe blogs. And if you're feeling adventurous, we encourage you to experiment with your own twists on these classic dishes. After all, that's what cooking is all about! Try them out and share the best ones with your friends and family!