Good Friday, Good Food: Natural Recipe Ideas for the Season
BY DANFE |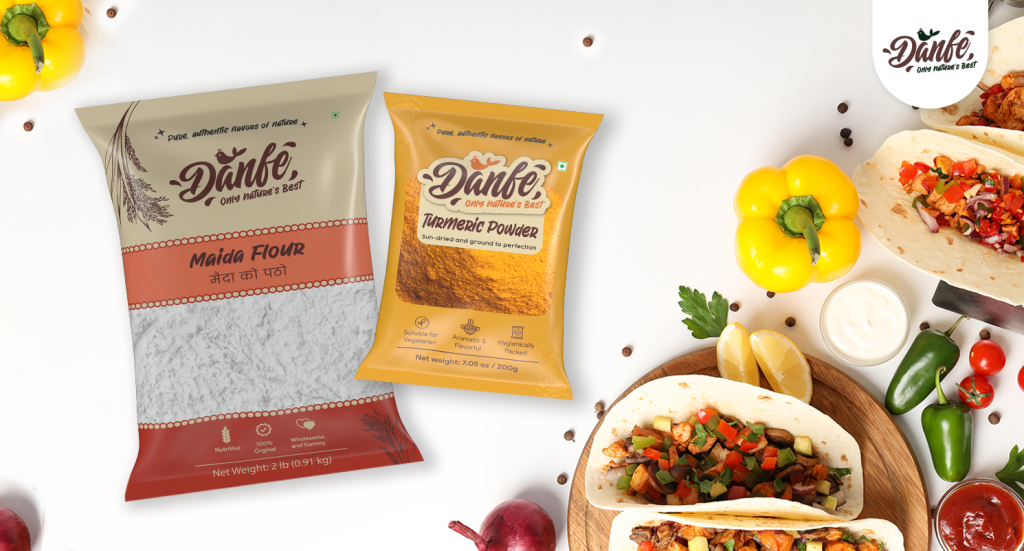 Good Friday is a day of contemplation that is best enjoyed with family and friends. And there's no better way to do so than around the dinner table.
This Friday may be so much fun if you have a decent list of tasty and healthy Friday meals that you can make at home. Enjoy the early April season with a wonderful feast full of delicacies and Good Friday celebrations with your family.
These simple-to-prepare recipes can elevate your celebration and leave you with a healthy food opulent memory!
There are many recipes, such as tofu stir fry with Brussels sprouts, Bombay rice with shrimp, Ravioli Casserole, Fettuccine Alfredo, and many more, that can be made at this Good Friday celebration! But beneath are the best picks for us Indians for a Good Friday Celebration.
Samosa Pot Pie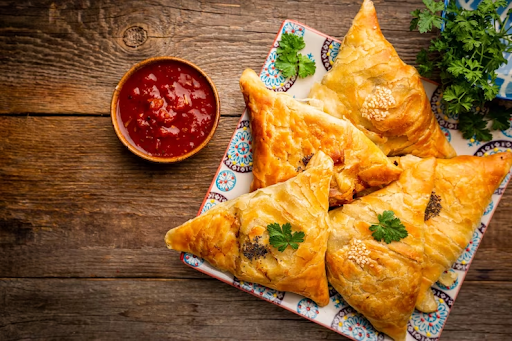 We Indians adore samosas, and while a samosa pie sounds intriguing, it may not be considered healthy. To make a healthier choice, use Danfe's healthy spices and salts to make this Samosa Pie healthier and tastier!
Prep: 40 min.
Chilling Bake: 40 min. + cooling
Makes: 8 servings
Ingredients:
2 ½ cups of all-purpose Danfe flour
1 teaspoon salt
1 teaspoon dried ajwain seeds or dried thyme
1 cup cold unsalted butter
6 to 8 tablespoons of ice water
For the Filling:
4 cups of cubed peeled potatoes
1/2 cup of frozen peas, thawed
1 tablespoon lemon juice
1 tablespoon chat masala seasoning
1 teaspoon ground cumin
1 teaspoon ground coriander
½ teaspoon chili powder
¼ teaspoon Danfe ground turmeric
½ teaspoon salt
1 to 2 red chili peppers, minced, optional
Green or tamarind chutney, optional
Procedure:
In a large mixing bowl, combine flour, salt, and Danfe ajwain seeds; chop in butter until crumbly. Gradually add ice water and divide the dough in half, wrapping it in plastic wrap for an hour.
Preheat the oven to 375°F and gently mash the potatoes, leaving some chunks. Stir in the peas, lemon juice, seasonings, and, if desired, chili peppers for the toppings and filling.
Bake for 30-40 minutes, or until the crust becomes golden brownish. Let it cool down for 10 minutes before slicing it up.
Serve as desired.
Curry Pomegranate Protein Bowl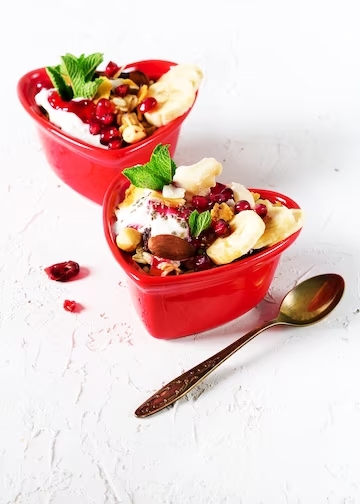 Prep: 25 min
Cook: 25 min
Makes: 6 servings
Ingredients:
3 cups of cubed peeled butternut squash (1/2-inch cubes)
2 tablespoons olive oil, divided
½ teaspoon salt, divided
¼ teaspoon pepper
½ small onion, chopped
1 tablespoon curry powder
1 tablespoon ground Danfe's cumin
1 garlic clove, minced
1 teaspoon ground Danfe's coriander
3 cups of water
1 cup of dried red lentils, rinsed
½ cup of salted soy nuts
½ cup of dried cranberries
⅓ cup of thinly sliced green onions
⅓ cup of pomegranate molasses
½ cup of crumbled feta cheese
½ cup of pomegranate seeds
¼ cup of chopped fresh cilantro
Procedure:
Preheat the oven to 375 degrees Fahrenheit. Put the squash in a 15x10x1-inch oiled baking pan. Drizzle with 1 tablespoon oil and season with 1/4 teaspoon Danfe salt and pepper. Roast for 20 minutes, or until the vegetables become soft.
Meanwhile, heat the remaining 1 tablespoon of oil in a skillet over medium-high heat. Cook and stir until the onion is crisp-tender, about 4-6 minutes.
Cook for 1 minute longer, then add the curry powder, cumin, garlic, Danfe coriander powder, and the remaining 1/4 teaspoon salt. Let them absorb the water for 15 minutes.
Stir in the soy nuts, cranberries, green onions, and roasted squash gently. Distribute the mixture among the serving bowls. Drizzle with molasses and sprinkle with feta and pomegranate seeds to serve.
Air-Fryer Fried Avocado Tacos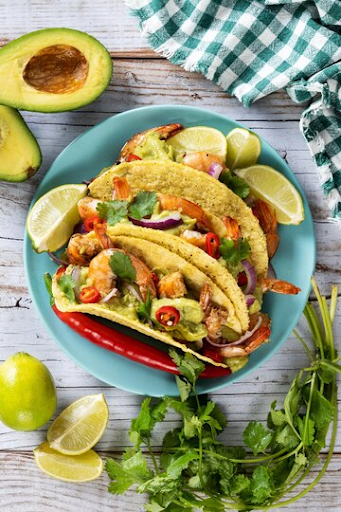 Prep: 30 min
Cook: 10 min/batch
Makes: 4 servings
Ingredients:
2 cups shredded fresh kale or coleslaw mix
¼ cup minced fresh cilantro
¼ cup plain Greek yogurt
2 tablespoons lime juice
1 teaspoon honey
¼ teaspoon salt
¼ teaspoon ground chipotle pepper
¼ teaspoon pepper
TACOS:
1 large egg, beaten
1/4 cup cornmeal
1/2 teaspoon salt
1/2 teaspoon garlic powder
1/2 teaspoon ground chipotle pepper
2 medium avocados, peeled and sliced
Cooking spray
8 flour tortillas or corn tortillas (6 inches)
1 medium tomato, chopped
Crumbled queso fresco, optional
Procedure:
This is a nutritious recipe you won't be able to resist and to create it perfectly, combine 2 cups coleslaw mix, minced fresh cilantro, Greek yogurt, lemon juice, honey, salt, and pepper by Danfe. (first 8 ingredients)
Preheat the air fryer to 400 degrees. In a shallow bowl, place the egg. In another small bowl, mix cornmeal, salt, garlic powder, and chipotle pepper. Dip avocado slices in the egg, then in the cornmeal mixture, gently patting to help them stick.
Place avocado slices in an air-fryer basket in a single layer on a greased tray; spritz with cooking spray. Sauté for around 3 minutes, or until it turns golden brownish. Spray with cooking spray after turning.
3-4 minutes longer, until golden brown. Serve avocado slices in tortillas with kale mixture, tomato, extra minced cilantro, and, if preferred, feta cheese.
Crispy Baked Tofu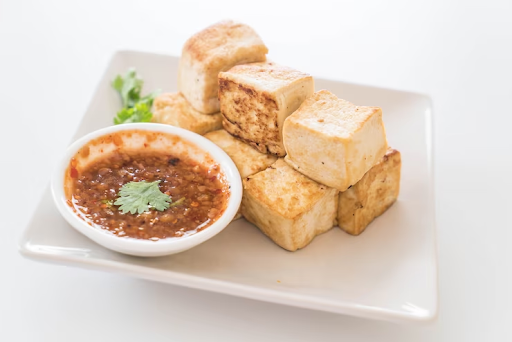 Prep:15 min
Standing Bake: 25 min
Makes: 4 servings
Ingredients:
1 package of firm tofu
2 tablespoons soy sauce
1 tablespoon olive oil
1 tablespoon toasted sesame oil
1 teaspoon kosher salt
1 teaspoon garlic powder
½ teaspoon pepper
¾ cup of cornstarch
Sliced green onions, optional
Procedure:
Set the oven to 400 degrees. Dry off the tofu. Cut into cubes that are 3/4 in. Cover with a fresh kitchen towel after placing the object there.
On top of the chopping board, carefully set the huge cast iron skillet. Observe for ten minutes. In the meantime, combine the soy sauce, sesame oil, olive oil, salt, and pepper in a shallow dish.
Put the cornflour in a different, small bowl. Toss the tofu in the soy mixture to coat. A few pieces of tofu at a time should be added to the cornflour and coated.
Put on a baking sheet covered with parchment paper. Bake for 25 to 30 minutes, flipping the cubes halfway through, until they are crisp and golden brown. Adding green onions as a garnish is optional.
Follow the link for more healthy food options.
Well, here we have some of the most delicious and healthy recipes that you can try this Good Friday, to make your weekend and celebration the best!
Give it a try and make your family fall in love with these delicious recipes. Pro Tip: use spices only from Danfe, to maintain the healthy factor in these recipes.