Easy Homemade Bread Recipes
BY DANFE |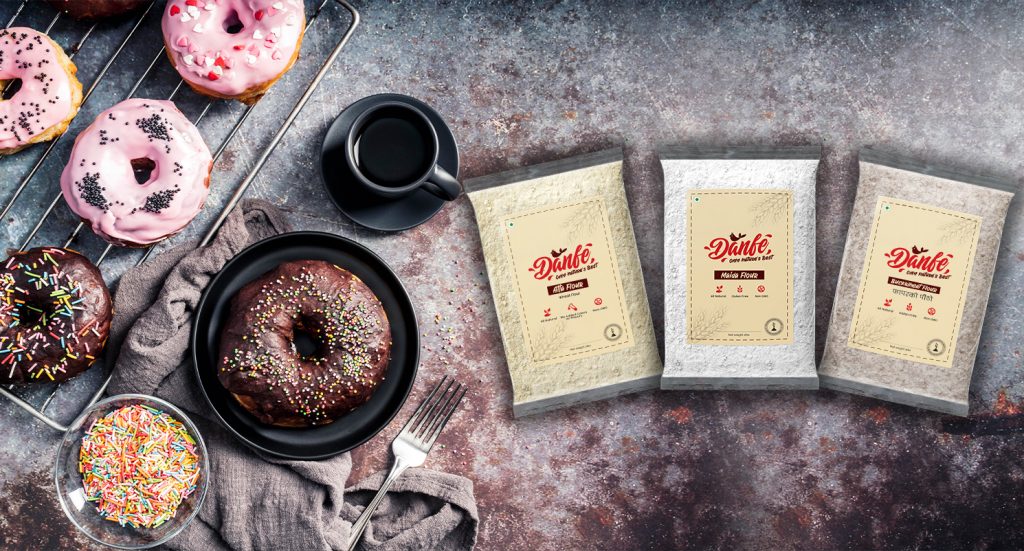 Who doesn't love some fresh bread? Especially cheesy, garlic, sweet and flavorful bread? Bring the aroma of homemade bread to your kitchen from sweet to savory with easy-to-make bread recipes. You're surely going to love these bread varieties, they are popular as well as tasty bread recipes, and these following homemade bread recipes are just perfect for all bread lovers!
Let us take a look at some of the delicious homemade bread recipes:
Buckwheat Flour Naan
Naan originated from Iran. However, different countries have their version of the bread. It's a staple that is commonly found in Iran, middle east countries, and Indian subcontinent countries such as Pakistan, Bangladesh, Sri Lanka, India, etc. It is a super healthy recipe that is quick, easy, and fail-proof which can be cooked on a skillet. This naan is a homemade bread recipe with a healthy twist using Buckwheat flour instead of self-raising flour. You can spice it up with butter, garlic, Kasuri methi, coriander leaves, or any of your favorite toppings. Soft, puffy with some brown blisters on top just like we get in any Indian restaurant.
Ingredients:
1 cup warm water
2 ½ tsp active dry yeast
2 tsp sugar
1 ½ cups of buckwheat flour
½ tsp baking soda
½ cup of curd
2 tbsp oil
1 tsp sea salt
Grated garlic and fresh chopped cilantro (to garnish) (optional)
Instructions:
In a large bowl, combine buckwheat flour, curd, oil, and salt. Knead the dough well.
Meanwhile, mix warm water, baking soda, and sugar. Stir to combine and keep it aside.
Cover it with a lid or cling wrap and keep it aside for 10-15 mins.
Heat a skillet and grease it over medium-high heat.
Heat up another iron skillet on medium-high flame. Make a small ball from the dough and roll it into an oval shape. Apply a little oil on top of the dough before rolling it. Oil your roller. Simply roll the dough by stretching it lengthwise and then widthwise.
Transfer the rolled naan onto the hot skillet. Let it cook for a couple of minutes until bubbles are formed on top. Brush the naan with the prepared garlic butter.
Remove the naan from the skillet, flip and transfer directly to the gas.
To cook the garlic naan in the oven, preheat the oven to 500 F degrees. Arrange rolled naan on a baking tray and then bake it for 4-5 minutes or until it turns golden brown. Take the naan from the oven and apply the garlic butter. If you want, you can place the naan in the oven under the broiler to get them charred.
Serve and enjoy!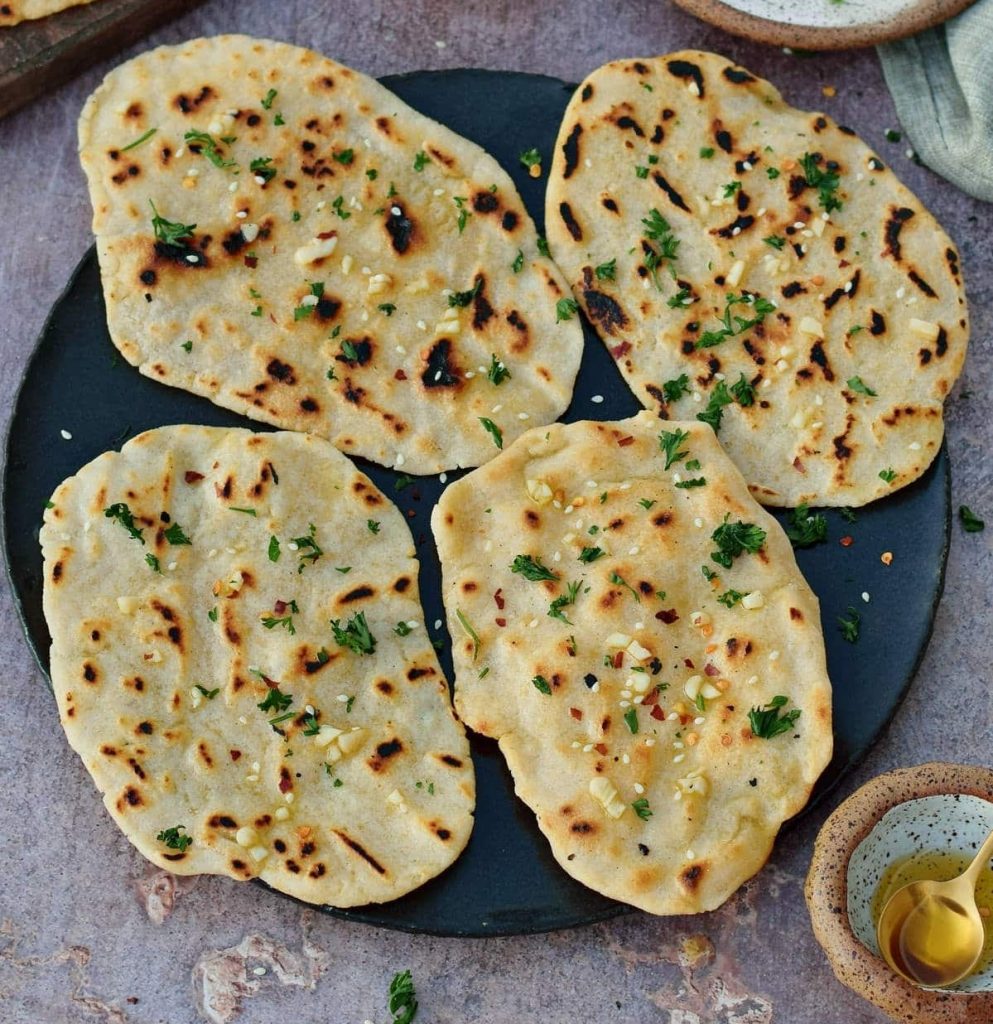 Image source:Elavegan
Chocolate Chip Bread
Make your mornings sweeter with this tasty chocolate chip bread. Grab a cup of espresso or tea with a slice of this quick bread and start off the day well! This chocolate chip bread is super moist and has a fluffy texture inside. It's more like eating buttery clouds for breakfast with chocolate. It's too good to miss out! This delicious choco-chip bread is quick to make, fluffy, and super chewy.
Ingredients:
2 cups maida flour
½ tsp baking soda
½ tsp baking powder
½ tsp salt
6 tbsp butter (softened)
⅔ cup of sugar
3 large eggs
1 tsp vanilla
1 cup of buttermilk
½ cup of chocolate chips
Instructions:
Preheat the oven at 180-degree celsius.
In a bowl, add flour, baking soda, baking powder, and salt. Set aside.
In a separate bowl, beat butter and sugar until mild and fluffy. Add eggs, one at a time, blending properly after every addition. Add vanilla. Mix properly.
Add 1 ½ of the dry combination to the wet combination and stir until simply combined. Add 1 cup of buttermilk and stir until simply combined. Repeat with closing components. Do not over mix, you simply need to make sure the dry and wet components are combined. Fold in chocolate chips.
Pour batter right in a non-stick loaf pan.
Bake for about 45-50 mins or till a toothpick inserted into the center comes out nearly clean.
Remove from the oven and allow to cool on a wire cooling rack.
Remove from the pan and enjoy!
Image Source: FeedFeed
Healthy Banana Bread
The whole wheat banana bread is just as flavorful and moist as the regular banana bread. To make it healthy you can add in some jaggery powder as a replacement for sugar. Whole wheat flour has a lot of added benefits as it's rich in fiber, and protein. Banana bread tastes best on day 2 after the flavors have settled together. With this healthy banana bread recipe, you're only a few simple ingredients away from the best banana bread!
Ingredients:
3 medium ripe bananas (mashed)
2 large eggs
¼ cup of jaggery powder
¼ cup of packed light or dark brown sugar
⅓ cup of milk
2 tsp pure vanilla extract
1 ¾ cups of whole wheat flour (leveled)
1 tsp baking soda
½ tsp ground cinnamon (optional)
½ teaspoon salt
⅔ cup of chopped almonds or choco chip (optional)
Instructions:
Adjust the oven rack to the lower third position and preheat the oven to 177°C. Keeping it in the lower rack prevents the top of your bread from browning too soon. Spray a 9×5 inch loaf pan with non-stick spray. Set aside.
You can use an electric mixer or mix everything by hand. Using a handheld or stand mixer fitted with a paddle or whisk attachment on medium-high speed, beat the mashed bananas and eggs together until combined. (Or whisk by hand.) Add the jaggery powder, brown sugar, milk, and vanilla extract. Beat on medium-high speed (or whisk) until combined. Set aside.
Whisk the flour, baking soda, cinnamon, and salt together. Pour into the wet ingredients and beat on medium speed (or by hand) until combined. Fold in the almonds or choco chip
Pour the batter into the greased loaf pan. Bake for 60-65 minutes, making sure to cover the bread with aluminum foil halfway through to prevent the top from getting too brown. Check if the bread is done with a toothpick inserted in the center and comes out clean with only a few small moist crumbs. This may be before or after 30-40 minutes depending on your oven, so check every 5 minutes at the 35-minute mark or so.
Remove from the oven and allow the bread to cool completely in the pan set on a wire rack before slicing and serving.
Cover and store banana bread at room temperature for 2 days or in the refrigerator for up to 1 week.
Image source: Well plated by Erin
Eggless Donut
This eggless donut recipe is heavenly and hard to resist! It is super easy and a must-try for all sweet lovers. These eggless donuts can be made with just staple pantry ingredients and are super simple to prepare.
Ingredients:
½ cup milk
1 tsp vinegar (optional)
1+ ½ cup maida flour + 1 extra tbsp ( if needed)
¼ cup sugar
½ tsp baking powder + ¼ tsp baking soda
Pinch of salt
¼ tsp grated nutmeg
¼ cup melted butter
1 tbsp curd
Oil for frying
For the glaze:
1 cup chopped chocolate
2 tbsp vegetable oil
Instructions:
In a bowl add vinegar to the milk, mix, and let this mixture stand for 5-10 minutes.
In a separate large bowl, add the flour, castor sugar, baking powder, baking soda, salt, and nutmeg. Mix the dry ingredients well.
To the dry ingredients now add the milk and vinegar mixture, butter, and curd. Mix everything until the dough comes together. If the dough feels very sticky, add a tbsp of flour. Let it rest for 30-40 minutes.
Heat a pot with oil and bring it to 185C to 190C, (Please be careful around hot oil)
Dust the counter with flour, divide the dough in half and roll the dough. Cut the dough using a cookie cutter or large lid for the outer circle and a small lid for the center.
Carefully add the donuts to hot oil to fry and let it fry until the donuts become fluffy and they rise, flip and cook until golden brown.
For the glaze, chop the chocolate and add it to a microwave-safe bowl. Add the oil and microwave it in 30-second intervals until the chocolate is fully melted.
Glaze the donuts with the chocolate glaze, top with crushed almonds or choco chips or with any of your favorite toppings, and enjoy!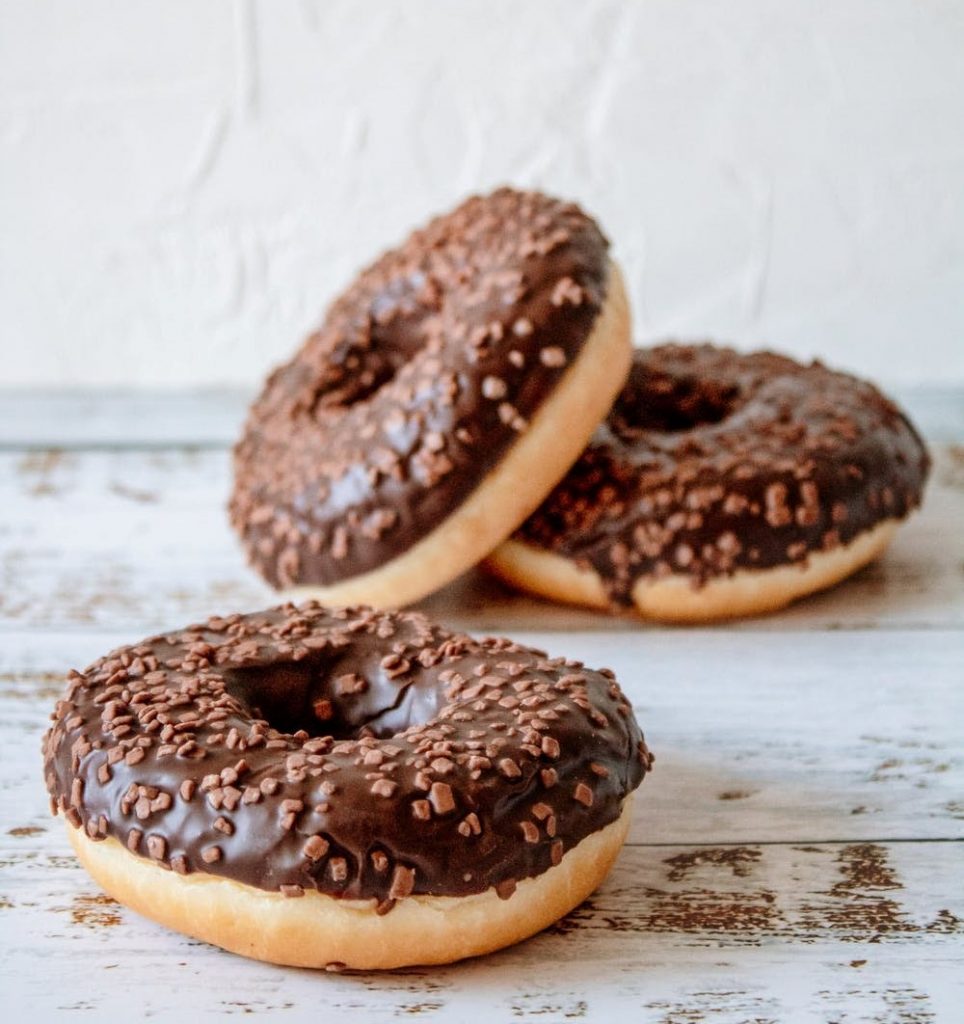 Image Source: Pexel
Cheesy Atta Kadai Pizza
Cheesy Atta Kadai Pizza which is soft and chewy on the inside and crisp on the outside. Add on your favorite pizza toppings and sauces. A homemade whole wheat pizza dough that is healthy, light, and a perfect base for a delicious crusty and crispy pizza! Here is the step-by-step process of the whole recipe which is extremely easy and you can make it in your Kadai.
Ingredients:
For the pizza dough:
2 cups of atta flour
3 tbsp sour curd
1 tsp sugar
1 tsp baking soda
Salt to taste
1 tbsp cooking oil
For topping:
2 tbsp pizza sauce
¼ cup of mozzarella cheese
2 tsp oil
2 onion (chopped)
2 tomato chopped (deseeded)
1 capsicum (chopped)
5 to 6 olives
Few pieces of paneer
Salt to taste
Black pepper to taste
¼ tsp oregano
¼ tsp chili flakes
For extras:
2 tbsp whole-wheat flour (for dusting)
2 cups of salt for baking
Instructions:
Preparing pizza dough:
Gather all the required ingredients.
In a mixing bowl add all-purpose flour, sugar, salt, baking soda, and baking powder. Mix them and add oil and again mix it well.
Add curd and combine with your hand gently.
Add a little more water and make soft, smooth, and elastic dough.
Knead the dough till it is soft, smooth, and elastic.
Grease the dough with a little oil and with a light hand again mix it well.
Tuck the dough and form it into a ball. Cover the bowl tightly with another bowl or cling wrap or plastic wrap.
Allow to rest and rise in a warm place for about 30 minutes. Till dough has raised and doubled in size indicating well fermentation.
Punch the dough with a fist to release down the air.
Pizza Baking Recipe:
Firstly, place the kadai on the gas. Cover it with a lid and preheat for 10 mins on medium flame.
Divide the dough into 2 balls and tuck them in.
Flatten the dough by stretching with both hands or with a rolling pin.
Further, creating a dent helps the crust to fluff slightly.
Place the dough on a pizza plate or greased steel plate or strainer(jali).
Then prick the center of dough with the help of a fork to prevent the pizza base from fluffing up like chapati.
Evenly spread some oil over the pizza.
Furthermore, spread pizza sauce or tomato ketchup on pizza generously leaving the sides slightly.
Additionally, top with shredded cheese, onion, tomato, paneer, and capsicum.
Add two pinches of salt, black pepper powder, oregano, and chili flakes.
Then spread a generous amount of grated mozzarella cheese over the base. Pizza is ready to bake.
Place the pizza in the pre-heated kadai carefully.
Brush oil over the sides of the pizza crust to make the pizza crust more crispy and golden brown.
Bake pizza in a kadai for about 12-15 minutes on a low medium flame and cover it with a lid. Allow the pizza to bake aptly. After 12 minutes, check the pizza. If the pizza is still not brown from the corners and cheese is not melted, then bake pizza for 2-3 minutes until the pizza gets slightly brown from the corners.
Sprinkle some oregano and chili flakes over the pizza, cut in pieces as per your preference.
Finally, serve cheesy atta pizza hot with some chili flakes and oregano on top.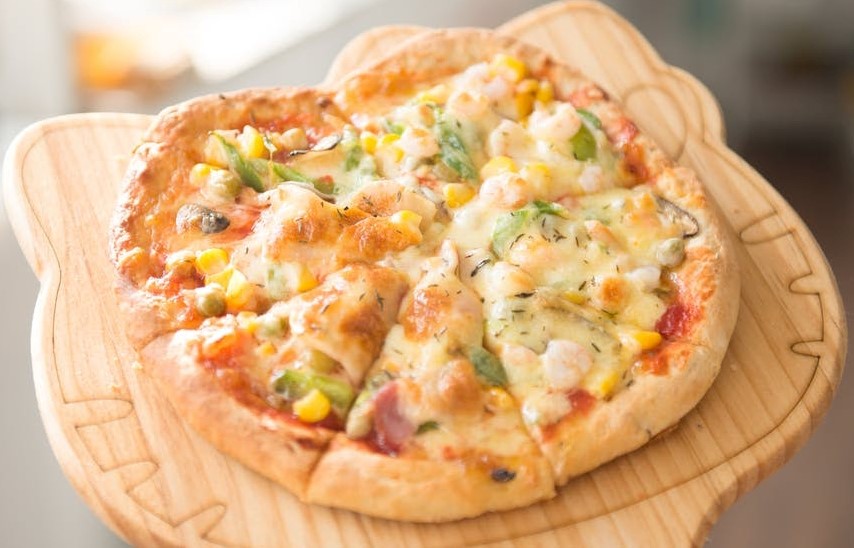 Image source: pexel
Isn't it interesting how such basic ingredients can be turned into something so heavenly?
For bread lovers, these amazing homemade goodness can be easily prepared and savored. If you have a different bread recipe in mind, share it with us, and do try out these bread recipes. These are definitely healthier, fresher, and more delicious (coz you made them!) than the store-bought ones! And we are sure y'all will love it.