Easy and Healthy Vegan Recipes
BY DANFE |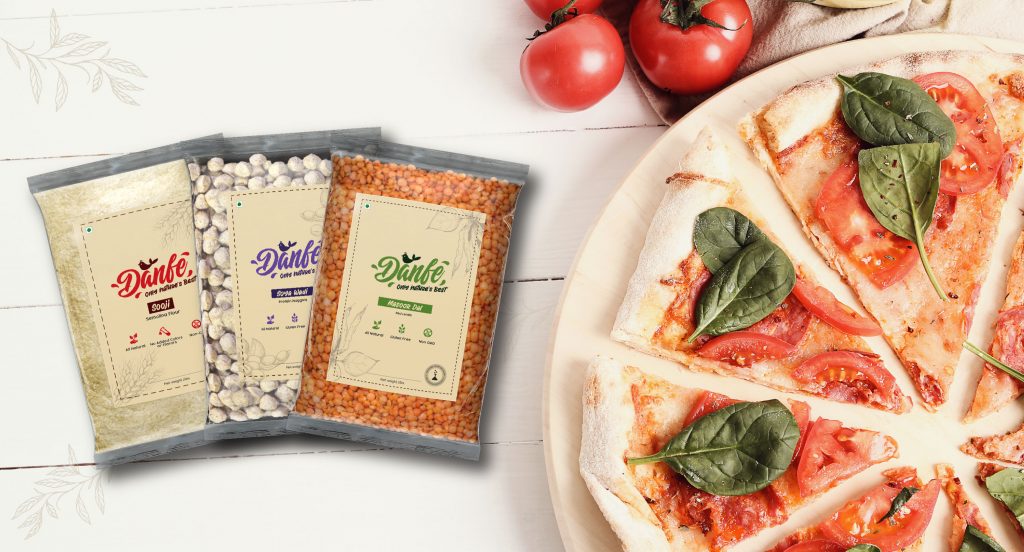 Working your way through a vegan diet? You'll be pleased to hear that we have some easy and healthy vegan recipes all ready to be cooked up! These healthy vegan recipes are so good, you'll forget you're not eating real meat. Made with nutritious flours, spices, and lentils, these easy vegan recipes are life-changing for sure – especially when they can be made a day or two in advance and simply cooked or reheated right before mealtimes.
Whole Wheat Breakfast Protein Cookies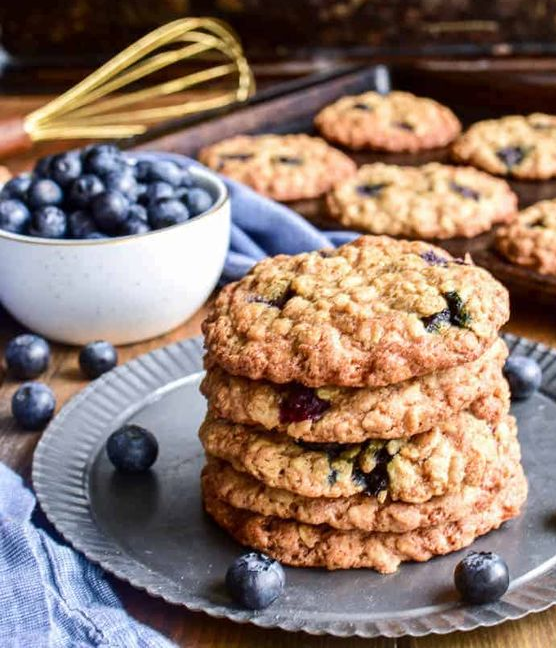 Peanut Butter, Honey, Fresh Blueberries – what's not to love? This is one of the best vegan recipes you could make for breakfast. Being a powerhouse of nutrients, this healthy vegan meal is the easiest way to sail through workdays.
Ingredients
1 cup Danfe's Whole Wheat Flour
½ cup Danfe's Sooji Flour
1 cup Rolled Oats
½ tbsp Lemon Zest or Zest of 1 Lemon
½ tsp Baking Powder
½ tsp Baking Soda
½ tsp Ground Cinnamon
½ tsp Sea Salt
½ tsp Peanut Butter
¼ tsp Coconut Oil, Melted
½ cup Honey
⅓ cup Almonds, Chopped
2 tbsp Ground Flaxseeds 
¾ cup Fresh Blueberries
5 tbsp Warm Water
Instructions
Preheat the oven to 350°F. Then line a cookie sheet with parchment paper and set it aside.
In a small bowl, combine flaxseeds with warm water. Set aside for 5 minutes.
In a separate mixing bowl, whisk together the dry ingredients: whole wheat flour, sooji flour, rolled oats, lemon zest, baking powder, baking soda, ground cinnamon, and sea salt.
In another bowl, mix the wet ingredients: honey, coconut oil, and peanut butter. Mix together until well combined.
Now, add the flaxseed mixture to your wet ingredients
Add the wet ingredients to the dry ingredients. Fold in until everything is well combined.
Fold in the blueberries and chopped almonds.
With an ice cream scoop, scoop ¼ cup of batter and place it on the cookie sheet lined with parchment paper.
Repeat Step 8 until there is no more cookie mixture.
Pop the cookie sheet in and bake for 20-25 minutes until the cookies look nice and golden brown around the edges.
Once the timer is up, let the cookies cool for 5 minutes. Then transfer them to a wire rack to finish cooling.
Enjoy!
** This easy vegan recipe is great as a meal prep! You can make it ahead of time and freeze the cookies. When you are ready to eat, just microwave them for 30 seconds and you're ready to go!
Vegan Vegetable Pizza
Before you jump to conclusions – this easy vegan recipe is nothing like your ordinary cauliflower crust pizza! We simply turned this into a healthy vegan recipe using all-purpose flour, sooji, durum wheat semolina flour, fresh veggies, and a sprinkling of dairy-free cheese!
Ingredients
For the dough:
1 ½ cups Danfe's Maida (All-Purpose Flour)
1 cup Danfe's Sooji Flour 
½ cup Danfe's Durum Wheat Semolina Flour
1 tsp Active Dry Yeast
1 tsp Salt
¼ cup Extra-Virgin Olive Oil
1 -1 ¼ cups Warm Water
For the sauce:
1 (15-oz) can, Tomato Sauce
½ tsp Fresh Basil
½ tsp Dried Oregano
½ tsp Garlic Powder
½ tsp Granulated Sugar
¼ tsp Sea Salt
Toppings:
1 Red Onion, Vertically Sliced
1 Green Bell Pepper, Vertically Sliced
1 Red Bell Pepper, Vertically Sliced
1 Yellow Bell Pepper, Vertically Sliced
2-3 Jalapenos, Diced (Optional)
¼ cup Cherry Tomatoes, Halved
½ tsp Dried Oregano and Dried Basil
½ cup Dairy-Free Mozzarella Cheese
Instructions
To make the dough: In a large mixing bowl, combine all the dry ingredients, extra virgin olive oil, and 1 cup of warm water. Mix and knead the dough until it is soft and smooth.
** If you have a stand mixer, you can mix it at medium speed for about 5 minutes.
Cover and set it aside for 1-1½ hours to let the dough rise. When it is almost near the end of the rising time, place a baking stone in the middle of the oven and preheat to 450°F.
Meanwhile, start making the sauce. In a separate mixing bowl, combine the ingredients listed under "For the sauce." Adjust seasoning as needed and set it aside.
Once the rise time is done and the dough is puffy-looking, divide the dough in half.
On a lightly floured surface, place one half of the dough and roll it out into a 12-inch circle. Repeat the same for the other half or place it in the refrigerator for later use.
Transfer the flattened dough to a 12in pizza pan lined with parchment paper.
Spread tomato sauce on the pizza dough.
Next, add your veggies and sprinkle in the mozzarella cheese.
Place the pizza pan in the oven and bake for 15-20 minutes or until the crust is bubbly and golden brown.
Remove from the oven, serve hot, and enjoy!
Vegan Lentil Lasagna
Sometimes, even store-bought vegan lasagna can derail your progress. This vegan lentil lasagna, however, is one of the best vegan recipes that you can feel great about. We lightened the recipe with some red lentils, also known as masoor dal, which comes packed with powerful nutrients.
Ingredients
1 cup Danfe's Masoor Dal
2 cups Baby Spinach, Fresh
1 box Lasagna Noodles, Whole Wheat
1 (28-oz) jar Marinara Sauce of your Choice
1 cup Cashews
½ cup Nutritional Yeast
1 tsp Dried Basil
1 tsp Dried Oregano
½ tsp Garlic Powder
1 cup Vegan Ricotta 
1 cup Dairy-Free Mozzarella Cheese
1 tsp Salt
3 tbsp Lemon Juice
Instructions
First, to cook the red lentils add the red lentils with 3 cups of water in a pressure cooker. Pressure cook for 2-3 whistles. After 3 whistles, set it aside to let the pressure release.
Drain the lentils and place them in a mixing bowl.
Add the marinara sauce and mix until lentils and sauce are well combined.
Preheat the oven to 350°F.
Assemble the lasagna: Spread a cup of the marinara-lentil mixture to the bottom of a 9×13 casserole dish. Place 4-5 uncooked lasagna noodles on top. Spread vegan ricotta cheese on top of the noodles. Top it with spinach. Top the spinach with the marinara-lentil mixture.
Then, repeat the same steps until you near the top of the casserole dish.
Cover the lasagna with aluminum foil, place in the oven, and bake for an hour.
Around the 40 minute mark, take out the lasagna and sprinkle vegan mozzarella cheese.
Place the lasagna back in the oven and bake for the remaining minutes.
Once the timer is up, take the lasagna out and place it on a wire rack.
Let it cool for at least 15 minutes and serve!
Spicy Vegan Soya Masala
Hello, plant-based heaven! If you're trying to ditch meat but still want to get your daily protein fix, this easy vegan recipe is for you. Our plant-based take on the popular butter chicken masala is made with nutrient-rich soya chunks and aromatic seasonings. It's a great way to enjoy satiating meals without meat.
Ingredients
1 ½ cup Danfe's Soya Wadi
1 Red Onion, Finely Diced
2 Large Tomatoes, Finely Diced
1 tsp Danfe's Cumin Seeds
1 tbsp Ginger-Garlic Paste
½ tsp Danfe's Turmeric Powder
2 tsp Kashmiri Chili Powder or Paprika
1 tbsp Danfe's Coriander Seeds, Ground to Fine Powder
2 tsp Danfe's Bara Masala
2-3 cups Water
Ground Black Pepper (Optional)
Salt to Taste
2-3 tbsp Oil
2 tbsp Cilantro, for Garnish
Instructions
Soak soya chunks in warm water for 15 minutes. Drain and transfer to a mixing bowl.
To the same mixing bowl, add turmeric powder, 1 tsp paprika, ½ tbsp ginger-garlic paste, salt, and ground black pepper. Mix well.
Transfer the curried soya chunks to an oven-proof dish or to your air fryer.
Preheat the oven to 350°F. Place the soya chunks in the oven for 20 minutes, turning over halfway through to make sure they cook evenly.
** If you are using an air fryer, air fry for about 15 minutes, tossing it at the halfway mark.
Once the soya chunks are done, set them aside.
Heat oil in a large saucepan over medium heat. Add the cumin seeds and wait for them to splutter.
Next, add the red onions and remaining ginger-garlic paste. Saute until onions are translucent.
Add the tomatoes and cook for 3-4 minutes or until the moisture is gone.
Add the remaining spices: bara masala, paprika, ground coriander. Saute for 1-2 minutes.
Add water and mix well.
Add the curried soya chunks and salt to taste. Bring the curry to a boil and turn off the stove.
Garnish with cilantro and serve hot with rice or roti.
Lentil Potstickers
A perfect make-ahead vegan lentil recipe for the weekday! Once you've wrapped the dumpling, you can cook how much ever you want and freeze the rest for a few days. If you have kids, this vegan lentil recipe will be great for sneaking in some healthy but not-so-favorite veggies!
Ingredients
1 cup Danfe's Masoor Dal
1 Red Onion, Finely Diced
3 Carrots, Finely Diced
1 Small Head of Cabbage, Shredded
6 cloves of Garlic, Minced
1-inch Ginger, Minced
1 tbsp Chili Oil
3 tbsp Miso 
2 tsp Soy Sauce
2 tbsp Rice Vinegar
1 ½ tsp Honey
1 tbsp Chili Garlic Sauce
2 tbsp Danfe's Coriander Seeds, Ground
1 ½ cups water
For the wrapping
Dumpling Wrapper
A Bowl of Water
A spoon
Instructions
Soak red lentils in water for 30 minutes. Rinse, drain, and set aside.
Heat chili oil in a large saucepan over medium heat.
Add finely diced red onion, carrot, and minced garlic. Cook for 5-7 until onions are translucent.
Add shredded cabbage and cook for an additional 5-7 minutes.
In a mixing bowl, combine miso, soy sauce, rice vinegar, honey, chili garlic sauce, ground coriander, minced ginger, and water. Mix until well combined. If you want it spicier, then add a bit more of the chili garlic sauce.
Add the miso broth to the vegetable mixture. Stir well.
Add the rinsed masoor dal. Stir well. Bring to a boil, then cover and let it simmer for 20-25 minutes.
Once the lentils are tender, turn off the heat. Let the mixture cool down completely.
Once the mixture has cooled down, it's time to start wrapping.
Wrapping the Potsticker
Take a dumpling wrapper. Dip your index finger in water and coat the edges of the wrapper with water.
Place a tablespoon of lentil mixture in the center.
Using your thumb and middle finger, pinch the dumpling in the center.
Next, fold in the left and right-hand corner of the dumpling together towards the center.
Seal the potsticker by coating the edges with water.
Cooking the Potsticker
Add a tablespoon of oil to a large skillet over medium heat.
Once the oil is hot, place the potstickers in the skillet, turning over every 2-3 minutes to ensure all sides are golden brown.
After the sides are golden brown, add ⅓ cup of water.
Cover the skillet with a lid and =steam for 2 minutes.
Transfer the potstickers to a colander lined with paper towels to absorb any excess oil.
Serve hot with your favorite dipping sauce. Enjoy!
If lasagna, potstickers, spiced curries, and pizzas are your weakness, give these easy vegan meals a chance. These healthy vegan recipes are definitely better for you when compared to traditional recipes. Once you go for the Danfe twist, you'll never go back!