Diwali Special: Quick & Healthy Recipes for this Festive Season!
BY DANFE |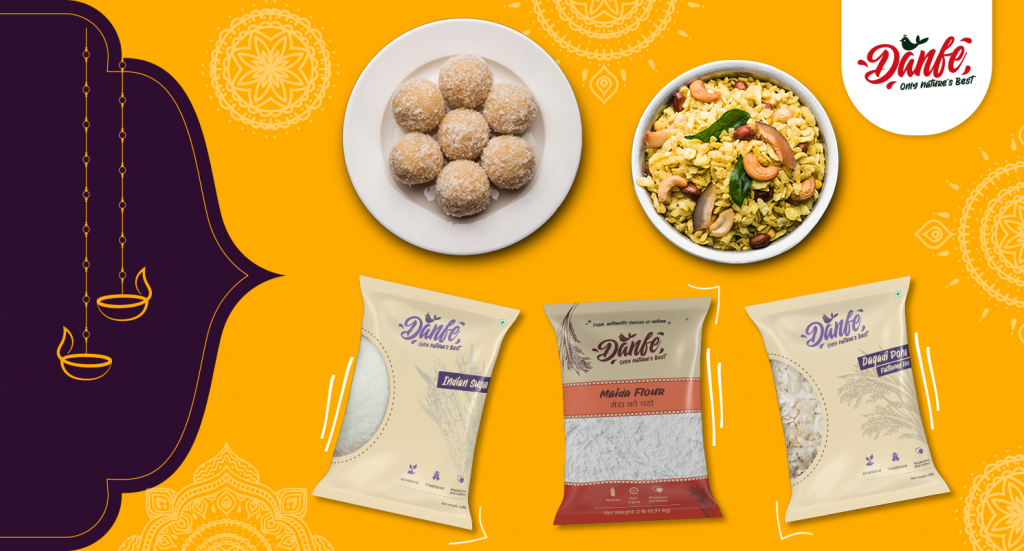 Introduction
Diwali is a festival of fresh starts and the triumph of good over evil and light over darkness. It also happens to fall around the same time as harvest and new year celebrations for some people. Due to which it is considered to be an auspicious time and people usually prefer using pure natural ingredients.
It is one of the most popular holidays in India, and celebrations would not be complete without festival fare. Indians frequently exchange holiday sweets and feast on a variety of festive snacks on Diwali. Depending on the dish, Diwali food may taste creamy and sweet or salty and savory.
Karanji, a semolina-based fried dumpling from Maharashtra, samosas, and pakoras are some of the most well-known foods consumed on this holiday (a patty made of fried vegetables such as onions, eggplant, and potatoes).
So why not celebrate this new start with some unique and fresh flavors that bring in more joy and some unique flavourful experiences. Therefore, here's a diwali special menu that you should definitely try.
Quick & Healthy Recipes
Almond and Coconut Ladoo
Ingredients
Shredded coconut, 2 cups
Almonds, 1/4 cup (skin peeled)
1.2 cups of milk
Sugar, 1/4 cup
1/4 teaspoon cardamom powder
2 tablespoons toasted coconut
Method
Grate the coconut in a grinder and the coconut shredder attachment.
Dry roast 2 tablespoons of grated coconut in a pan over a low flame until it turns a light golden color.
Place milk, almonds, and elaichi powder in the same pan and heat on a low flame until they begin to boil. Simmer it for 10 to 12 minutes.
Using a slotted spoon, remove the almonds and blend them into a smooth paste with some of the milk.
Add the grated coconut and pour the mixture back into the milk; cook for 3–4 minutes.
Add some sugar. The mixture gets wet again as the sugar melts.
Continue cooking it until all of the liquid is gone and the mixture is crumbly.
Turn off and let the device cool. Make balls when it is warm to the touch, then roll in the roasted coconut.
Keep your items in airtight containers.
Special Diwali Chivda
Ingredients
4 cups thin chivda poha
Ghee, 2 tbsp.
1 teaspoon mustard seeds
1 teaspoon cumin seeds
2 to 3 curry leaf sprigs
4 to 5 dried red, broken chillies
Asafoetida, 1/4 teaspoon
1/2 cup raw peanuts
1.5 tsps salt and 1 tbsp sugar
Cashew nuts, 1/4 cup
1 cup of raisins (optional)
1 teaspoon red pepper flakes
1⁄2 teaspoon of turmeric powder
Method
In a big pan, heat the oil. Roast the poha for 8 to 10 minutes on a low heat until it turns slightly golden. Remove the poha and place it in a big dish to set aside. As it cools, it will become more crisp.
Heat the ghee in a medium-sized kadai or pan.
Add cumin and mustard seeds. Add the curry leaves, red chillies, asafoetida, and peanuts once they begin to sputter. Until the peanuts are golden brown, stir on medium heat for 5 to 6 minutes.
Add cashews, sugar, and salt.
Add raisins and stir for a few seconds to help them puff up after about a minute of stirring until the cashew nuts are golden.
Add turmeric and red chili powder, stir quickly, and then take the pan off the heat.
Immediately add this tempering to the roasted poha and combine thoroughly.
Place in a container that is airtight & enjoy!
Coconut milk-based potato curry
Ingredients
3 tablespoons of vegetable oil
1 teaspoon mustard seeds
3 dried red peppers
10 to 12 curry leaf
2 onions, chopped finely
4 tomatoes, chopped finely
2 teaspoons of curry powder
1-tablespoon turmeric powder
Kashmiri red chili powder, 1 teaspoon
Garam masala, 1 teaspoon
Salt as desired
8 to 10 potatoes, 800 grammes, peeled and chopped into bite-sized pieces
Coconut milk, 400 grammes
Method
In a pan, heat 2 tbsp of oil. Add curry leaves, dried chillies, and mustard seeds to the hot oil. Keep a few curry leaves aside for decoration. The sound of mustard seeds popping in hot oil is my favorite.
Add chopped onions and cook them for 8 to 10 minutes, or until they are browned.
Add tomato chunks. Mix thoroughly and cook for 3 to 4 minutes.
Add salt, garam masala, turmeric, coriander powder, and to the pan. Mix well, then cook the tomatoes and spices for about 5 minutes, or until thoroughly heated.
Add potatoes and stir them into the onion-tomato mixture to coat them.
Add a small amount of water (about 1/2 cup) along with the coconut milk. When the potatoes are just about done, cover the pan and simmer the curry, stirring occasionally, for 25 to 30 minutes. Place after in a serving bowl.
Quickly prepare a spoon tempering as a garnish. When the oil in the ladle spoon is hot, add the curry leaves that were set aside and the kashmiri red chili powder. Pour the crisp curry leaves over the potato curry.
Serve warm with rice or rotis.
Nevris Goan Recipe
Ingredients
1 kg of fine flour (maida)
250 ml oil
1 tablespoon salt
2 cups of warm water
For deep frying, 3 cups of oil
Ghee in the amount of one tablespoon (clarified butter)
700 g of fresh grated coconut or desiccated coconut flakes
Khus Khus, 50 grammes (poppy seeds)
1 tablespoon cardamom powder
Roughly chopped 200 grammes of cashew nuts
200 grammes of almonds, roughly chopped
1 kg of raisins
450 grammes of natural sugar
Method
Mix the salt and the flour. Pour warm water and hot ghee at this time. All of the ingredients should be thoroughly combined. The dough should not be too hard or too soft when it is being kneaded.
Put a damp cloth over the area and give it 20 minutes to rest. Let's prepare our stuffing in the interim. For this one, I'm photoless.
Make a wide tawa. Alternatively, preheat a pan. Ghee is now added, and desiccated coconut is sauteed until medium brown. Reduce the heat while stirring.
Remove and set aside the coconut once it has browned. A lot of sautéing will cause the coconut to burn.
Lightly saute the cashew nuts, chopped almonds, and poppy seeds separately and set aside.
Stir the coconut and poppy seed mixture with the remaining ingredients, including the raisins, sugar, and cardamom.
Gently combine them all. If you wanted to, you could chill them in the refrigerator.
Roll the dough into 2-inch balls. Roll with a roller, but not as thinly as chapati.
Use a metal glass or a round cookie cutter to cut. To prevent a mess, lay down newspaper.
Stuff the center with some filling. Water the edges with a brush before covering with the opposite side. To create a criss-cross pattern, pierce with a fork. Or simply fold the edges inward to create a lovely pattern. With all of the dough and filling, repeat the process. On a platter, arrange the karanjis one by one.
Get a kadai or other deep-frying pan. Heat up thoroughly. Reduce the flame to medium heat once the oil is hot. Fry a limited number of karanjis at once to avoid crowding the pan. They should be removed and placed on absorbent napkins once they have been lightly browned on both sides.
After they have cooled, put them in an airtight container or tin. As long as you store them, this will last for 15 days.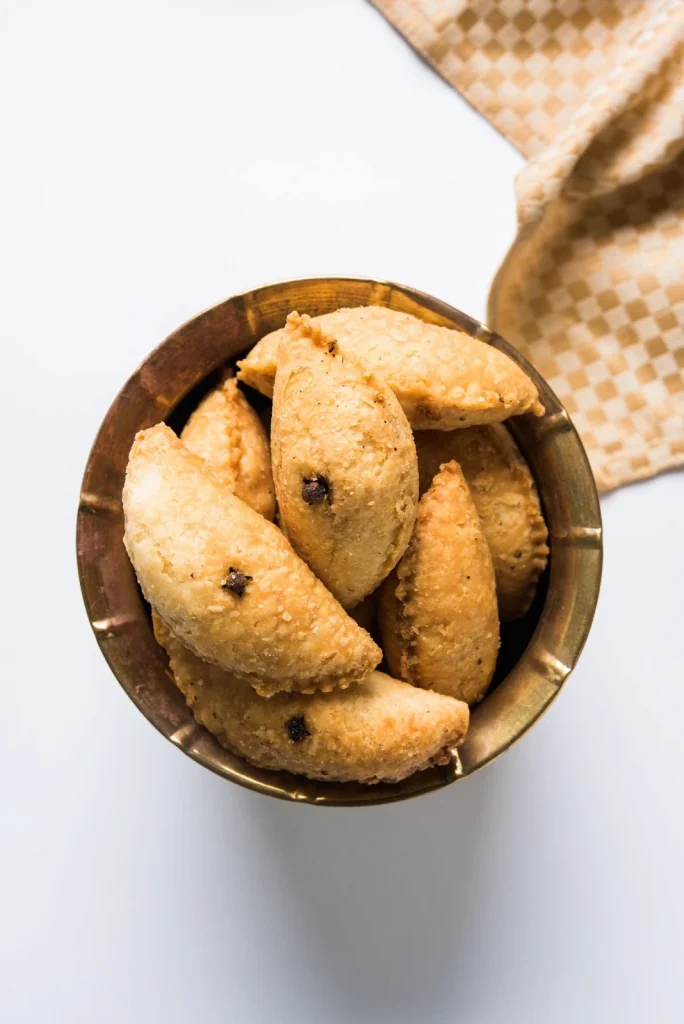 Conclusion
There you have it, here are four different diwali special food recipes from three different categories, a sweet dish, a snack and a main course. The fun is in trying new things then why not try during this festive season when even a new dish can bring in some excitement for the craving of some unique and healthy taste.
Be sure to visit our other recipe blogs if you're looking for more enticing & healthy meal ideas. And if you're feeling adventurous, try experimenting with your own variations on these traditional dishes. After all, cooking is all about that! Try them out, then tell your loved ones about the best ones! Also don't forget to check out our Instagram page for staying updated.