Delicious and Nutritious Navratri Recipes!
BY DANFE |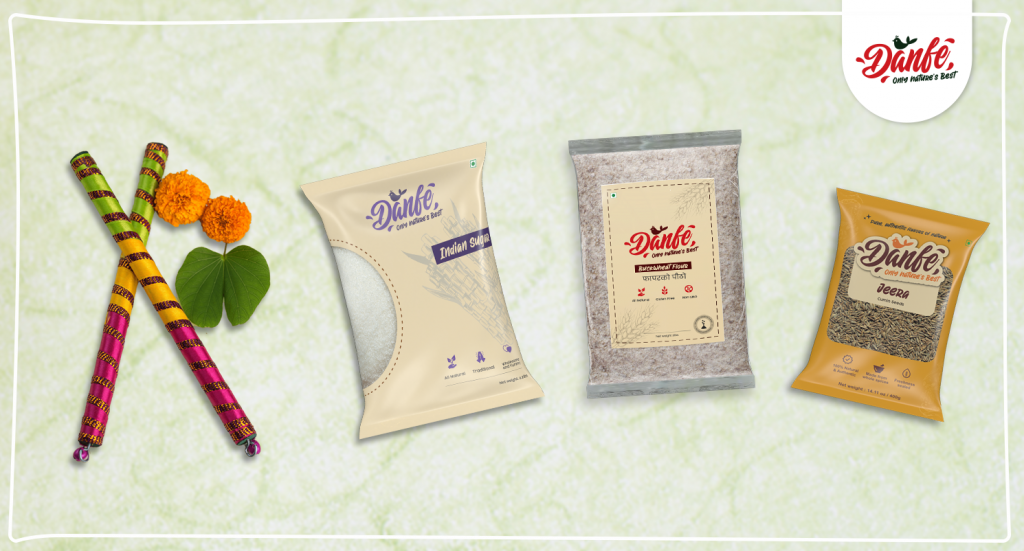 Navratri, one of the most important Hindu festivals, is celebrated twice a year with great zeal throughout the country. For nine days, devotees worship the various avatars of Goddess Durga. Goddess Durga is said to have nine incarnations, and each female deity represents a different power. It's that time of year again when goddess Durga's idols are adorned with kumkum, bangles, flowers, and jeweled attire. Morning prayers are offered with synchronized bells. The aroma of yummy foods made by everyone following Navratri recipes fills the air.
Navratri celebrations allow you to reconnect with your roots and step away from your daily routine. When you break your fast you have to be careful about the foods you eat. Vrat Recipes Kuttu atta, singhara atta, fresh vegetables, fruits, milk, yogurt, and makhanas are preferred because they are light on the stomach and easily digested.
Because it is pure and unprocessed, rock salt or sendha namak is used instead of regular salt to make healthy and tasty food. Those who do not wish to fast may follow a vegetarian sattvic diet in which ingredients that produce heat in the body, such as garlic and onions, are avoided to allow your body to detox.
Celebrate the festival with the best of our Navratri recipes for 9 days. Indulge in far more than just the usual fare, from old favorites to newer ones.
Sabudana Khichdi
One of the most popular Navratri recipes is sabudana khichdi, which is made with sabudana pearls, boiled potatoes, roasted peanuts, and a few spices. It is typically prepared on Hindu fasting days such as Navratri, Mahashivratri, or Ekadashi. Here's a Maharashtrian-style sabudana khichdi recipe that is very delicious, healthy, and easy to prepare.
Ingredients:
1 cup sabudana
2 medium-sized boiled potatoes
12 cups roasted peanuts
8 to 10 curry leaves
1 tsp grated ginger
1 chopped green chili
1/4 cups grated fresh coconut
1 tsp cumin seeds
1/2 to 1 tsp sugar
1/2–1 tsp lemon juice
3 tbsp ghee
rock salt ( optional if you want an Indian recipe without table salt for fast)
1 to 2 tbsp freshly chopped coriander leaves
Instructions:
Rinse sabudana thoroughly in water. The sabudana should then be soaked for 3 to 5 hours.
The next day, thoroughly drain the water and set aside the sabudana in a bowl.
Peel and chop the potatoes.
Dry roast the peanuts in a pan until browned, then coarsely powder in a mortar-pestle or grinder.
Combine the drained sabudana with the coarsely powdered peanuts. Add salt and sugar.
Heat ghee in a pan and fry the cumin until it crackles and browns.
Add the curry leaves, green chilies, and grated ginger. Grate ginger and curry leaves add more nutrients to this low-calorie tasty food.
Cook for a few seconds and add the chopped boiled potato.
Mix in the sabudana. Stir frequently over a low flame for 4 to 6 minutes.
When the sabudana loses its opaqueness and begins to become translucent, it is cooked.
Garnish with a few coriander leaves and drizzle with lemon juice before serving. You can even top it with grated fresh coconut. Alternatively, it can be served with curd or a satvik coconut chutney made with fasting ingredients.
Arbi Kofta Kebab
Are you sick of eating potatoes for breakfast, lunch, and dinner when you're fasting? Here is an amazing recipe that can make you believe that your fasting can have versatile, healthy, and tasty food. Try this delectable Arbi Kofta recipe, which is an ideal Navratri recipe for fasting.
Ingredients:
500gms Arbi/Colocasia roots
8 tbsp buckwheat flour/ Kuttu ka atta ( or vrat rice)
1 tablespoon cumin Seeds
3 finely chopped green chilies
12 inch finely chopped ginger
Pink of ground coriander seeds (optional)
To taste, rock salt (sendha namak)
1 cup shallow frying oil
Few mint leaves
1 cup hung curd
2 tbsp finely chopped cucumber
Instructions:
In a pressure cooker, cook the arbi until soft.
Remove when the pressure is released.
Peel and mash the arbi, and mix in the jeera, green chilies, ginger, rock salt, and black salt together.
Mix in the kuttu ka atta/vrat rice atta thoroughly.
Grease your hand and form the mixture into a cylindrical shape.
Pan fry on both sides using some oil.
Combine the hung curd, mint leaves, chopped cucumber, and salt to make the dip. Combine thoroughly. Alternatively, hung curd with some chili and rock salt tastes good too with this arbi kofta
kebab.
Serve hot!
Check out our post on Instagram! For healthy food ideas.
Kebab-e-kela
Fasting does not have to be drab and flavorless! You can enjoy tasty food on a diet. Just need to look out for natural and low-calorie dishes among your Navratri recipes. So, we picked out a Navratri recipe that would be new to your taste buds as well as healthy and tasty. Spiced banana kebabs melt in your mouth and satisfy your soul. This festival snack is flavored with chilies and coriander.
Ingredients:
250 g peeled and diced raw bananas
1 cardamom seed, black (badi elaichi )
2 tsp White rock salt (sendha namak)
1/4 cup buckwheat flour (vrat ka atta)
2 tsp roasted coriander seeds
1/2 tsp chili powder
2 tsp lemon juice
1 chopped green chili
2 tbsp chopped coriander Desi ghee for pan-frying kuttu ka atta for dusting
Instructions:
Steam the bananas, ginger, and black cardamom until the bananas are soft but still firm.
Alternatively, cook with as little water as possible, so that no water remains after the bananas have been cooked. Allow cooling.
When the bananas have cooled, mash them; add the remaining ingredients and mix well to form a dough-like consistency.
Form small cylindrical rods and dust with buckwheat flour.
Heat a thin layer of ghee in a skillet over medium heat and fry the kebabs until brown on both sides.
Best served hot!
Kashi Halwa
Ash gourd halwa is a Navratri recipe from Udupi cuisine. It is also known as kashi halwa, dumroot halwa, and white pumpkin halwa. Ash gourd is also known in Hindi as petha, Tamil as poosanikai, and Malayalam as kumbalanga. It is a low-calorie tasty food which is very healthy and satiating too.
Ingredients:
2 to 3 tbsp ghee
6-8 cashews
1/2 tbsp raisins
1 cup grated ash gourd
1/4 cup water
1/2 cup Indian sugar
Few strands of saffron
¼ tsp green cardamom powder
Instructions:
Rinse and peel ash gourd and remove the seeds as well as the white pith. Then cut it into large pieces, grate and set aside.
In a heavy-bottomed pan, melt 1 tbsp of ghee and add in 6-8 cashews until they brown.
Add the raisins. Sauté them until they swell and puff up.
Remove the cashews and raisins. Set aside.
In the same pan add more ghee if needed and cook the grated ash gourd until the raw aroma disappears stirring occasionally.
If the ash gourd begins to stick to the pan or becomes lightly browned, and the mixture appears dry, add water.
Now, add the Indian sugar and thoroughly mix it in.
Sprinkle a few saffron strands.
Continue to stir and sauté the halwa mixture on low heat. Add ghee as needed.
The halwa mixture must be stirred frequently and cooked on low heat until it thickens and begins to leave the sides of the pan.
Then turn off the heat and stir in 1/4 teaspoon of green cardamom powder.
Add the cashews and raisins and mix thoroughly.
Allow the kashi halwa to cool slightly before serving.
Conclusion
These recipes are super easy to make and healthy too. During Navratri fast buckwheat flour is a great option to make various dishes.
To learn about different flours and how they can be substituted give this blog a read: Flour 101: Different Types, and Their Benefits.