Best Indian Snacks Everyone Should Try At Least Once
BY DANFE |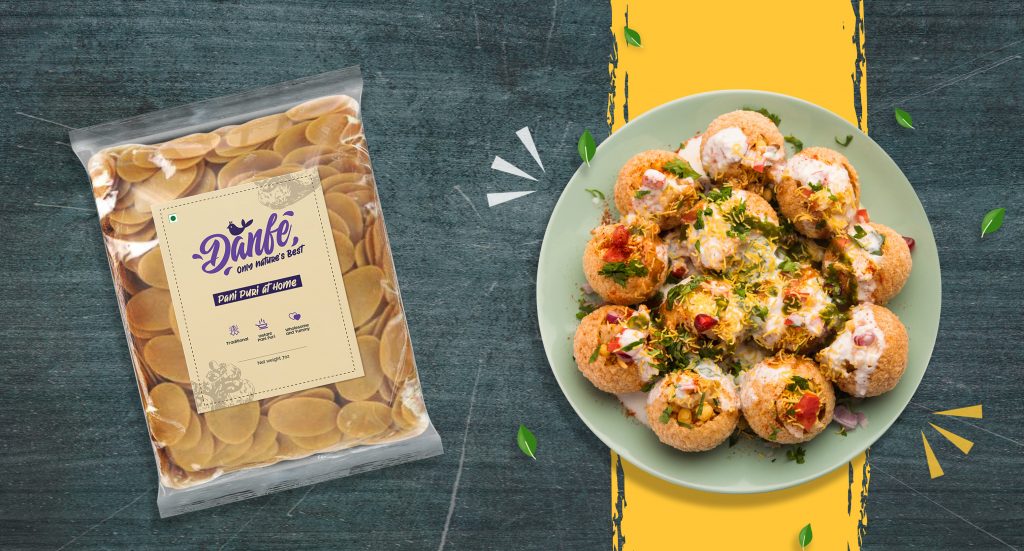 Best Indian Snacks Everyone Needs To Try At Least Once
India is a land of culture and traditions. It is also known as the land of food. There are different types of snacks that are popular in India, each with its own unique flavor and texture. When it comes to snacks, India is a land of endless possibilities. From fried foods to sweet delights, there's something for everyone to enjoy. And while some Indian snacks may be familiar to you, others may be completely new. From the chat-pata chats to the yummy and sweet jalebis, Indian snacks have it all! But, here's the best part – making these awesome flavorful Indian snacks is easy and quick.
So if you're looking to broaden your Indian snack horizons, here are some of the best easy-to-make healthy Indian snacks that you need to try at least once. Trust us, they're all worth it! 
Chivda With Dagdi Poha
Dagadi poha Chiwda is a popular Indian snack made with flattened rice, spices, and herbs. It is typically served for breakfast or as a light snack. This dagadi poha recipe is a delicious and easy way to enjoy this traditional dish. Let's see how we can prepare this simple and flavorful dish.
Ingredients
250 gm Dagadi Poha
1 cup peanuts
1 cup dry coconut
1 cup roasted chana dal
1 tsp mustard seeds
1 tsp cumin seeds
3-4 curry leaves
7-8 finely chopped green chilies 
1/2 tbsp turmeric powder
1 tbsp red chili powder
1 tbsp sugar
1 tbsp chiwda masala
Salt to taste
Instructions
In a kadhai, heat oil for deep frying. Take a heat-resistant fine sieve or a fine mesh strainer with a handle.
Place the sieve containing the dagdi poha in a medium-hot pot of oil.
Fry until they have expanded and are crisp. Don't let them turn brown. For ease, do the frying in batches.
Then, add the chana dal and fry for a few seconds.
Fry the peanuts, cashew nuts, raisins, coconut pieces, and curry leaves.
In a separate pan, heat 1 tsp of oil. To begin, toss in the mustard seeds. Allow the mustard seeds to pop.
After that, toss in the cumin and sesame seeds. Allow the sesame seeds to crackle and darken slightly.
Turn off the stove. Add the turmeric, red chili powder, and asafoetida powders.
Stir in the sugar and salt now.
Stir in all of the fried ingredients, including dagdi poha, peanuts, raisins, cashews, and chana dal, and turn on the heat. Stir everything together thoroughly.
Add the cooked and crushed curry leaves to the chiwda mixture.
Stir thoroughly and roast at a low temperature for 2 to 3 minutes. Stir continuously.
Your teatime snack or namkeen is ready to be enjoyed once cooled!
Chivda is a tasty snack mix made from flattened rice (Dogdi poha), spices, dried fruit, and nuts, as well as a touch of salt and sugar. The outcome is a crunchy, crispy treat with a delicious salty-sweet flavor combination. Make sure you choose the best and most natural dagdi poha option for your chiwda snack!
Kachori
Kachori is a deep-fried puri stuffed with various ingredients. Indian cuisine is famous for different types of kachoris like the moong dal kachori, vegetable kachori, aloo kachori, masala kachori, etc. Amongst these, the moong dal kachori is the most popular one.
Ingredients
2 cups all-purpose flour
½ tsp salt
¼ cup ghee or oil
½ cup or add as required
½ cup moong dal (rinse and soak for 2 hrs)
½ tbsp ghee
¼ tsp turmeric powder
½ tsp red chili powder
½ tsp cumin powder
½ tsp dry ginger powder (saunth powder)
1 tsp coriander powder
1 tsp crushed fennel seeds
1 tsp dry mango powder (amchur powder)
Salt and water as required
Instructions
In a basin or pan, combine 2 cups of all-purpose flour and salt. Mix thoroughly.
Add 1/4 cup of ghee.
Mix the ghee and flour together with your fingertips for a few minutes until the mixture has a breadcrumb feel.
Partially add water and knead the dough until it is soft.
Allow the dough to rest for 30 minutes under a wet muslin or kitchen towel.
Grind the pre-soaked moong lentils to make a coarse mixture.
In a pan, heat some ghee and add all the spice powders one by one.
Add moong dal. Mix thoroughly on a low flame.
Cook for 3 to 4 minutes, stir constantly.
Roll out small puris with the dough and stuff it with the moong dal mixture.
Bring the dough's edges together and combine them in the middle. Extra dough can be snipped off.
To make a medium thickness kachori, flatten the top and gently roll the kachori using a rolling pin. This is how you should stuff and prepare all of the kachori
Heat the oil for frying on a low heat setting. You can add the kachoris when the oil has heated.
Continue to cook at a low-medium temperature until golden brown. You can stir them frequently when frying to ensure an even color.
Once ready, place the kachori on kitchen paper towels to absorb any excess oil.
Kachoris can be made ahead of time and kept in the fridge for a few days. You may also prepare kachori chaat with this recipe. With tamarind chutney, green chutney, or red chili garlic chutney, serve the kachori. These kachoris go well with dubki wale aloo or aloo rasedar. Curd is also a good addition to kachori.
Toor Dal Bar
This wild and wacky snack recipe is completely focused on your core workout! By combining a staple Indian ingredient – Toor dal for protein and chocolate for some taste and energy we can bring about a delicious pre-workout snack.
Ingredients
1 cup toor dal
1 tbsp honey
4 tbsp water
1 cup of melted chocolate
Instructions
Pour your toor dal into a blender and pulse till it turns to a fine powder.
In a bowl, combine water and honey.
Mix in the powdered dal to form a paste. Add more water if needed.
Pour this batter into a baking tray and bake at 180 degrees for 20 mins.
Once the baked dal is cool, remove from the oven and cut into bars.
Place bars on a rack or plate.
Pour the melted chocolate over the bars.
Place bars in the fridge or let it sit outside.
Your protein-packed healthy snack dal bars are ready to enjoy!
These bars usually last up to 4 days if refrigerated properly.
Dahi Puri
An excellent alternative to Pani puri is a delicious Indian snack called Dahi puri. It loosely translates to yogurt puris! Dahi puris are sweet, crunchy, and easy to make. Here is how we can make yummy dahi puris at home!
Ingredients
2 – 3 medium-sized potatoes, peeled and boiled
1 tiny onion
1 tiny tomato
1–2 tsp coriander leaves
12–34 cup curd (yogurt), or as needed
12 cup coriander chutney
4 cups tamarind chutney
24 to 30 cooked pani puri
Red chili powder
Chaat masala
Cumin powder
Salt as needed
Instructions
To begin, make all of the chutneys and set them aside.
Cut the boiled and peeled potatoes.
Finely dice the onions, tomatoes, and coriander leaves.
Set aside the yogurt that has been smoothed out with a wire whisk.
Arrange the cooked pani puris or golgappas on a platter
To make room for the potatoes and chutneys, make a hole in the puris from the center.
Fill the pooris with the chopped potatoes.
On top of the potatoes in the pani puris, add the chopped onions and tomatoes.
Sprinkle a few pinches of chaat masala, jeera powder, red chili powder, black salt, or plain salt on the fillings within at this point.
Serve the green chutney, sweet chutney, and red chutney on top of the stuffed pani puris.
Fill each pani puri with yogurt.
Place the sev on top in such a way that it covers each pani puri. Finally, scatter chopped coriander leaves on top.
Serve dahi puri chaat as soon as possible after making it, as the puris will turn mushy after a few minutes.
Also, read Hassle-free and Healthy Breakfast For Those In A Rush!
Conclusion
If you haven't tried these Indian snacks before, then you're in for a treat! These snacks are some of the best that India has to offer, and they're sure to tantalize your taste buds. If your kids are fussy and want something less spicy, get the perfect solution for you. Make them a batch of yummy and crunchy farfar chips. We are sure even you can't resist Danfe's yummy farfar chips. So what are you waiting for? Get out there and try them all!
Also, let us know which is your favorite pani puri combination on our Instagram post!