7 Powerful Ways Consuming Turmeric Powder Can Rejuvenate Your Skin
BY DANFE |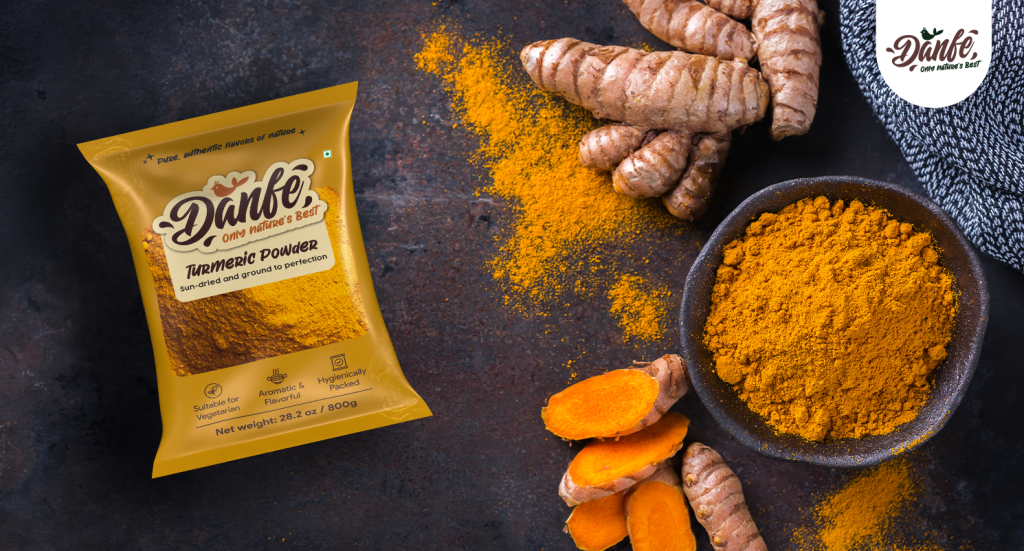 Have you ever wondered if the solution to most of your skin concerns lies in your very own kitchen? While you may have used this delightful ingredient in various cuisines before, you likely never considered its potential to address your skin-related problems. Here comes the turmeric powder – the incomparable king of natural spices! It is capable of keeping your skin problems at bay and rejuvenating your skin to give you a naturally flawless complexion.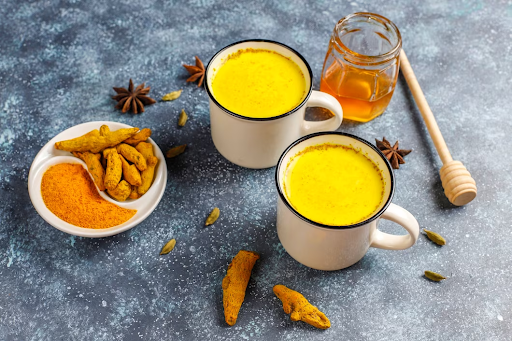 When it comes to a beauty regimen, a common misconception every home remedy enthusiast has is that the best use of Indian spices for skincare is limited to topical treatments, often overlooking the potential benefits of first nourishing the skin from within.
How Consuming A Natural Food Product Like Turmeric Powder Be Beneficial For Your Skin?
By including a careful selection of essential spices in your diet, you can effectively address your skin concerns at their core, eliminating the need for any external treatments. Among these beneficial spices, turmeric powder stands out as an exceptional addition for promoting a healthy complexion in the long term.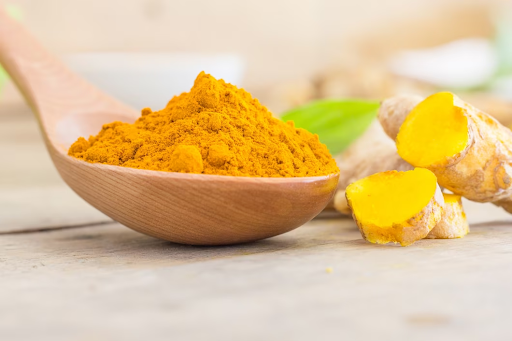 With its antioxidant, anti-inflammatory, and antimicrobial effects, turmeric can combat various skin irregularities such as acne, photoaging, and free radicals (compounds in your body responsible for skin aging).
Some early Studies also suggest that curcumin, a compound found in turmeric powder, may be beneficial for other skin concerns like atopic dermatitis, psoriasis, pruritus, and vitiligo. While further research is needed, adding turmeric powder to your next meal can certainly contribute to enhancing your skin health and appearance.
Let's Unlock The Beauty Benefits Of Turmeric Powder With Some Delicious Turmeric-Rich Recipes
Skin & Body Delight: The Perfect Breakfast Recipe
You can start your day on a nutritious note with a bowl of turmeric chickpea oats, packed with the goodness of antioxidants and proteins. Not only does this flavourful dish please your taste buds, but it also offers numerous skincare benefits.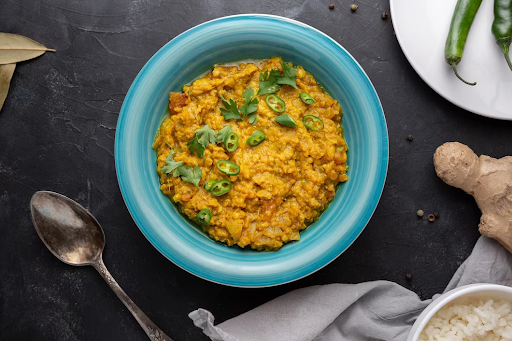 By incorporating turmeric into the cooking process, curcumin – a potent inflammatory compound found in turmeric – activates and enhances absorption within your body, resulting in radiant and healthy-looking skin over time.
Ingredients:
½ cup rolled oats
½ cup water or milk for cooking oats
⅓ cup boiled chickpeas
¼ tsp turmeric powder
1 tsp jeera
Salt to taste
Black pepper powder
1 tbsp chopped cashew for toppings
Optional add-on: all your favorite veggies
Preparation Instructions:
Place oats in a small bowl and add milk or water, salt & pepper. Refrigerate overnight.
Boil the oats in the morning and keep it aside.
In a pan, heat oil and add jeera. Sautee for about 15-20 seconds.
Add turmeric powder and cook until the aroma arises. Add your favorite veggies.
Season with salt and pepper to taste. Cook until the veggies are done.
Add the boiled chickpea to the pan and cook it with the veggies until a rich, flavourful aroma arises.
In another pan, roast chopped cashews.
Pour the veggies and chickpea mixture over the cooked oats.
Garnish with roasted cashews and savor a wholesome meal.
Indulge in this Indian Spice Delight: Golden Veggies For Glowing Skin
Embrace the power of kitchen spices to nourish your skin from within. With the use of Danfe spices like turmeric powder, cinnamon, and coriander seeds, to name a few, add flavors to your daily veggie roasts and unlock the secret to healthy, glowing skin.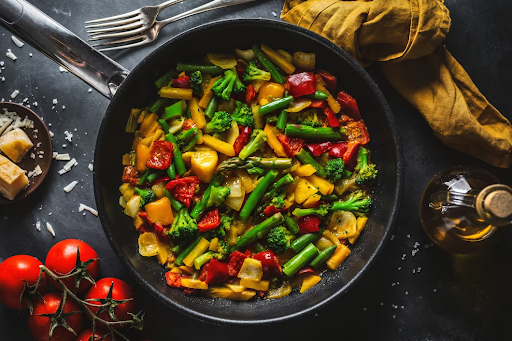 Ingredients:
Your favorite veggies
Spices mentioned above (You can also add other aromatic spices like methi seeds and bara masala to further give a smoky flavor to your veggies)
Salt to taste
Black pepper powder
Preparation Instructions:
In a pan, heat the oil for a few seconds.
Add turmeric powder, and other spices. Heat till a rich aroma arises.
Add your favorite veggies.
Season with salt and pepper.
Stir continuously to prevent burning.
Optional add-on: Garnish with some grated cheese on top
Revitalize Your Skin Overnight: The Power Of Turmeric Water
Infuse a glass of warm water with this Indian spice to unlock its antioxidant properties. This golden powder works diligently overnight to regenerate skin cells, brightens your skin tone, and potentially slows down the aging process with consistent use.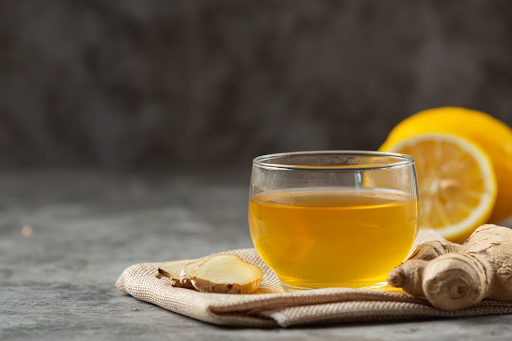 Ingredients:
A glass of warm water
½ tsp turmeric powder
½ lemon
Black pepper powder
Honey to taste
Preparation Instructions:
Take a glass of warm water.
Squeeze ½ lemon juice in it.
Add ½ tsp turmeric powder and black pepper powder to taste.
Add honey and stir well.
Unleash The Glow With Golden Milk: A Recipe For Radiance
Not only known for its immune-boosting properties, turmeric milk can also work wonders for your skin. Incorporating this Golden Milk Recipe into your nightly routine can help promote healthier, youthful-looking skin. You can now say goodbye to your stubborn sunspots, dullness, and the effects of aging as you sip your way to natural radiance.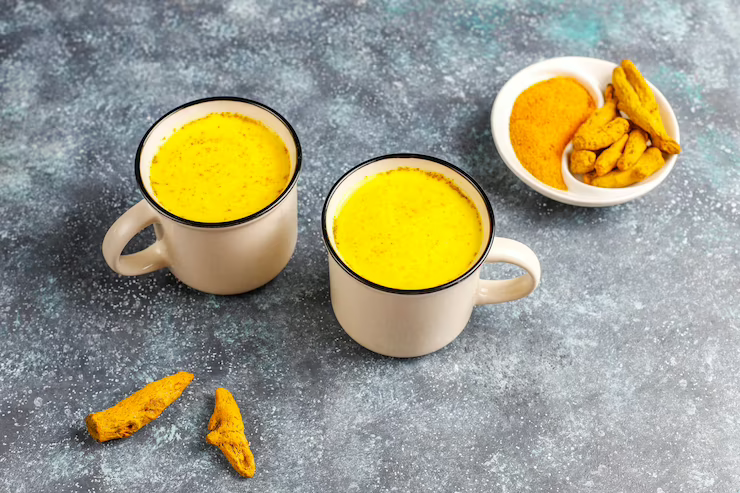 Ingredients:
½ cup of your favorite milk
¼ tsp of crushed ground ginger
¼ tsp turmeric powder
1 whole cinnamon stick
A pinch of black pepper powder
1 tbsp honey or as per taste
Preparation Instructions:
Boil the milk in a saucepan.
Add turmeric powder and crushed ginger to the boiling milk.
Stir in the cinnamon stick and honey.
Mix well as you bring the milk to a boil.
Strain the drink in a glass and sip away, leaving all your skincare worries behind.
Turmeric Powder: An Essential Addition To The Top 5 Must-Have Spices In Your Kitchen
Incorporating natural spices into your culinary adventures can elevate your cooking experience and boost your overall well-being in the long run. Among the most beneficial spices for your kitchen, turmeric takes center stage with its exceptional health benefits. From its anti-inflammatory properties to its potential to enhance skin appearance, turmeric is truly a "golden gem".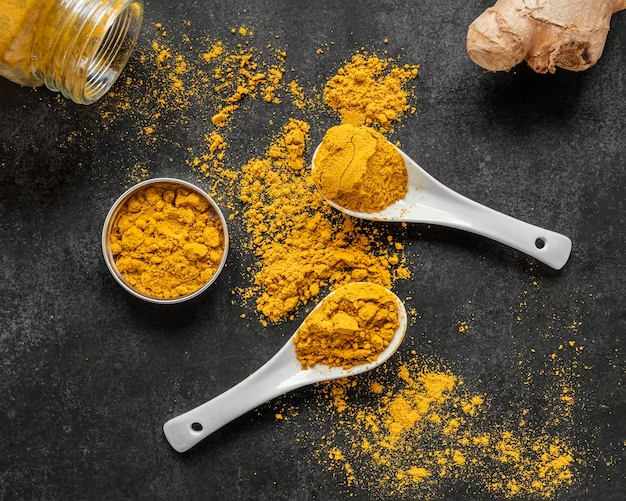 Embrace this holistic approach to skincare and infuse your meals with one of the most cherished Indian spices like turmeric powder, right in the comfort of your home today.