5 Easy and Simple Semolina Flour Recipes
BY DANFE |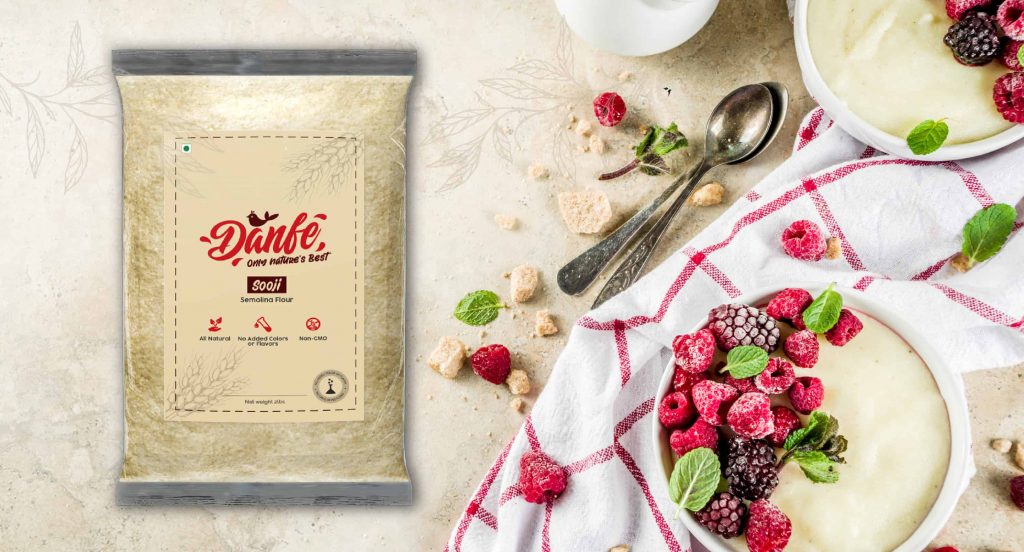 Semolina, or Sooji as it's called in India, is a high protein flour with a coarse texture. Its unique texture is actually what makes pasta and bread sturdy and ensures it doesn't crumble apart! Semolina Flour is surprisingly widely used in South Indian, Middle Eastern, and Italian cuisines to make hearty breakfast, lunch, and dinner recipes. What makes these semolina flour recipes so special is that they are a powerhouse of nutrients. It is known to help improve immunity, fuel your body, improve heart health, and boost energy.
So in the spirit of Christmas, we're giving you 5 delicious semolina flour recipes that'll keep you energized the entire holiday season – because let's be real, you probably have a lot to get done with Christmas being just right around the corner.
Semolina Biscotti
A healthy spin on a delightful Italian delicacy! Believe it or not, this delicious semolina flour recipe is the perfect balance of sweet and savory! Whenever you're hungry for a quick little snack during the day, you can grab this easy semolina flour biscotti! This buttery, golden brown biscotti is seriously what snack dreams are made of.
Ingredients
1 cup Danfe Sooji/ Semolina Flour
1 cup Danfe Maida/All-Purpose Flour
4 tbsp Butter, Room Temperature
¾ cup Granulated Sugar 
2 Eggs
1 tsp Baking Soda
½ tsp Baking Powder
½ tsp Salt
Instructions
Step 1: Preheat your oven to 350°F. Then line a cookie sheet with parchment paper.
Step 2: In a mixing bowl, beat butter and sugar together until it's light and fluffy.
** You can do this with a stand mixer on medium speed or by hand.
Step 3: Now add the eggs one at a time and mix until they're well combined.
Step 4: In a separate bowl, mix both the flours, baking soda, baking powder, and salt together.
Step 5: Gently fold in the dry ingredients with your butter mixture until you have a dough.
Step 6: Lightly flour the cookie sheet that's lined with the parchment paper. Then, transfer the dough mixture and knead it into a long log.
** If the dough gets sticky, add more flour until you form the long log.
Step 7: Stretch the dough lengthwise until it's as long as your cookie sheet. Then divide it in half leaving a 3-inch space in between. Smooth the top with a wet spatula.
Step 8: Bake for 30 minutes. The center should be firm. Once the timer goes off, leave them out to cool for 30 minutes.
Step 9: Lower your oven temperature to 325°F
Step 10: Once they're cool, transfer the logs (one log at a time) to a cutting board and brush them lightly with water.
Step 11: Using a serrated knife, cut the logs into ½ inch wide slices. Instead of pressing down, mimic a sawing motion.
Step 12: Transfer the slices to your cookie sheet leaving ½ inch of space between each slice. Bake again for 20-25 minutes until they're golden brown.
Step 13: Remove from the oven and let it cool.
Step 14: Once they've cooled down, you can enjoy them with your afternoon tea, or you can even dip them in Nutella and have chocolate-covered semolina flour biscotti!
Honey-Semolina Drizzle Cake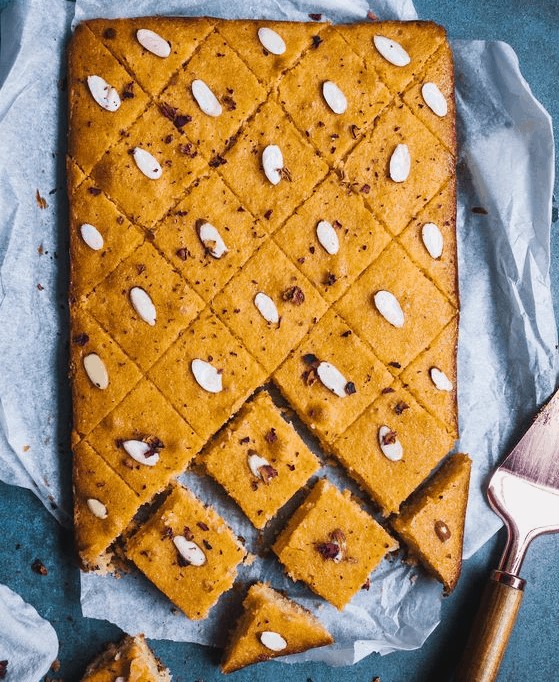 We know what you're thinking, semolina, honey, and cake? But trust us, this semolina cake is one of the most wonderful, healthy cakes you'll ever taste! It's similar to a Middle Eastern sweet cake and is sweet, spongy, dense, and downright delicious. Whoever said you can't have your cake and eat it too clearly didn't get the chance to taste this scrumptious semolina cake!
Ingredients
1 Cup Danfe's Sooji/Semolina Flour
4 tbsp Butter, Room Temperature
½ tsp Baking Powder
½ tsp Baking Soda
½ cup Sugar
½ tsp Vanilla Extract
¼ cup Milk
1 Egg
A pinch of Salt
For the syrup:
1 cup Sugar
¼ cup Honey
½ cup Water
Instructions
Step 1: Preheat the oven to 350°F. Then line your cake pan with parchment paper. Lightly grease the parchment paper and the sides of the pan.
Step 2: Using an electric hand mixer or stand mixer, beat the butter and sugar together. Then add in the egg and vanilla extract.
Step 3: In a separate bowl, whisk together the semolina flour, baking powder, baking soda, and salt.
Step 4: Gently fold the dry ingredients into the butter mixture. Beat them until you have a smooth consistency.
Step 5: Pour the batter into your greased cake pan, and bake for 20-25 minutes. In the end, the cake should be light brown, and the edges should start to pull away from the cake pan.
Step 6: When the cake is close to being done, start making the syrup. In a small saucepan, combine all the ingredients listed under "for the syrup."
Step 7: Bring it to a boil, stirring occasionally. When the syrup starts to boil, turn down the heat and let it simmer for 5 minutes. The syrup should have a thick consistency.
Step 8: Drizzle the syrup over your cake and lastly garnish with some pistachios and rose petals and enjoy!
This semolina cake pairs perfectly well with your afternoon tea or coffee. Or, you can always just enjoy it by itself.
Easy Semolina Flour Pasta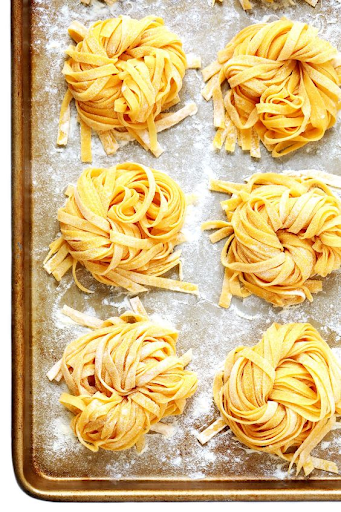 Pasta Pasta! This ultimate all-time favorite food comes together with just 3 ingredients! How crazy is that? Hands down, this is one of the easiest semolina flour recipes that's out there! This semolina flour pasta will remind you of summertime adventures along the coast of Italy! In addition to being incredibly healthy with amazing benefits, this semolina flour recipe actually gives the pasta the perfect elasticity and texture so it doesn't lose its shape when it's time to cook!
Ingredients
2 ½ cups Danfe's Sooji / Semolina Flour
4 Large Eggs, Room Temperature
1 tsp Sea Salt
Instructions
Step 1: Pour the flour on a clean kitchen countertop.
Step 2: Create a well in the center and add eggs and sea salt.
Step 3: Using your hands, start adding the flour from the outer edges into the well until all of it is well combined.
Step 4: Lightly flour the surface, and knead the dough until it forms one smooth ball.
Step 5: Wrap the dough tightly with a plastic wrap and let it rest in the refrigerator for 30 minutes.
Step 6: Once the 30 minutes are up, take the dough out and plop it onto a lightly floured counter.
Step 7: Flatten the dough and cut it in half.
Step 8: Sprinkle some flour on the counter and flatten the dough again.
Step 9: Roll out the dough using a rolling pin until it becomes almost translucent. Sprinkle in some flour as needed when the dough gets sticky.
** This is a lengthy process that could take up to 20 minutes but the fresh homemade pasta will be well worth the wait!
Step 10: Repeat the same steps with the other half.
Step 11: Once the dough is rolled out pretty thin, fold it over itself several times and cut into strips roughly ¼ inch thick
Step 12: Dust some flour on the sliced strips and unravel them for fresh homemade pasta.
Step 13: You can set the pasta out to cook, and place the remaining strips in your refrigerator for up to 4-5 days so you can have fresh pasta whenever you want!
When you're ready to cook the semolina flour pasta, bring water to boil in a large pot. Once the water starts boiling, sprinkle in a pinch of salt and add the fresh pasta. Allow it to cook for 1-2 minutes. When the semolina flour pasta starts floating to the surface, it's done! Strain the water and serve it as you like!
Semolina Pita Bread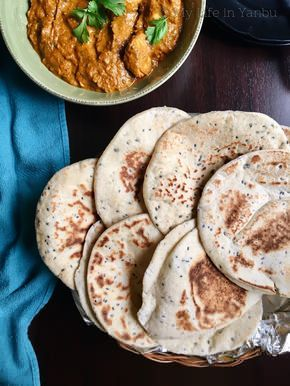 The perfect semolina bread recipe to enjoy with your meals! This is not a drill – this semolina bread recipe is extremely easy to make, incredibly healthy, and gives you endless opportunities to improve your kitchen game! You can literally have it on the side with everything, just as they do in Morocco. This semolina bread recipe also gives you the perfect puffed pouch for pita pockets.
Ingredients
2 cups Danfe's Sooji / Semolina Flour
3 cups Danfe's Maida / All-Purpose Flour
1 cup Danfe's Atta / Whole Wheat Flour 
1 tbsp Yeast
2 tbsp Sugar
2 tsp Salt
3 tbsp Oil, Vegetable or Olive Oil
2 cups Warm Water
Instructions
Step 1: In a small bowl, add ¼ cup of warm water, yeast, and a teaspoon of sugar. Set it aside for 5-10 minutes to activate the yeast. It should look frothy.
Step 2: In a separate bowl, combine all the flours, remaining sugar, and salt.
Step 3: Next, add in the oil, remaining warm water, and yeast mixture and combine until it forms a smooth dough.
Step 4: Lightly flour your kitchen counter and knead the dough until it feels smooth and pliable.
Step 5: Take some dough and form it into small, smooth balls (about the size of a plum or how you would have it for roti). Repeat the process until there's no more dough remaining.
Step 6: Cover the small balls with a clean, damp towel and let them rest for up to 10 minutes.
Step 7: Roll each ball into a thin circle of about ⅛ inch thick. Place the flattened dough aside, cover it with a clean, dry cloth and let them rest for 1-1.5 minutes. In the end, the dough should look light and fluffy.
Step 8: Heat a non-stick pan with some oil over medium heat. Once the pan is hot, add the dough.
Step 9: Turn them over several times until both sides are golden brown.
Step 10: Transfer the pita to a wire rack and let it cool. Then enjoy with hummus, have it on the side with curries or stews, or make pita pockets for lunch!
Semolina Pudding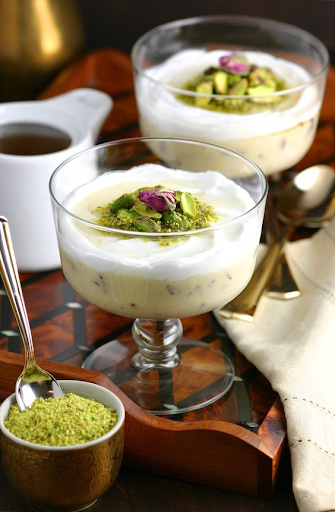 A 4-ingredient hearty breakfast recipe you never knew you needed! This semolina pudding recipe is just what you need to take on the day! And it comes together in just 10 minutes! All you need to make this delicious semolina pudding is 4 simple ingredients you're bound to have in your pantry at all times, so it doesn't add to your grocery bill! What more could you ask for?!
Ingredients
4 tbsp Danfe's Sooji / Semolina Flour
2 ½ cups Milk
1 tbsp Vanilla Extract
1 tsp Cinnamon
Instructions
Step 1: In a medium pan, add the milk, vanilla extract, and ½ tsp cinnamon. Mix well and bring this to a boil.
Step 2: Next, slowly add in the semolina flour while whisky continuously for about 2 minutes or until the pudding thickens and bubbles.
Step 3: Once it gets to the pudding-like consistency, take it off the heat and transfer it to a bowl.
Step 4: Top it off with some cinnamon or our choice of fresh fruits and nuts and enjoy for a hearty breakfast or afternoon snack!
In all of our semolina flour recipes, we use Danfe's 100% pure and natural semolina flour, all-purpose flour, and whole wheat flour. Because the best way to keep yourself healthy is by fueling your body with natural nutrients just as Mother Nature provided it. And Mother Nature has already given us what we need to thrive, so Danfe Foods doesn't alter it in any way. What you see is what you get.